Wondering how to find your hair type? Check out different types of hair categories and how men can deal with their hair types. Human hair can be divided into 4 broad types and 12 sub-types depending on the shape. Type 1 represents straight hair, whereas types 2 and 3 are wavy and curly. Hairs are one of the striking features and points of attraction for both men and women.
Healthy growth and well-maintained hair are liked by everyone. Type 4 falls under coiled hair, where 4A is slightly coiled, and 4C is extremely coiled hair. When it comes to women having 4C hair, they can consider any protective hairstyle or hair treatment method for their hair type. But when it comes to men, they have limited options to overcome this hair type, as they find it hard to manage natural hair.
Here is a guide for 4C hair males and how they can be taken care of.
How to Define 4C Hair for Males?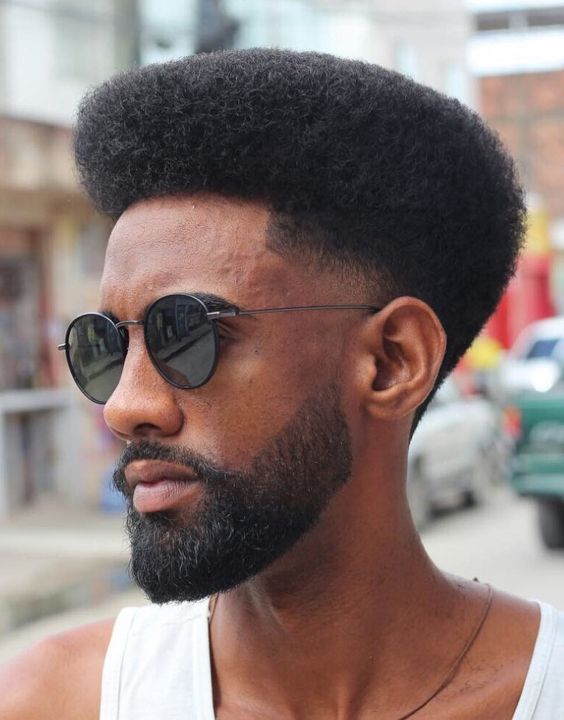 Type 4 hair is also known as Afro or African descent hair because of certain features. People with type 4 hair can be divided into 3 sub-categories: A, B, and C, depending on the curl density. This hair type does not have an equal diameter throughout the strand; the area around the coil is thinner.
Type 4 has a lower water content in the hair due to the coils, which makes it susceptible to breakage. Even though there is high scalp sebum production in this hair type, the tight coils make it hard for the sebum to flow down to the ends. This results in type 4 hair being drier. You can overcome the dryness by constantly using leave-in conditioners and applying oil to the scalp and hair ends.
This type of African hair has less density on the scalp, roughly 90,000 hair follicles, so if you choose to straighten the type 4 hair, the scalp will be more exposed. Apart from this, heat treatment or chemicals can lead to breakage and friction. The reason behind dividing hair into 4 different types and sub-types is that each category of hair requires specific treatment.
How to Recognize Type 4C Hair in Males?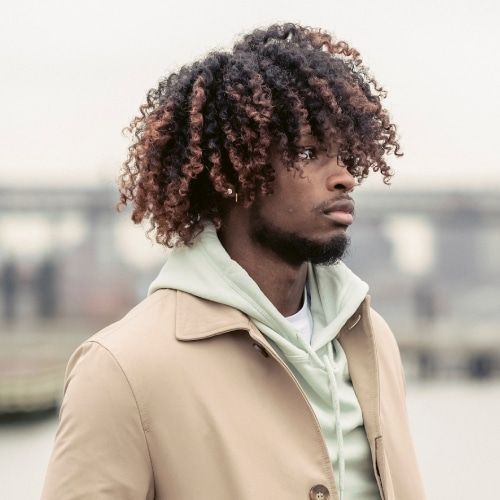 Type 4 hair can be easily recognized by its coils that range from spring s-shaped to a zigzag pattern. These types of hair require a lot of care because of their dryness and breakage. When it comes to identifying type 4A hair, they have a distinct s-shape and are slightly curlier. This hair type mostly grows outwards and upwards and gives a rounded shape to the hair.
As light does not reflect from the hair, there is a lack of shine and glossiness. So you need to take care of the hair by including a product that enhances the shine. The Type 4B can be recognized by its z-shaped coils. This hair grows vertically and outwards but gives a sharp shape to the hair. The coils are tighter than type 4A, and you will need to moisturize and hydrate the hair because of low light reflection.
The Type 4C hair in male and female are extremely coiled. The coils are tight and interlocking, which is not visible to the naked eye. When it comes to type 4C hair, they are too tightly packed towards the scalp. These hairs can shrink up to 70% of their natural length. The Type 4C hair in males does not have a distinct s or z shape, and they are just interlocked. Those having type 4C hair need to take good care, as the hair fibers have fewer cuticle layers.
How to Take Care of Type 4C Hair Males?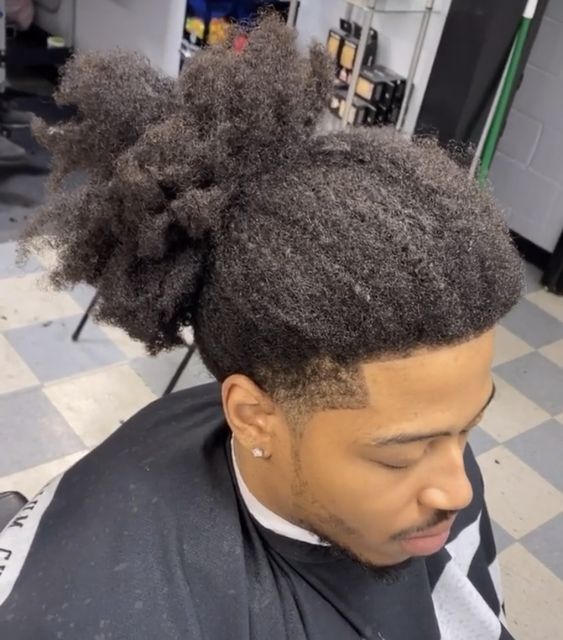 There is no need to be shy of type 4C hair in males. Like every hair type, these types of hair are widespread. All you need to do is take great care of them to avoid hair fall. Here are a few tips for type 4C males that they can consider for proper growth and maintaining the coils.
With the help of a spray bottle or underneath the shower, dampen your 4C hair. For an effective outcome, divide the hair into small sections, and after wetting them, tie each section with a rubber band or clutches. The dampness will allow the hair to hold the shampoo and reach every part of the hair.
Make sure to spray the hair ends so they do not remain dry, and with the help of fingers, dampen the scalp, too.
After each section of hair is saturated with water, apply shampoo and conditioner section by section. This will help overcome the dryness caused by shampoo.
While selecting a shampoo for type 4C males, you should consider the product to have antioxidants and vitamin E. This will help to reduce the damage caused to the scalp by free radicals.
A healthy scalp will result in healthy hair. You can also consider shampoo having Niacinamide content. This will help to overcome dandruff and inflamed scalp.
The best hair routine for type 4C males is to apply shampoo on the scalp and conditioners on the hair strands.
After you have rinsed your hair with shampoo, apply the deep conditioner to each section of the hair. Move on by gently detangling hair with a tooth combin a manner from hair ends to roots. This will make them smooth enough.
Leave the deep conditioner for a while by twisting the strands and clipping them. The whole process is time-consuming. Rushing the process it will result in more breakage of hair.
With the help of a tooth comb and detangling comb, brush the hair while they are wet. This will reduce friction while combing.
The role of using a deep conditioner for type 4c hair in males is to decrease the frizz and friction and to improve the shine and smoothness of the hair.
While purchasing conditioner for type 4c hair in males, check that it consists of silicones, proteins, and peptides in ingredients. This will improve the slip of hair and reduce the force needed to comb the hair because of tangles.
Unravel the twists and saturate the hair strands with water before applying the leave-in conditioner.
How to Style Type 4C Hair in Males?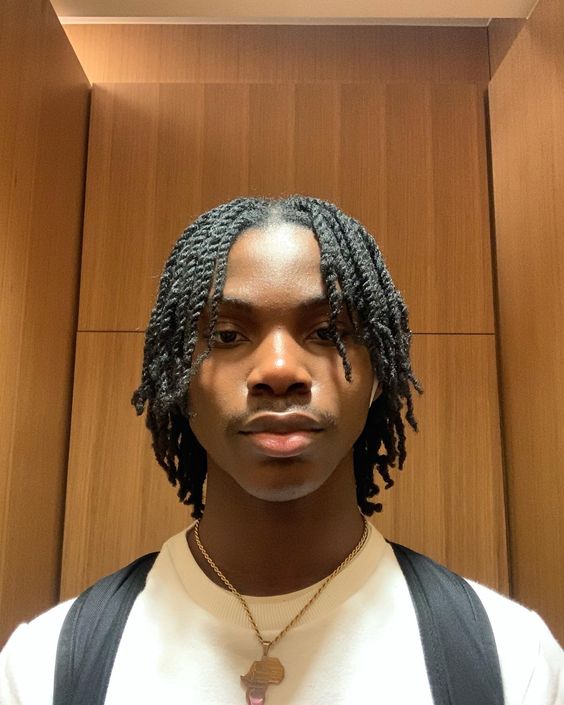 After applying shampoo and conditioners to type 4C hair in males, it is inevitable to style them. This will give a nice and neat look and help you protect against wind and UV radiation. While styling type 4C hair in males, always consider fragrance-free products as it leads to the thinning of hair and its breakage. Here are a few things that type 4C males can consider while styling their hair.
Consider products containing hydrolyzed wheat protein that have the same effect as keratin. For reducing dryness, you can choose products with shea butter. Arginia oil and vitamin E play an important role in reducing split ends and oxidants.
To increase your hair volume, use hair oil with argan oil, coconut, silicones, and almond content. The purpose of hair oil is to lubricate the hair and fill the gaps between the cuticle cells.
Choose a hair oil that is light and comfortable so that your hair can be smoothly combed. Make sure to apply hair on the strands rather than the scalp to avoid dandruff.
The correct manner of styling type 4C hair in males is applying the shampoo on the hair scalp, followed by deep conditioners in the hair strands.
After washing and combing them in the shower, apply a leave-in conditioner that is an emulsion and hair oil that locks the water in the hair. This way, the water in your hair is retained to a great extent.
For type 4C hair in males, those who want to have healthy hair growth can also consider a stimulating tonic that is water-based.
You can consider wearing a satin scarf or microfiber towel after this routine and even while sleeping. This will help retain the moisture in your hair and will allow the proteins to penetrate the hair cuticles.
Another hair product that you can consider to style type 4C hair in males is hair gel. This will help make your afro-styled hair into nicely defined curls. Use hair gel to the maximum so the curls remain intact for at least a week.
You can allow the hair to air dry or use medium heat in a blow dryer.
By following the above hair routine and styling for type 4C hair in males, you do not need to give harsh hair treatments and cutting. This simple procedure can make the coolest hair look good and well-maintained.
How to Groom Type 4C Hair in Males?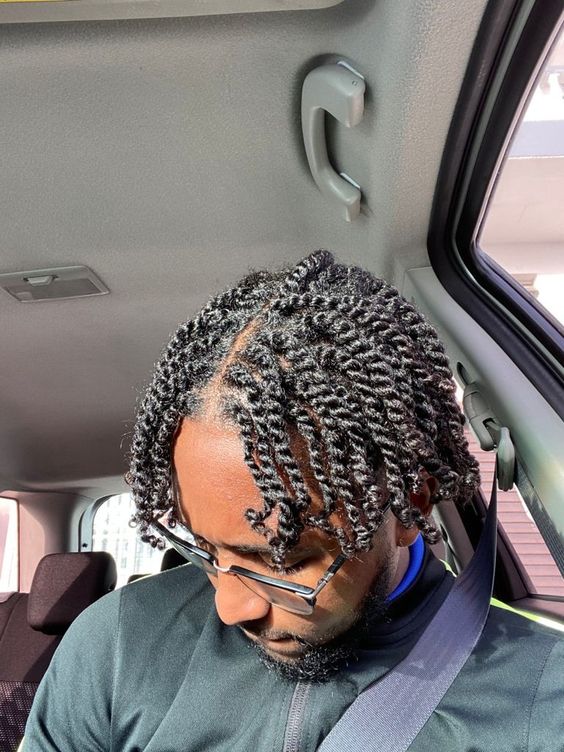 Type 4C hair in males looks good after following the washing treatment. You can distinctly see the natural curls and keep them in their original form. Apart from this, there are many types of hair grooming that type 4C hair in males can try.
These hairstyles will keep the hair from turning frizzing and afro-like. Besides this, hair grooming will protect the hair from external heat and dust. You can consider protective hairstyles like braids, cornrows, etc., at home for type 4C hair in males.
Here are a few tips for DIY at home that type 4c hair males can try.
Braids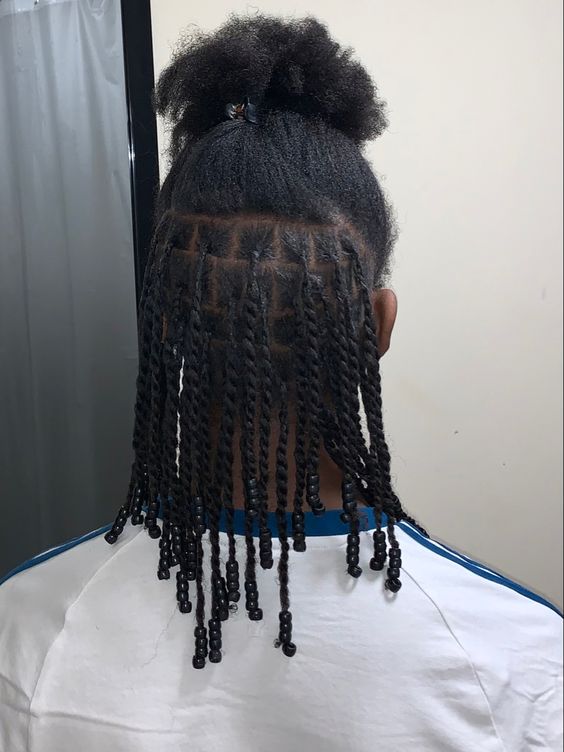 Braids are an effective protective hairstyle when it comes to type 4C hair in males, as they can last up to 2 weeks. Begin by damping the hair and making sections at your convenience. You can be creative with braids by using textures and accessories like beads and threads. Once sections are formed, apply conditioner to the hair edges. Detangle the hair smoothly to avoid breakage. Before blow-drying the hair, apply heat protectant spray on the edges.
The blow-drying will stretch the coils, making the hair longer. With the help of a comb, make parts in the hair for braids. Make uniform braids as per the section and use locking wax and hair jam for the braids to remain intact.
Cornrows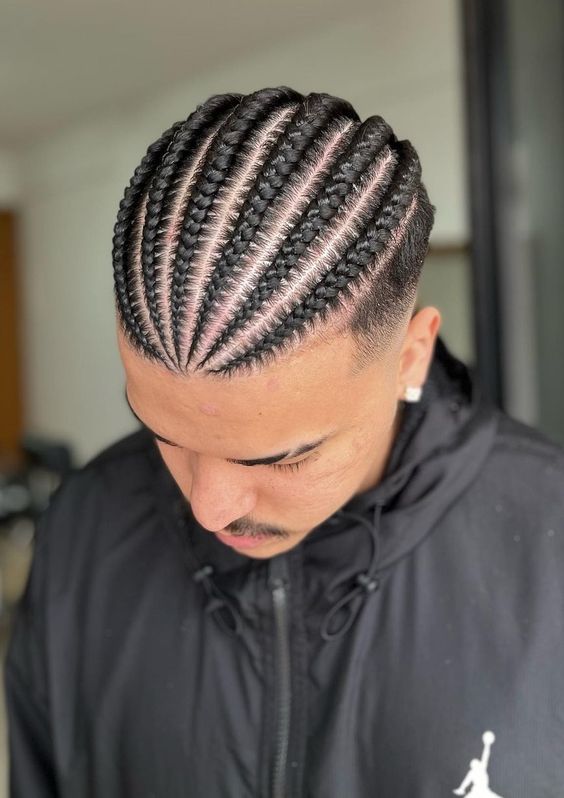 Those who have short or long type 4C hair in males can consider cornrows as a hairstyle. This is not only trending in men but also looks good. The process is similar to making braids, but you use castor oil to moisturize the scalp and hair ends. After blow drying and stretching the hair, make even sections.
The cornrows are crisp braids that can be made to look neat and sleek by using edge control. With the help of a tail comb, pick each strand of hair and braid it like stitching. This hairstyle is entirely dependent on a nice grip.
Conclusion
Type 4C hair in males can be made attractive by following the above routine and taking good care, as this hair is too fragile and can become coilier with time. Knowing your hair type is inevitable so that you can use the perfect hair product that helps accelerate hair growth and maintain healthy hair.
Apart from this, those having type 4C hair in males need to follow a proper hair routine to avoid any scalp diseases. You can consider the above-mentioned hair products and grooming tips to make type 4C hair in males look good.