Who doesn't love a good old trend inspired by a musician? The Coi Leray Braids is just one among the many trends that a musician started out.
Today, this trend has taken on a life of its own and is considered as a popular 'type' of braiding style that is unique and stylish. It has a particular look to it wherein you get short jumbo braids done with knots followed by curls.
They look stunning, create a statement, and can be a game-changer for you. If you have been planning on getting some much-needed braid makeover, it might be time to explore Coi Leray Braids. But first, it's best to get to know more about this style so that you have better stories to tell!
The Coi Leray braids, as the name suggests, are inspired by a popular rapper from the United States of America. She has some impressive discography to her name and considers herself a trendsetter.
Let's get back to how you can get Coi Leray Braids.
Preparation for COI Leray Braids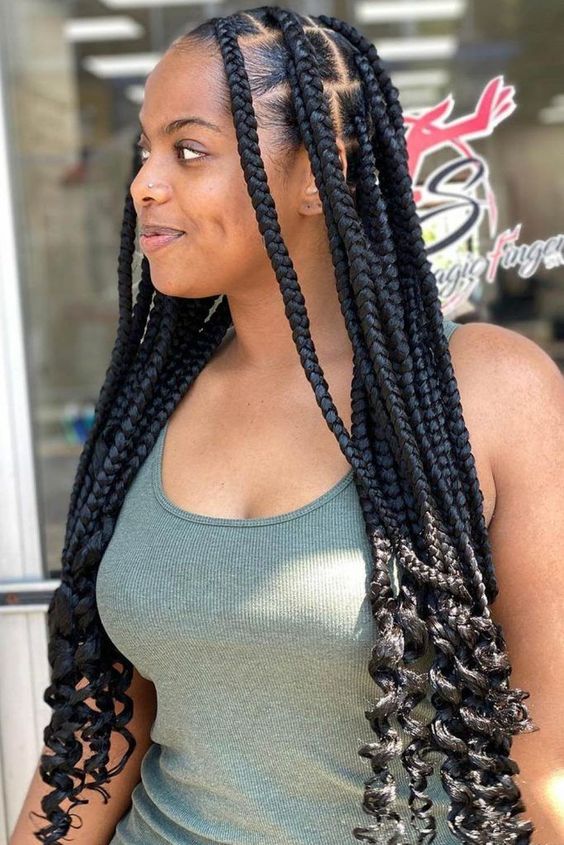 In order to nail this hairstyle, you need to first get your hands on the following.
In order to get started, it is important to understand that these braids need braid extensions. Therefore, it is best to get yourself good quality braid extensions. If you have very long hair, it might just do the trick too.
Let's get into a stepwise guide on how you can get Coi Leray Braids.
Steps to Get COI Leray Braids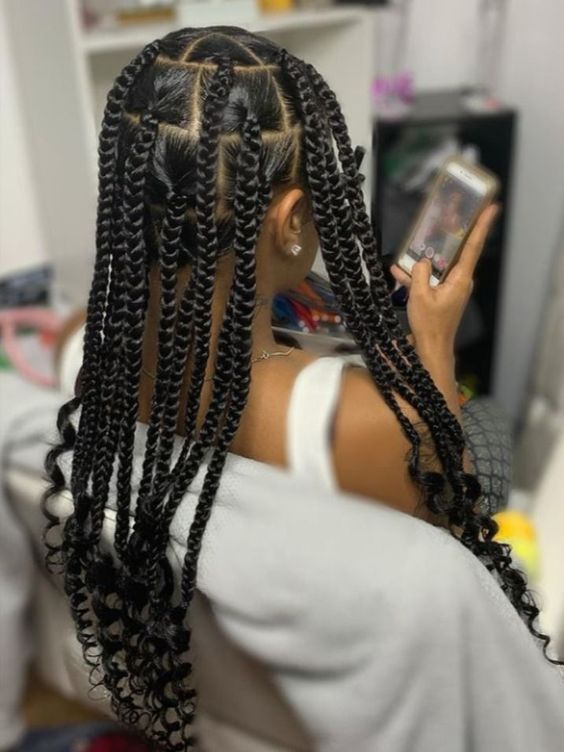 1. Hygiene First
As with most braid hairstyling, or any hair styling for that matter, clean hair is mandatory. For braids, especially as they will be braided up for a substantial period of time. This is why it is best to first get rid of any previous grime, dust, sweat, and, most overlooked – product buildup.
Without clean hair, you might start developing an itch or infections, especially because these braids are going to stay on for a long time. Clean your hair with a good shampoo and deep cleanse your head from the scalp. A clean scalp forms a great base for any good, long-lasting braid styling.
2. Moisturize Your Hair
Dry hair is most prone to damage. Did you know braids can cause thinning and damage hair, especially when dry? This is why you need to prepare your hair well before getting into any trend for the sake of the trend. Moisturize your hair well before you get started with Coi Leray Braids.
A few techniques to do this include the Liquid Oil Cream Method. This method involves adding a liquid moisturizer or leave-in conditioner to your hair. Then, apply a good, solid moisturizing oil. Don't overdo this, or it will end up looking too oily.
Then, conclude this step by adding cream. The type of oil you add also makes a big difference in your final look. For example, choosing argan oil is recommended for low-porosity hair, and choosing olive oil is recommended for high-porosity hair.
3. Sectioning Hair
Just like box braids, you need to start off by sectioning your hair into parts. For this, note that the sections may be much bigger than your box braids. Good, clear sectioning is important to give a clean, neat final look.
It is advisable to give the first half an idea about how many braids you want or are comfortable with. Based on this, you can choose how many braids you can start sectioning off the hair and partitioning it.
4. Get the Braiding Started
The main task begins. Be patient, and get started. Use hair gel or curling hair products to first comb out your hair and firmly hold the smoothened sections.
Now, each section needs to be divided into three parts. Start the three-strand braids and check the thickness you want. You can change up your sections if you wish to have thicker braids. Note Coi Leray Braids are characterized as thick braids, so you want to make sure they do not look thin.
Here's where the extensions come into play. For the thick appearance, you can start braiding in the extensions to give the thickness you desire.
Now braid your hair till the very end, bearing 3-4 inches from where your hair ends. This section could be longer if you have longer hair. Leave this section unbraided. You can tie black rubber bands to hold this in place.
5. Curling it Up
Now that you have the braids done and ready, you need to prep the base unbraided part to complete the Coi Leray Braid look. For this, you can use perm rods, curlers, or even rollers. Once you curl using the curlers, insert the section in hot water; this helps to set the curls. Be careful and avoid any accidents. After 15-20 minutes, you can dry your hair out. Styling gel and curling hair products can be used so that your curls last longer.
Box COI Leray Braids Perfect for Long Tresses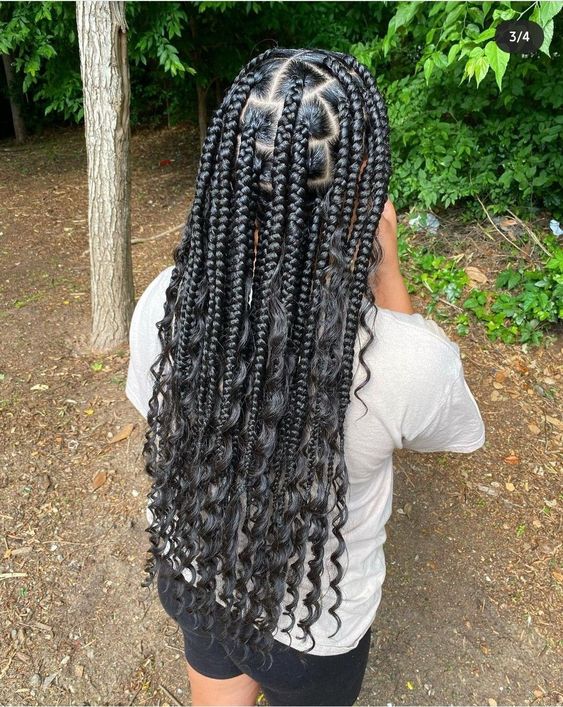 If the hair gods have blessed you with luscious, thick hair, Coi Leray braids are an excellent braid choice. Not only do they look stunning on thick, long hair, they can be styled effortlessly. In fact, because of the loose ends feature of the braid, it actually puts less tension on the hair and less tugging tension from the scalp. This hairstyle perfectly times those wild, thick tresses and looks more natural.
Micro Braiding COI Leray Braids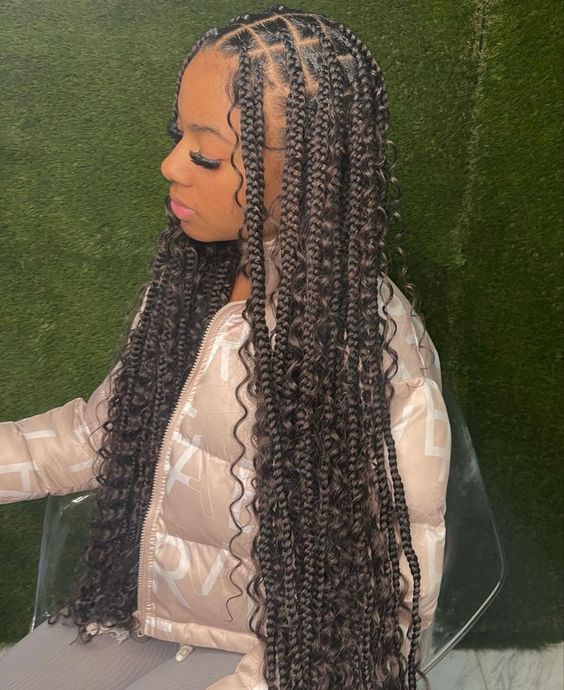 While box jumbo braid is the most commonly preferred choice, you can also opt for micro Coi Leray Braids with the same curly ends. A word of caution is that this is a painstakingly long and tedious process, and it might not be for everyone. But if you have been someone who is used to the braid lifestyle, you might take it in your stride. Also, the end result is truly worth the effort. Hair is more manageable, looks beautiful, and you can style it more effortlessly as compared to box jumbo braids. This is also a great hairstyle to start beading.
How to Maintain Your COI Leray Braids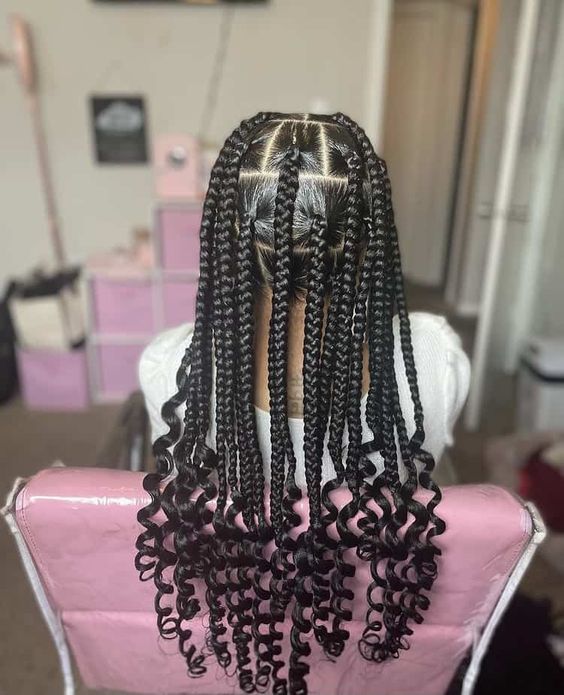 Opting for the braid lifestyle is one thing, but committing to maintaining the braids is a whole different ball game. You will be surprised to know how common fungal infections, itchiness, and hair thinning are when braid maintenance is not prioritized. There is no replacement for a clean and hygienic mane. So here are tips to maintain that stunning Coi Leray Braids you have wanted.
Sleeping: Ensure you cover your braids and head area. You can buy silk bonnets or silk scarves that completely cover your head and braids, too. Braids are more prone to dust grime settling in; therefore, covering it up during sleeping or during traveling is a good idea.
Wash the Braids: Having braids is no excuse to not wash your hair. People may go weeks or months without washing their hair because of braids. This is not recommended. If you plan on having braids in the long term, learn to wash your hair the right way. Clean your scalp, be gentle with your braids, but always rinse and clean your scalp well.
Dry Shampoo Supremacy: OK, we get it; braid washing is a headache and a challenge, too. You don't want to ruin that stunning hairstyle just because you did a messy hair-wash job. This is why dry shampoos are the lifesaver that braided hair needs. Put dry shampoo on a cloth or a clean cotton ball and dab it on your scalp. Suppose you aren't up for washing it. You can also use apple cider vinegar hair solution to remove any scalp buildup or dandruff issues you may be facing.
Control the Flyaways: Having flyaways when you braid is common. All that sleeping traveling is bound to result in some flyaways. Use a good mousse solution or serum to keep your flyaways in place and have a clean, braided look. It also works by nourishing your dry hair and giving it the shine it deserves.
Curl When Needed: It is no surprise that curling needs attention. If you do not have natural curls, it is best to curl your hair when it starts to lose its form and shape. Comb the base and use curling rods, rollers, etc., to keep your curls in a pristine shape and form.
Conclusion
Coi Leray Braids are a stylish braid pattern that is inspired by the famous rapper from the United States – Coi Leray. If you are looking for clean, classy, and stylish-looking box jumbo braids with unknotted curled ends, Coi Leray is the braid you have been looking for.
These stylish braids have a way of keeping the compliments coming in.
With basic minimal maintenance, you can pull off this hairstyle for weeks and even months. Because this hairstyle generally includes adding hair extensions, it has your hair looking healthy and luscious.
You can also style them in multiple ways if you have the right kind of micro Coi Leray braids.
Make a style statement everywhere you go with Coi Leray Braids.
Frequently Asked Questions
How Many Braids Are in a Coi Leray Hairstyle?
Inspired by US rapper Coi Leray, this hairstyle is characterized by bold jumbo box braids. Therefore, the original hairstyle had about 16-18 medium-length knotless box braids. That means about 8-9 on each side of the hair. However, newer versions of this have a varying number of box braids in this hairstyle. It depends on the thickness or extensions you use.
What Type of Hair is Used for COI Leray Braids?
Coi Leray Braids are thick box braids that are jumbo in size. For this, generally, braid extensions are used to maintain the desired thickness. You can opt for 3 to 6 packs of either Xpression braiding hair, or you can also use Kanekalon braiding hair for best results.