Natural-looking dreadlocks are something many of us fancy. If you, too, are looking to don this intricate-looking but extremely stylish hairdo, here's everything you need to know before starting it. First, you'll need to start locs via two-strand twists. This is how your hair will start to loc itself and create that fantastic look.
If you are wondering whether you can create starter locs with two-strand twists, then let us tell you, yes, you can. It will take time to get your strands to start locking, and it may look weird at first.
But don't worry and follow the procedure as explained below- you will have your desired locs; that's a promise.
What are Two Strand Twist Starter Locs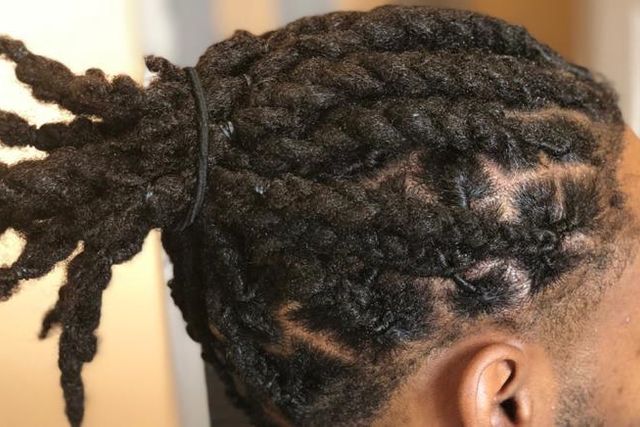 Called baby locs because of their short appearance, two-strand twist starter locs are done as the name suggests, using two strands of hair. You divide your hair into equal parts, take two strands of your hair, and start twisting them. You need to twist your entire hair in this way. The length of your hair will become shorter after the twists.
At the start, your hair will be in twists only; the locs take longer to form. You have to keep your strands twisted for a long time for the roots to start to begin locking the hair.
Why Go for Dreadlocks?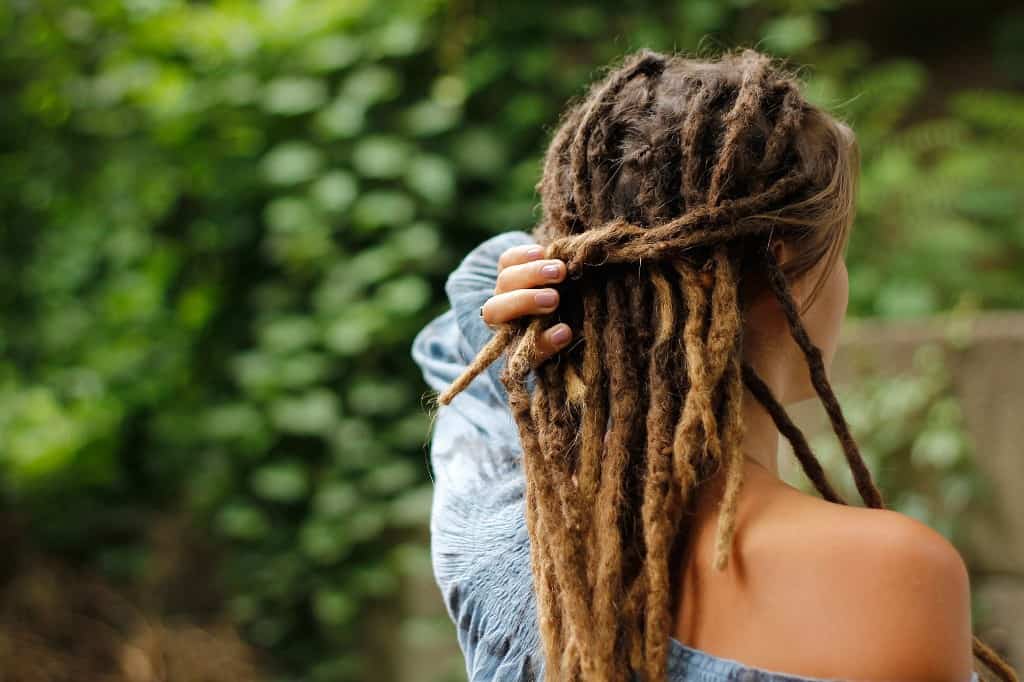 Because they are downright stylish! If you feel your hair is good as it is, think again. Everyone needs a little makeover once in a while. And this dreadlock will be your ultimate hairdo to get noticed.
If you aren't convinced about getting dreadlocks, the following reasons definitely should make you want to go for them.
They can be styled anyway: Talk about multiple styling with a flick of your fingers. It's that easy with dreadlocks. There's no frizz, there's no tangle, and there's no bad hair day with dreadlocks. High and low ponytails, open hair, buns, curled up look- there's no limit to the ways you can style your dreadlocks in less time.
Low maintenance: Aren't we all looking for ways to get rid of hair that requires constant attention and caretaking? Here's your answer! Dreadlocks require just regular shampooing and retwisting, and they are good to go as they are or to be styled any way you like.
Suitable for both males and females: This is one of the rare hairstyles that doesn't distinguish between genders. Anyone can wear this look with style and gusto.
They make you feel free: Your looks have a direct relation to your feelings about yourself. Dreadlocks make you feel lighter on the head and also give you a sense of freedom with their versatility and carefree appearance.
Advantages of Starter Locs Two Strand Twist
To further seal your faith in this hairstyle, here are some of its advantages that you must note down.
Very Easy Method: Anyone who wishes to create dreadlocks in their hair can do this starter locs two-strand twist. It doesn't require any complicated procedures. Simply twist two strands, and you are good to go.
Gives Thick Locs: This method not only gives natural-looking locs but also makes them thicker. This is a highly enticing look and can be achieved by twisting the locs loosely. Castor oil further thickens the locs and also prevents them from untwisting.
Gets Done with Fewer Products: You don't need to go on a product buying spree to get started on your starter locs two-strand twist. It requires very few products, half of which you already have in your home.
Inexpensive: How we all dream of getting salon-like results for our hair without spending a fortune. The two-strand twist starter locs are a highly inexpensive way to get your desired dreadlocks, as they can be done on your own without expert help.
Suitable for All Hair Lengths: If those with short hair are thinking about whether they can do this starter loc, then here's some good news for them- yes, they can! This method can be done on any length of hair as long as it can be twisted.
Disadvantages of Starter Locs Two Strand Twist
There are also some shortcomings of the starter locs two-strand twist that you must be aware of-
Your Hair, once locked, can take a long time to get straight or reach its natural look. So, if you are planning to don dreadlocks for an occasion or a short time, you have to be prepared to wear them for a longer period than intended.
You need to ensure the strands are twisted and secured perfectly; otherwise, there is the risk of them unlocking. This will cause you to retwist the hair more often than required and cause damage to your hair.
When Can You Expect Your Two Strand Twists to Loc?
The time your starter locs two-strand twists begin to show results depends on the type of your hair and the quality of your twists. Thin hair with loosely twisted strands will take longer to loc, while thicker hair with tightly twisted strands will start to loc quickly. It usually takes around 6 months before your hair can start to look. But some may see the results after 2 years. How well you take care and maintain your locs also impacts how fast your hair locs.
Starter Locs Two Strand Twist – How to Do It?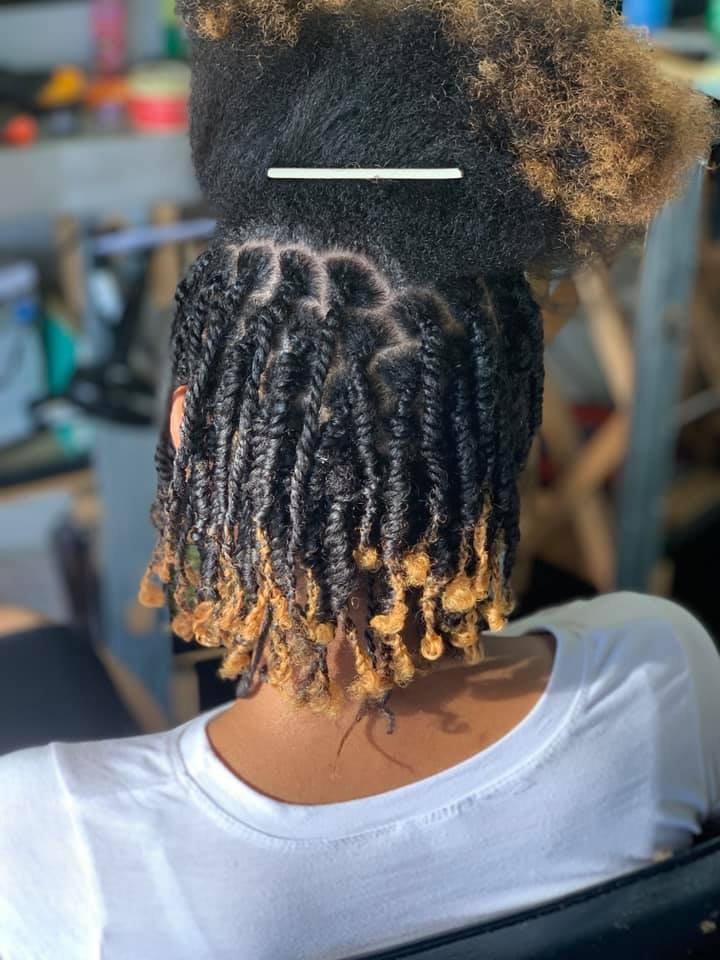 What Do You Need for Starter Locs Two Strand Twist?
Before starting the process, here are the products and tools you need for hair twisting.
Comb for parting the hair. Use a rattail comb for easy partitioning.
A mirror with a stand so you can see your hair clearly.
Elastic bands and hair clips.
Hair oil. Use ones that help thicken your locs. Castor, coconut, and olive are some oils that are perfect for this.
Towel
Prep Before You Start to Loc
Wash your hair with a shampoo and finish with a conditioner. Let your hair dry, and then apply a deep moisturizer, as this will offer double protection after the conditioner to ensure your hair doesn't get damaged easily during the process.
Gather all your tools and products and keep them close by. As the twisting will take some time, it is advisable to seat yourself in a comfortable chair or place.
The Process
Divide your hair into equal parts. You can choose the number of parts depending on how many locs you want, whether 4 or 8 parts. And remember that the locs become thicker than the original twist, so keep this in mind when sectioning the hair. Clip the sections.
Unclip one section at a time, further divide them into two strands, and start twisting in the opposite direction. You can part your hair in any parting style you like, but box partitioning is preferable if you want well-rounded locs. Tie the parts that you are done twisting to keep them in place and not interfere when you are doing other sections.
Tips for Taking Care of Starter Locs Two Strand Twist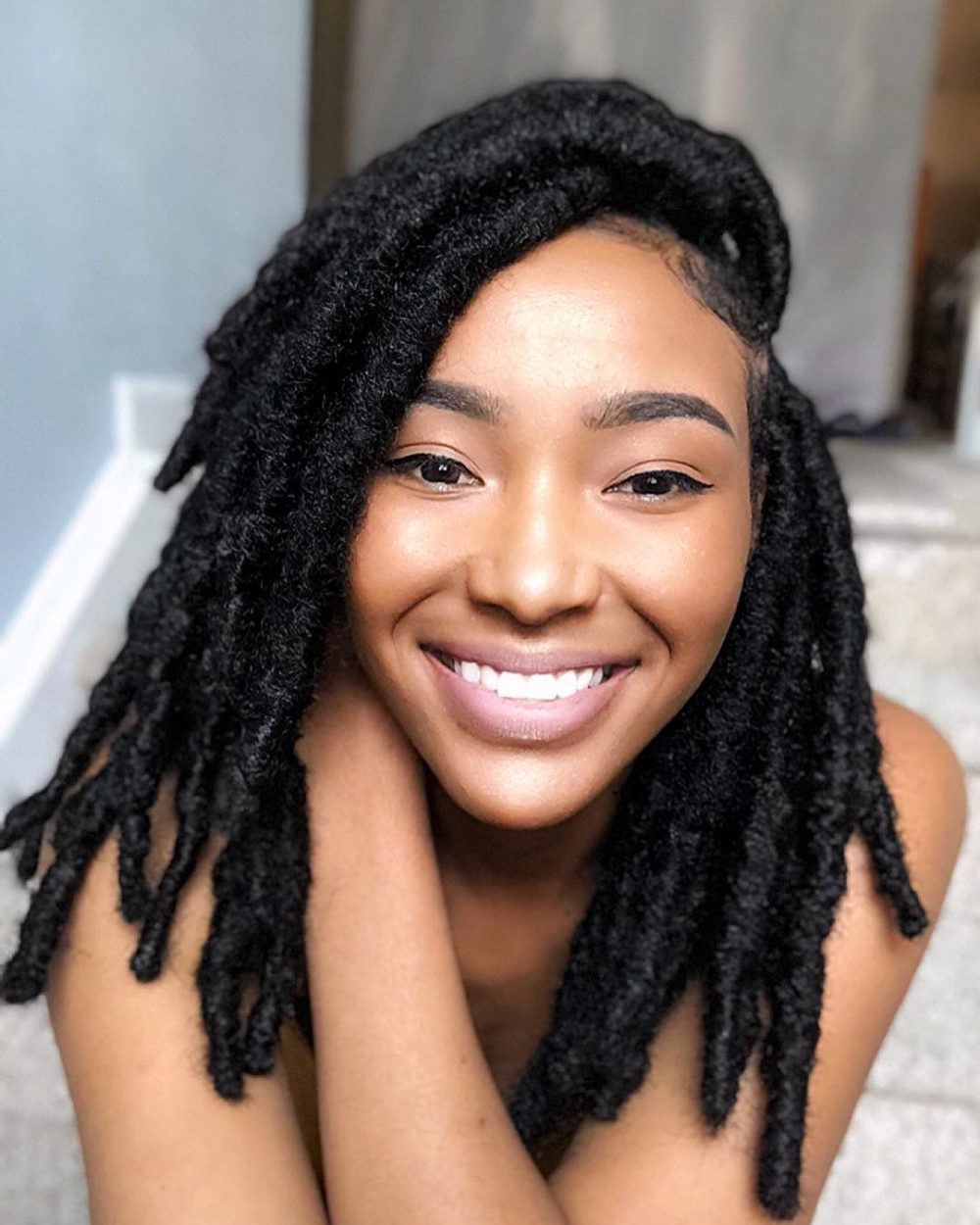 After you have twisted your strands to loc them, there are things you must do to take care of them. These will ensure your locs stay healthy and produce results quickly and perfectly.
Take Special Care Before Sleeping: Sleep can do damage to your loc by causing frizz, lack of moisture, or unraveling. Take the simple step of covering your hair before sleeping to make them stay as they are. You can cover them using a soft material like a satin scarf or satin bonnet.
Keep Tightening the Locs: Investing in a dreadlock accelerator is a good thing as it helps to tighten your loosening starter locs two strand twist. Because you will have to keep the twist for a long time, they will have to be tightened from time to time to not lose their shape. Another way you can tighten the strands is by twisting them between your palms in the direction of the twists.
Hair Washing Care: It is advisable to wash your new starter locs two strand twist a week later. This will give time for your strands to mature and loc well together. Also, keep the number of washes to a minimum. Washing your hair daily or on alternate days can strip it of its natural oils and make the twists loosen up, thus defeating the purpose. Use a shampoo made especially for dreadlocks. These shampoos ensure your locs get cleaned and stay nourished without unraveling.
Let Your Hair Dry: Though it is essential for your locs to get enough moisturization, avoid applying hydration too often and too much. It is as important for your locs to stay dry as to stay moisturized. This is because too much moisture on the locs for a long time can cause damage like the growth of mildew and bad odor.
Don't Forget to Secure the Locs: After twisting your locs, tie them with elastic bands to ensure they don't loosen up or untwist. It is advisable to keep them tied till you wash your hair, which is one week after twisting them.
How Many Times Your Two Strand Starter Locs Need to Be Retwisted?
It all depends on how tightly you have secured your starter locs. Ideally, you will have to retwist your starter locs two-strand twist after every wash. If you find this routine too exhausting for you, you can choose to retwist your locs 1-2 times a month. That should be fine too.
You need to remember that retwisting your locs will result in increased hair fall because the process of twisting and tightening weakens the roots. But that is not the cause for worry. If you think your hair is falling a lot after retwisting, lessen the number of retwists.
Prevent Your Starter Locs Two Strand Twist from Unravelling
Here are a few ways you can prevent your locs from loosening and unraveling and hence requiring fewer retwisting.
Use thick oils or gels– These products are going to come in handy to keep your locs shining and tight in their place. You can use one of these at a time. Castor oil is the best oil for locs as it hydrates the hair, thickens its volume, and stops it from loosening.
Coil the Ends using your fingers– This is an inexpensive and foolproof way to make the ends of your locs stay secure and not open up. Simply use your fingers to coil or roll the end of each strand after you are done installing them.
Secure with elastic bands, hair clips, or bobby pins– After installing the twists, use elastic bands, hair clips, or bobby pins at the ends to keep them in place. You can remove them after a few hours or after a week, depending on the response of your strands to the securing.
Cover the locs with a satin bonnet or scarf- This will ensure your locs stay as they are while you sleep.
Final Words
This was all about starter locs two-strand twist. This information is essential for anyone who wants to have natural-looking dreadlocks without visiting the salon. These tips will ensure you can achieve the look at home on your own.
You just need very few products and tools, and you are good to go. So what are you waiting for? Get that makeover you have been wanting for a long time.
See you when the locs are in place! Do not forget to comment down below and let us know whether you liked our suggestions.