Looking for a hairstyle that makes your short 4C hair look good? Go through these 15 trendy hairstyles for short 4C hair. Type 4C hair is the coiliest human hair that exists. It is also referred to as afro-type hair. These hairs come in different states depending on the ways they are styled, the products used for washing, and hair porosity.
Type 4C has a cottony appearance while they are dry and fluffy but can be turned into highly defined, silky curls that are much more stretched after a wash. The natural appearance of type 4C hair may not be pleasing to the eyes; hence, these types of hair are often groomed into hairstyles.
Apart from this, both long and short 4C hairstyles help lock the moisture in the hair and make the hair more manageable. Short 4C hairstyles not only look good but also help save the hair from damage caused by external factors.
Here is a compilation of short 4C hairstyles that you can DIY at home and enjoy the new looks.
1. Mini Twists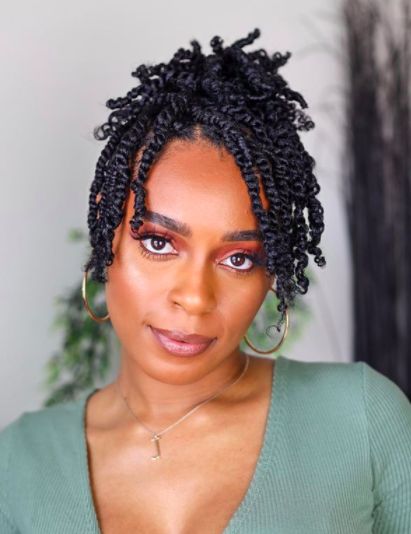 Type 4C hairs are vulnerable to breakage because of lack of moisture content. Whether you have long or short 4C hair, making different hairstyles is an easy way to overcome the cottony appearance. Short 4C hairstyles can be completed in less time and can last longer.
Mini twists are a protective style that can be chosen as a short 4C hairstyle. You can always consider pre-pooing your hair with oils before applying shampoo. This helps in detangling the hair. Consider products like nourishing shampooand conditioner for clean scalp and hair. Lock the moisture with a leave-in conditioner. To begin with, add curl-defining gel on the edges and make sections of the hair. Take two uniform hair strands and twist them till the end. You can choose to add beads at the end or keep them open.
2. Flat Twists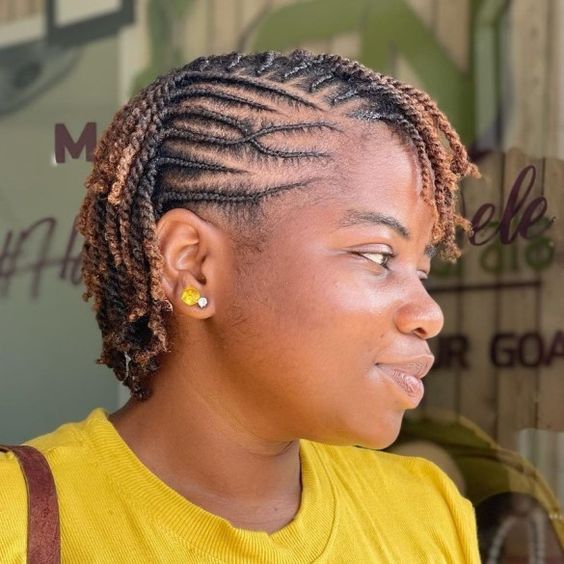 The advantage of short 4C hairstyles is that you can change the pattern by simply unraveling the twists. This hairstyle does not involve the use of heat. Thus, the hairs are saved from damage. The short 4C hairstyles can also be made look longer just by stretching the hair after a wash.
A nice option to consider for the short 4C hairstyle to look attractive is trying flat twists. Most of the short 4C hairstyles are dependent on the sections of hair. With the help of a tail comb, make sections, and you can also choose to add patterns like zig-zag or half-flat twists on the head. This short 4C hairstyle requires two strands of hair that will be flat twisted from the front to the back of the head. In this method, you use the thumb to push the hair down and feed the hair with new strands.
3. TWA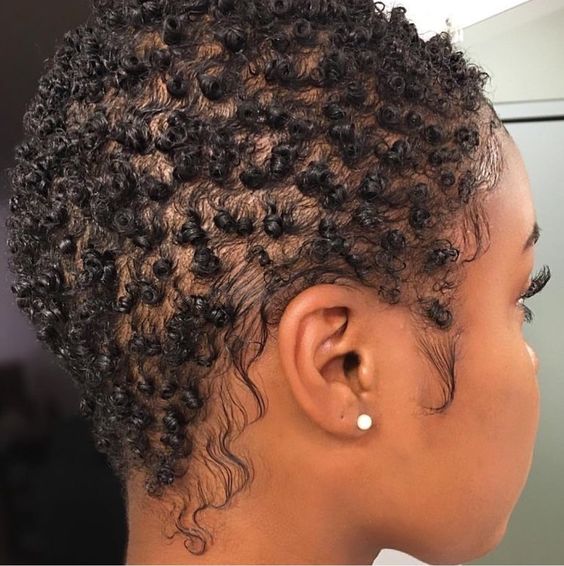 Short 4C hairstyles go well with both casual and professional looks. TWA stands for tiny weeny Afro, where you trim your 4C hair up to 2 inches, which makes it easy to maintain. This short 4C hairstyle can be made attractive by using different hair products that define the curls. You can also make finger coils on TWA after a big chop.
You can consider applying a curl nourishing cream on the scalp after a nice hair wash. This will soften the coils for any type of short 4C hairstyle. Apart from this, apply the curl activator and extreme gel that will make the hair shiny and define curls. With the help of a Denman brush and edge brush, comb the hair upwards. This will give you a nice short 4C hairstyle with defined curls that last for at least a week.
4. Rubber Band Braid Half Updo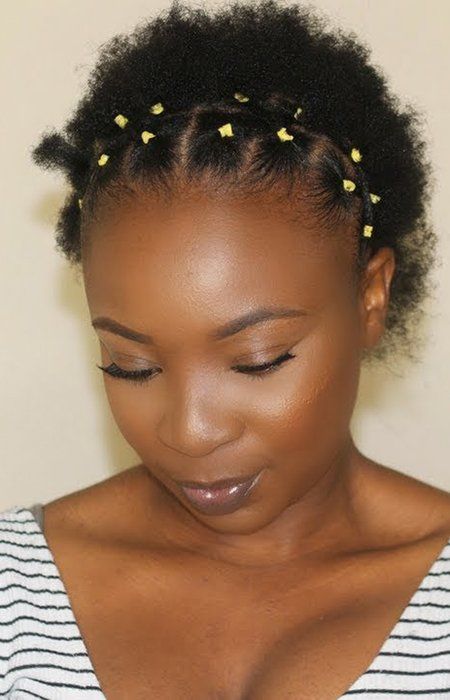 Type 4C hairs are very delicate and can easily turn dry. Certain hair products and hairstyles help retain the moisture in the hair and give you a sleek look.
Short 4C hairstyles have a plethora of options when it comes to styling and accessories. This rubber band braid half updo can be DIY at home with minimum products. You can choose to section your hair either from ear to ear or parting in between. This short 4C hairstyle focuses on making braids in the front part of the head. So you can either tie a high bun or ponytail or leave the rest of the hair open.
Make uniform sections of hair and then apply hair jam on the strands. Tie a rubberband on the start and end of the braid. With the help of eco-styling gel, apply it on the open hair to make the entire short 4C hairstyle look nice.
5. Pixie Cut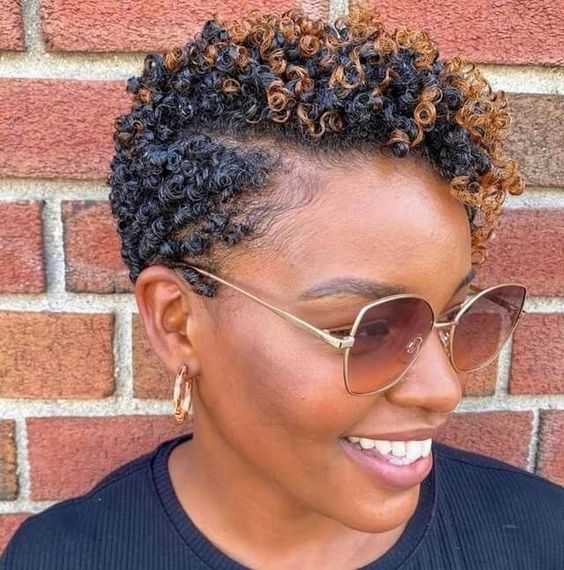 The best part about the short 4C hairstyle is that both men and women can find the grooming pattern that makes them look good.
A Pixie cut is a great option for both genders regarding the short 4C hairstyle. In this pattern, the hair at the back is short and tapered up to a half inch, while those in front are long like bangs. The hairs are secured at any one side of the head for a nicer look. You can make this short 4C hairstyle at home by using a razor comb to cut the excess hair at the back.
Create sections of hair starting from the back to cut the hair at a perfect angle. You can consider applying mint foam to the hair, which makes the curls soft and pop. Now place the hair on the side you like and allow the hair to dry.
6. Tapered Cut
As these short 4C hairstyles last for a long time, you can carry them even for a long vacation. The tapered cut is renowned among men and women in athletics and those going to the gym. This short 4C hairstyle is a nice way forward to beat the heat. Tapered cut differs from pixie cut as the back and side hairs are shaved off to a small length.
This short 4C hairstyle can also be DIY at home by pre-pooing the hair with oil. This will help detangle the coils more effectively. After a nice wash and with the help of a blow-dryer, you can stretch the coils. This will help give the front hair a nice shape with trimming.
You can consider applying hair mousse to front hair and use a hair steamer, which will help in styling the curls.
7. Cornrows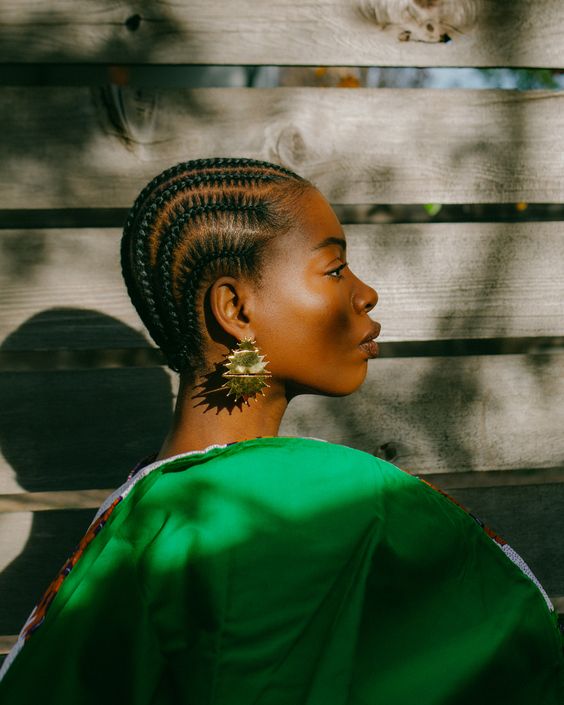 Type 4C hair needs extra care and attention compared to other hair types. If proper hair products are used, you can make the curls visible, and the hairstyle looks attractive. One of the most common short 4C hairstyles in both men and women is cornrows. This grooming pattern can be done at home. Before making sections in the hair, detangle the hair with a tooth comb.
You can choose to stretch the hair with a blow dryer for longer cornrows. Apply hair moisturizer on the strands so they are soft enough to cornrow. Make neat and straight sections of hair with a tail comb.
For convenience, tie the rest of the hairs except the hair strand you are working on. While making cornrows, make sure your fingers are touching the scalp and grabbing the nearest hair strands for a crisp look.
8. Finger Waves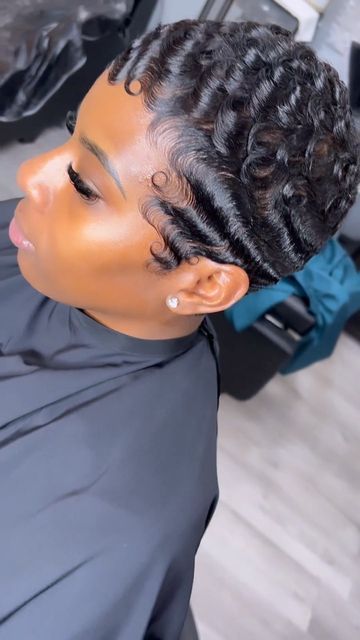 Hair styling is inevitable for both genders so that they look neat and complement the dress and function. Type 4C hairs are easy to style at home with so many organic products and accessories in the market.
If you want to recreate the old styles for your short 4C hairstyle, the finger waves are the perfect option. This short 4C hairstyle settles or relaxes the short hair that is up to half an inch. Begin by applying hair mousse on the scalp right after washing and combing it down with a tail comb. Make a side parting for this short 4C hairstyle. Apply more hair mousse on the hair after parting, and with the help of the front side of the tail comb, swoop or pull the hair, forming a small C shape.
Continue the same process for the entire side, and you will see the wavy patterns. Apply edge control on the hair edges and a hair hold spray for a sleek appearance.
9. Box Braids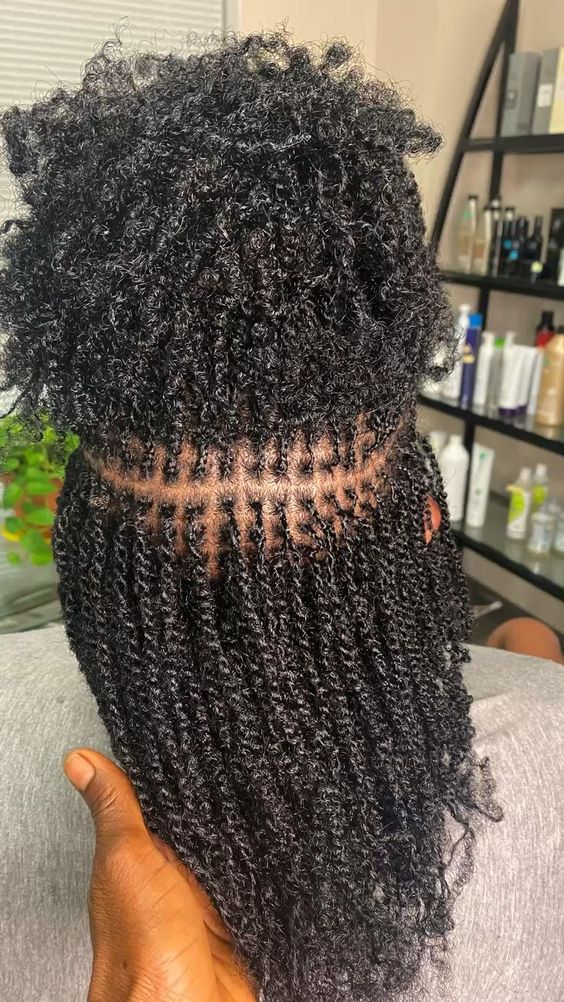 There are a wide range of short 4C hairstyles that can be tried. Even if you have 2 inches of hair, you can have long box braids and enjoy the new look. Purchase Kanekalone hair for this short 4C hairstyle. There are various colors in this synthetic hair that you can try for a refreshing look. As the synthetic hair is too long for the real hair, cut the length of the Kanekalone as per requirement. Apart from this, it will be attached to a very small chunk of real hair, so keep it lightweight. Detangle the synthetic and real hair, so it becomes easy to braid. Damp your real hair with water and apply olive oil so it remains moisturized.
It is recommended to make small sections when you have shorter hair. Make uniform strands of synthetic hair, and after tying a knot at the roots, make box braids. Dip the ends in hot water to seal the ends, and this short 4C hairstyle will last up to a month.
10. Twist-out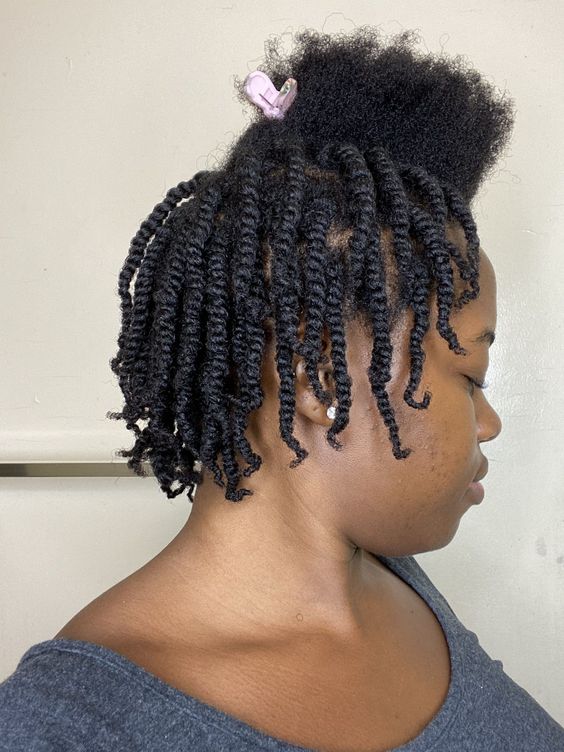 You can be creative with short 4C hairstyles, like trying new hair colors, attaching extensions, using threads, beads, and hair bows for a sleek look. If you are looking for a nice and easy vacation look, the twist-out short 4C hairstyle is a perfect match. Start this hairstyle on freshly washed hair and make sure it is detangled. Make sections as per the twist-out you wish to make.
These twists can be made in different sizes: small, medium, and large. Apply the leave-in conditioner on the hair strands, followed by hair cream and oil. This process will help keep the hair moisturized for at least a week. In twist-outs for short 4C hairstyles, you will require only two uniform hair strands.
Twist these strands till the end, and make sure you seal the ends by twirling or wrapping around the finger, which will not cause the unraveling of hair.
11. Mini Afro Puffs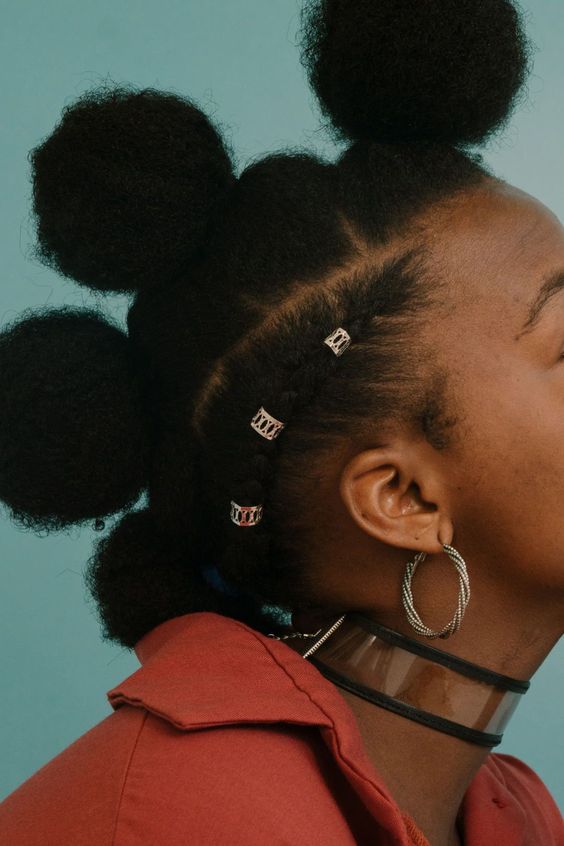 Short 4C hairstyles are so crisp and clean that they can be worn by school-going girls and adults. These hairstyles are timeless and will always remain trendy. If you are looking for a funky style that is easy to make, these mini afro puffs are suitable for natural short 4C hairstyles. Start the hairstyle by spraying water or after a shower so it becomes damp and easy to style.
You can be creative with this short 4C hairstyle by either making puffs on two sides or making a series of vertical puffs. In both styles, you need to make sections accordingly. Using a rat tail comb will help make a straight section.
Apply hair oil to each strand, which will not only protect the hair but also retain moisture. You can also choose to add eco-styler gel for smooth hair. Now, put your brushed hair into buns by tying a rubber. This short 4C hairstyle will last for at least a week.
12. Faux Hawk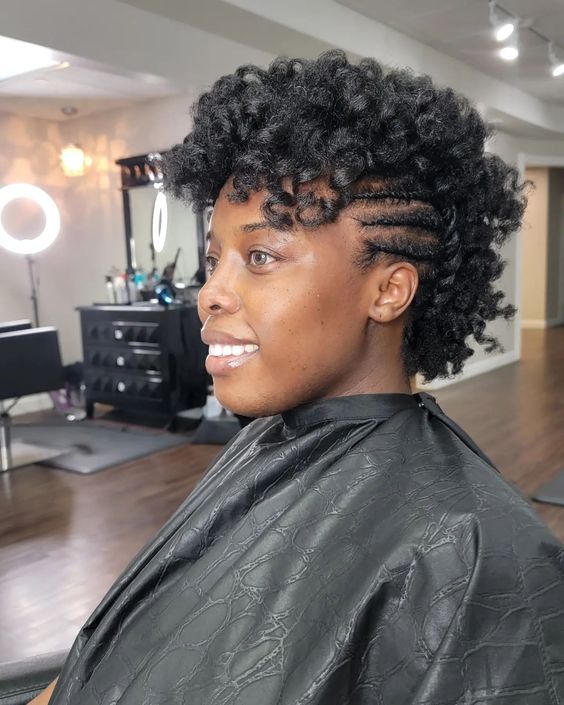 If you want a short 4C hairstyle that can be made within 10 minutes, the Faux Hawk is specially for you. Prefer doing this short 4C hairstyle in freshly washed and detangled hair. Make a high ponytail or loose bun with all the hairs gathered, as this short 4C hairstyle focuses on the edges. Use a dark edge control according to your hair color: black, brown, etc., as the hair edges are light in color. This dark edge control will give you a crisp appearance due to fuller edges.
Later, apply the extreme gel on the front hairs to define the curls. With the help of a tress brush, style the edges and groom it with an edge booster. This will make the coarse baby hairs in front look more sleek. For the edges and hair to dry, you can use a satin silk scarf. You can attach a mohawk curl on the bun, and your short 4C hairstyle is ready to go.
13. Finger Coils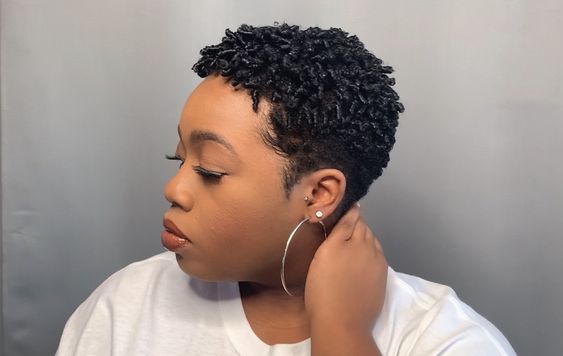 Finger coils are the perfect protective style for a short 4C hairstyle. This pattern can last up to 3 to 4 weeks with least maintenance. This short 4C hairstyle can also be done in a TWA or half-inch hair. Begin this hairstyle after a nice wash with shampoo and deep conditioner. Apply moisturize to the damp hair with a conditioning cream and seal it with oil.
Move ahead by styling the hair with eco-style gel, which will give the curls a nice shine. You can part your hair on either side for this short 4C hairstyle with an edge brush.
Secure the rest of the hair with clips and apply water on the hair you are working on. Apply gel on the strands and make coils by twisting the hair. This short 4C hairstyle is about twirling your hair between two fingers from root to tip.
14. Mini Bantu Knots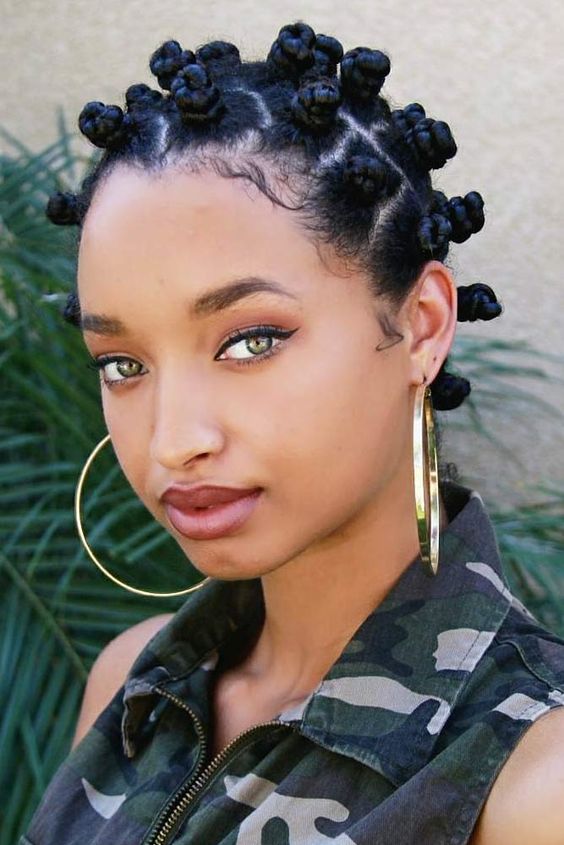 Mini bantu knots are an attractive short 4C hairstyle that helps manage the hair and protect it from external factors. Start this hairstyle by cleaning your hair and stretching it with a blow dryer so its length increases. Part the hair with the help of a rat tail comb and run the moisturizer on each strand before applying the gel.
If you want a sleeker look in the short 4C hairstyle, apply the heavier gel on the strands. Start making twists in the parted hair, and this makes the Bantu knots look thicker. Now wrap the twist around itself and secure the hairstyle with a rubber band or tying a knot. Try to make the knots less tight, or else it will be difficult to sleep.
You can create this short 4C hairstyle in different patterns: vertical bantu knots, only in the front, etc., for a crisp look.
15. Natural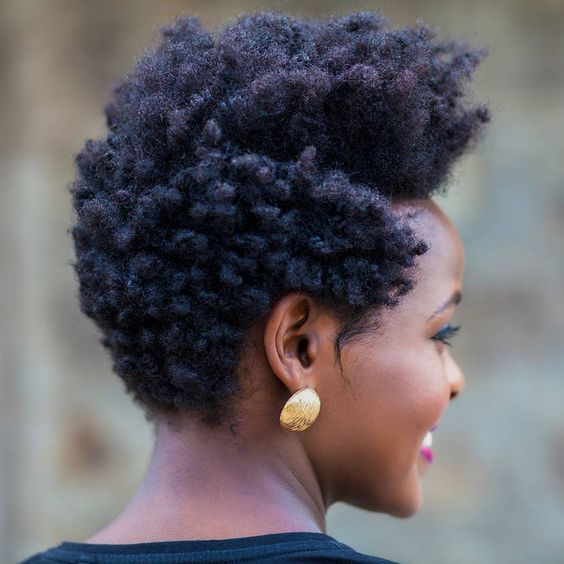 You can choose to keep your Short 4C hairstyle natural without any patterns and accessories. Natural 4C hair requires minimum maintenance and products to look attractive. The key element in this short 4C hairstyle is to keep the hair moisturized.
Just by following a routine of regular washing, deep conditioning, and moisturizing with leave-ins, you can define the curls in your 4C hair. This short 4C hairstyle works for both men and women and can be quickly achieved in less time. Moreover, it is appropriate for casual, occasion, and professional looks. Water is the main element in moisturizing the natural hair.
After a wash, the hair is bouncy and fully hydrated; it is necessary to lock the moisture. Consider applying leave-in conditioner, hair cream, and oil in the regime. This will make your hair look maintained and pop the curls.
Conclusion
Type 4C hairs are prone to dryness and can turn into fluff and hard-to-manage hairs in a short time. Short 4C hairstyles help you create a sleek look for all occasions and manage your hair more efficiently. These protective styles do not involve the use of heat; hence, the hair remains healthy and free from damage.
Short 4C hairstyles can help deal with external factors like humidity and heat without getting disrupted. Apart from this, these hairstyles remain for a longer time with minimum maintenance.
You can make short 4C hairstyles in the natural hair as well as attaching synthetic hairs. The above-mentioned short 4C hairstyles are suitable for both genders and can be made at home.