Thinking of changing your hairstyle? Check out these easy Travis Scott braids for a refreshing look. Hairstyles have been an integral part for both men and women.
Certain hairstyles, like the protective ones, help in maintaining the hair, especially type 4 hairs. This hair type has the most coiled hairs and dries out quickly.
Hence, hairstyles help deal with external factors and give an attractive look. Actors and singers inspire many hairstyles in today's generation.
One of the famous hairstyles in men has been the Travis Scott braids. These jumbo box braids can be made at home by anyone, irrespective of the type and texture of hair. The Travis Scott braids consist of at least 12 to 15 braids.
You can be creative with the hairstyle by grooming the braids in different patterns.
Here is a guide on how to make and maintain the Travis Scott braids at home and get a new look on a daily basis. 
How to Do Travis Scott Braids?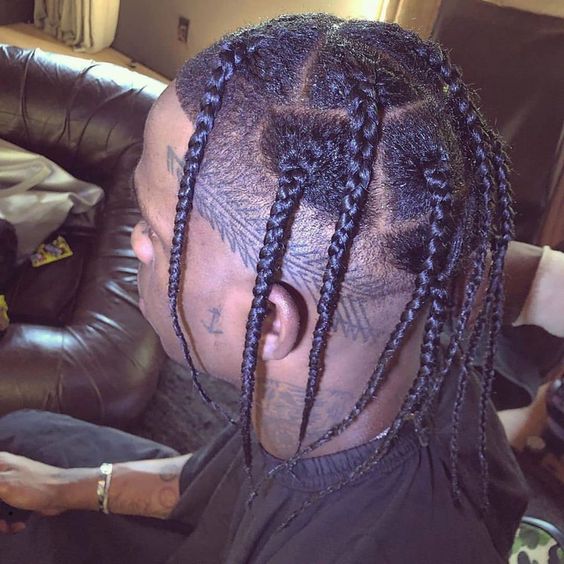 Travis Scott's braids have gained popularity because of the rapper wearing this hairstyle in his shows. Not only do his fans try to replicate his hairstyle, but those with all types of hair, especially afro hair, also like to imitate the hairstyle.
The benefit of wearing the Travis Scott braid is that it does not involve heating or chemical treatment that can cause hair breakage. These box braids last longer compared to other hairstyles and require minimum material while braiding.
As this hairstyle can be DIY at home by everyone, it becomes an inexpensive way of hair grooming. You can choose to be creative by adding hair accessories like beads, threads, and synthetic hair for a nice look.
The Travis Scott braids work well in both casual and professional looks. These braids are an effective option to overcome the cottony appearance of afro hair.
Here is a step-wise guide to making Travis Scott braids at home. 
1. Preparing the Hair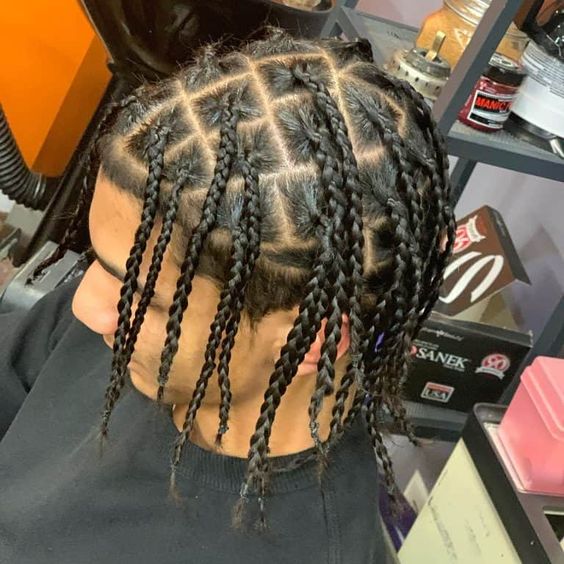 Travis Scott braids are basically box braids that can be made in any length of hair. It is necessary to prepare your hair before grooming so that it is easy to braid in detangled hair. 
It is necessary to deep cleanse your hair before making the Travis Scott braids. Your hair, depending on the porosity, may have accumulated oils and dust on the outer layer. By washing it with clarifying shampoo, you get rid of all kinds of dust and residues. 
If your hair dries out too quickly, you can also consider pre-pooing the hair by applying hair oil and leaving it for 30 to 40 minutes before washing the hair. 
After cleansing the scalp with shampoo, choose to apply a deep conditionerto the hair. This will help deal with the frizz and keep the hair glossy for a long time. 
When it comes to afro hair or type 4 hair, the moisture needs to be locked immediately after washing, or else the hair will turn dry and become fluffy. To make the afro hair more manageable and moisturized, apply a leave-inconditioner to the hair strands. 
The leave-in conditioner will act as a heat-protectant and help detangle the hair easily. 
The Travis Scott braids can be made in short hair, too, but if you want elongated braids, choose to stretch your hair with a hair dryer. 
2. Creating Sections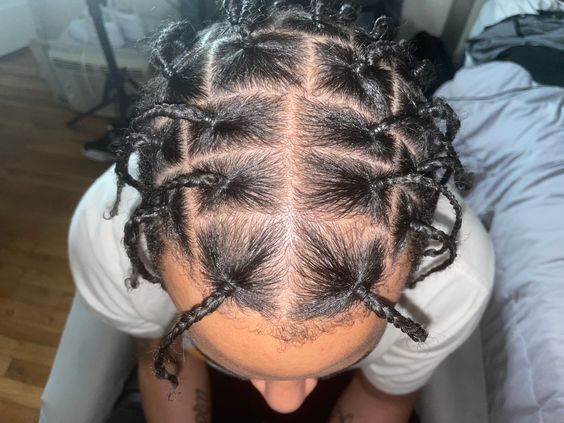 Once you have stretched your natural hair, detangle it with the help of a tooth comb. Use a rat tail comb to make sections in the hair. The Travis Scott braids usually consist of at least 15 braids. You can be creative with the hairstyle by choosing to braid the front or back only, or tying the back braids in a high ponytail, etc.
The rapper Travis Scott wears a tapered hairline in front. In this, you need to trim a small chunk of the front hair to match the sides. You can choose to create the same hairstyle or move along with your natural hair. 
While making sections, you can choose any shape or design for an attractive look. You can create square-shaped sections, star-shaped sections, or diagonal sections. 
With the help of hair clippers, tie the rest of the hair in a section while working with one section. Use edge control while making the hairstyle in each section. The edge control will give a clean and crisp look to the Travis Scott braid. 
There are certain dark edge controls that come in black and brown shades, which can give your hair a natural and shiny touch. 
If you are looking forward to keeping the Travis Scott braids intact for a long time, use a styling gel on the hair before braiding. This will help keep the hair in place and add shine to the braids. 
3. Braiding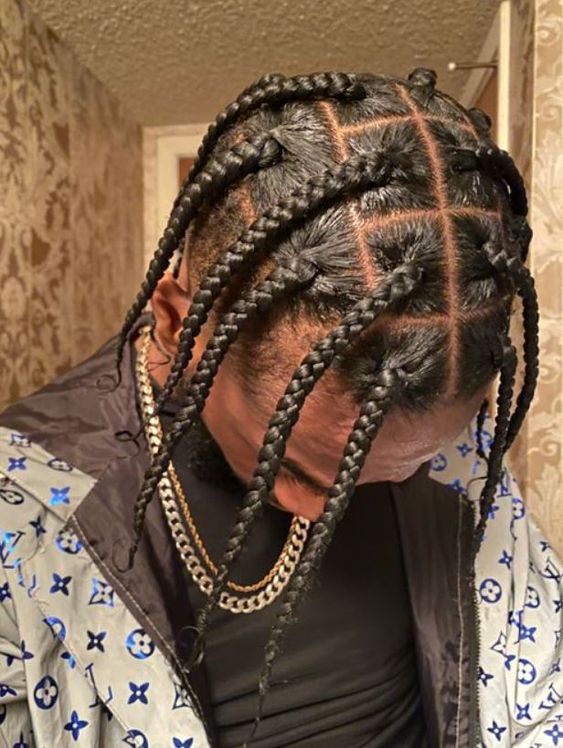 If you are willing to get numerous Travis Scott braids on your hair, make more sections. The more sections, the thinner the Travis Scott braid will be. This will also be beneficial as the braids will weigh less, and you will be able to carry them for a longer time. 
When you are braiding the front hair, make sure the Travis Scott braids are not coming in front and are lying on the sides of the face. 
Secure the hair roots by tying a rubber band on the top. The Travis Scott braids are types of box braids. 
Once the hair is tied in the rubber band, take a section of hair and wrap it around the base of the hair. This will effectively secure your hair without making it slippery. 
By taking three uniform strands of hair, make Travis Scott braids. Make sure you apply edge control to each section while braiding. 
At the end of the braids, you can choose to twirl around the strands, creating a small knot, or secure it with beads. This will keep the braids from unraveling for a long time. 
In the traditional box braid method, the ends are sealed with hot water. You can consider this method too. 
4. Grooming Patterns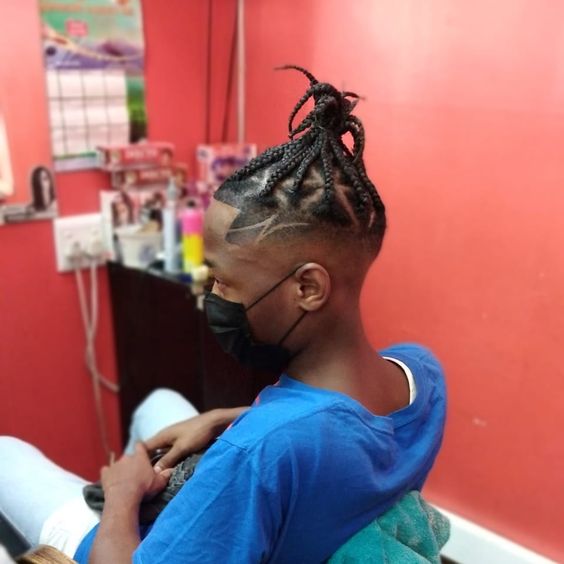 Travis Scott Braids can be kept open and in their original form. These braids will be a nice option for vacation and dealing with the summer heat. If you have short hair, you can wear the Travis Scott braids down initially. The benefit of having thinner braids is that you can style them easily for a whole new look. 
You can consider tying your back Travis Scott braids with a rubber band and making a low or high ponytail. You can give your ponytail more volume and make it look longer by pulling the hair through the rubber. This hairstyle will look good for both long and short Travis Scott braids. 
If you have longer braids, you can choose to make a half updo. In this pattern, take some braids from the front side and tie them in a rubber band. You can also create a bun at the end. Leave the back braids in an open manner. 
To highlight your sections and their shapes, you can consider tying all your hair in a high bun. This way, you will keep the Travis Scott braids maintained. 
If you want a bolder look, try making the braids more thicker. You can also choose to add hair accessories. 
Another option to groom the Travis Scott braid is to braid the side hairs in a circular manner. This will make a nice pattern on the scalp and look unique. 
There are synthetic hairs available in the market that can easily be attached to your natural hair. These Kanekalone hairs come in different colors and can be customized to your desired length. 
How to Maintain Travis Scott's Braids?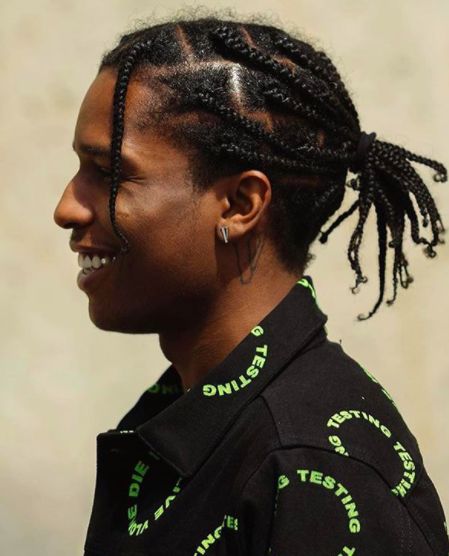 Although the Travis Scott braids are a protective hairstyle and help keep your afro hair manageable. It is inevitable to maintain them on a regular basis to avoid layers of dust and hair shedding. These box braids can last up to 2 months without unraveling, but it is suggested to take them down within 3 to 6 weeks. While you have the Travis Scott braids, choose to cover them with satin sleep caps while sleeping.
This material will protect the hair from drying and keep the braids intact. To maintain the Travis Scott braids, stick to the hair wash routine you follow for your natural hair, like once or twice a week. Or else it would result in an itchy scalp, dandruff, and build-up of all kinds of hair products in the hair and scalp.
Here are a few tips on maintaining and cleaning the Travis Scott braids. 
Use a bristle brush on a regular basis. Gently brush the scalp and braids to get rid of any dust particles. 
You can choose to spray your hair with warm water or give it a proper wash. The warm water will allow the cuticles to open and loosen the build-up. 
Use a clarifying shampoo to cleanse the scalp. Thoroughly massage the scalp for at least 5 to 10 minutes to get a nice blood flow in the head. Apply deep conditioner to the tips and hair strands and allow it to stay for 20 minutes. 
Instead of using a towel to dry the hair, just squeeze the hair strands and allow it to air dry. Another benefit of squeezing the damp hair is that water will penetrate inside the hair cuticle and allow the hair to retain moisture. 
Apply leave-in conditioner to the damp scalp and hair strands. With the help of a squeezing motion, press the leave-in conditioner into the hair strands. This will help overcome the remaining residue. 
To lock moisture, use hair oil on the scalp. It is advisable to spray oil on the scalp and undercut at least 2 to 3 times a week. This will prevent dryness and dandruff growth. Massage the scalp for at least 10 to 15 minutes to boost hair growth and activate the blood flow in the head.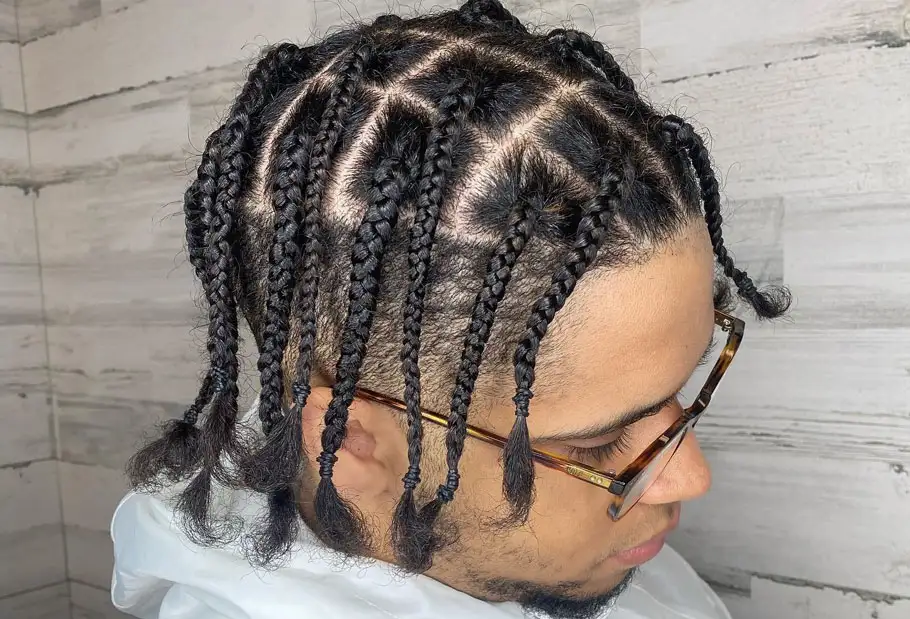 If you have low-porosity hair, use a heating cap after the hair cleaning. This will open up the hair cuticles and also protect the hair. 
This method of maintaining the Travis Scott braids is commonly called the LOC or LCO method. This stands for leave-in, oil, and cream. This a layered moisturization technique where all these above products are added in succession. 
The leave-in conditioner or liquid will help pull the water within the cuticles during the rinse, and the oil and cream will play an important role in locking the moisture. 
The LCO and LOC methods depend on the hair porosity of the individual. If you possess high-porosity hair, the LOC method is perfect for you. And if you possess low porosity hair, the LCO method will work great. 
Those having type 4 hair or low porosity hair can consider this method to make sure that their hair remains moisturized throughout the week. 
To keep the Travis Scott braids clean, you can consider using a co-wash. This is a cream formula that is gentler than the shampoo and decreases your cleaning time. It not only moisturizes your hair but also conditions it. 
By using the LOC method on Travis Scott braids, you give your braids a crisp look like they are freshly made. It helps overcome the dryness, frizz, and dullness caused by external factors. 
This method takes very little time and does not make the braids feel weighed down. Even if you are not thoroughly washing your hair, spraying it with luke water and trying the LCO technique will keep your Travis Scott braids well-maintained and clean. 
Conclusion
The Travis Scott braids have gained popularity because of the rapper and the crisp look that it offers. This style of grooming is easy for every man to make and maintain at home.
You can make these braids with your natural short and long hair and also choose to add a few styling products.
As these Travis Scott braids can be DIY at home, it becomes a cost-effective grooming method. With minimum hair products and accessories, you can style your braids and get a whole new look.
The Travis Scott braids are a protective hairstyle, and the above-mentioned hair products are organic and reviewed by many people. Hence, there is minimum damage to the hair.
With the step-wise guide in this article, you can now recreate your favorite rapper, Travis Scott, braids at home and enjoy the look.