Looking for a new style of braid that looks beautiful? Try these Thai braids that have pops of colors for all occasions. Braiding hair has been closely associated with afro hair or those having type 4 hair. Different types of braids, like box braids and knotless, came into existence several years back. The prime reason was to keep the hair from drying and manage the cottony appearance.
There is a wide range of braids across the world that have connections to the past and are still practiced today. Braids have also been an intrinsic part of Asian culture for thousands of years. Braids hold cultural significance as they represent a specific tribe and tell a lot about where the person comes from.
Hair braids in history denoted social status, marital status, and position depending on the braiding style and accessory. Thai braids have gained popularity due to tourists visiting Thailand and renowned stars wearing this style.
Here is an overview of Thai braids, their origin, and the trendy styles for all hair types. 
What is the History of Hair Braiding in Thai?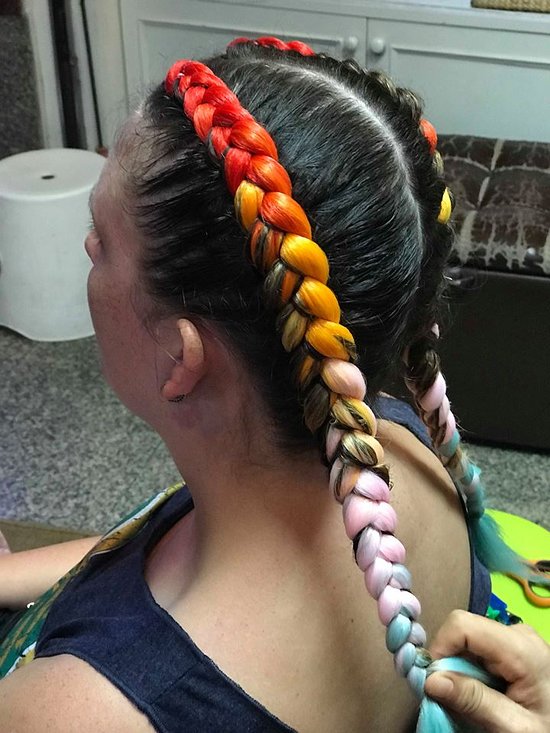 Braids can be witnessed in different Asian countries, and it denotes that braids are a part of their custom. The Thai braids came into the limelight when Kylie Jenner wore them and faced controversy when Blackpink star Lisa wore them in her video.
There is a notion about braids that they were introduced and are solely worn by Africans or Afro-Americans. But Asians also have a connection with braids, and it can be witnessed in many cultures. The different hair braids include Kyrgz braids, Tatar braids, Tibetan braids, Korean braids, Indian braids, and many more.
Hair braiding in Thai culture can be dated back several years. These braids were worn by both male and female members and were believed to keep them safe from the evil eye.
Original Thai braids were done on natural hair only, and they could be made up of two strands or three strands. Nowadays, Thai braids have included synthetic and colorful hair because of the tourists and rising trend. 
What are the Types of Thai Braids?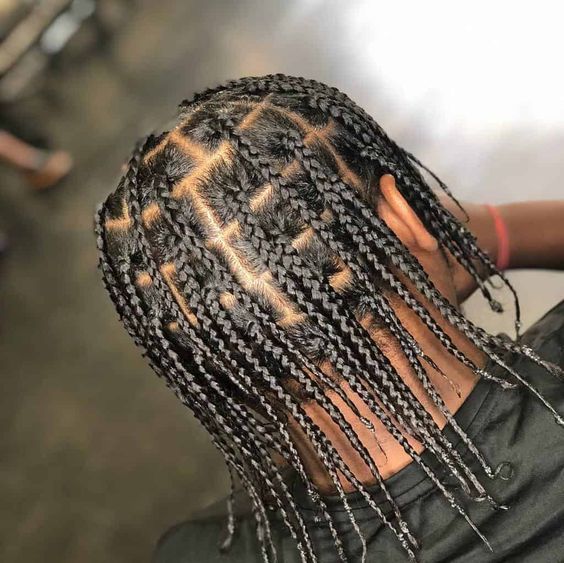 Thai braids can be made in all types of hair, irrespective of the texture. It does not matter if you have straight hair or afro hair; this braiding style is easy and can also be done at home.
Thai braids differ from African braids as the braids are not limited to a single section of hair; the adjacent hairs are also involved. This creates an elegant look that works for both a casual and professional look. 
While making Thai braids, you need to create a small section of hair. This can be in the side or back of the head. Make equal 2 or 3 strands of the section and start braiding the hair. Cross over the initial strands and gradually add new hair in the middle from both sides.
Thai braid made in this manner will give a spiral shape, and as all the hairs are involved in braiding, it will create a nice hold on the entire braid.
Here are a few traditional Thai braids that are trendy and will give you a sophisticated look. 
1. Phom Pia Thai Braid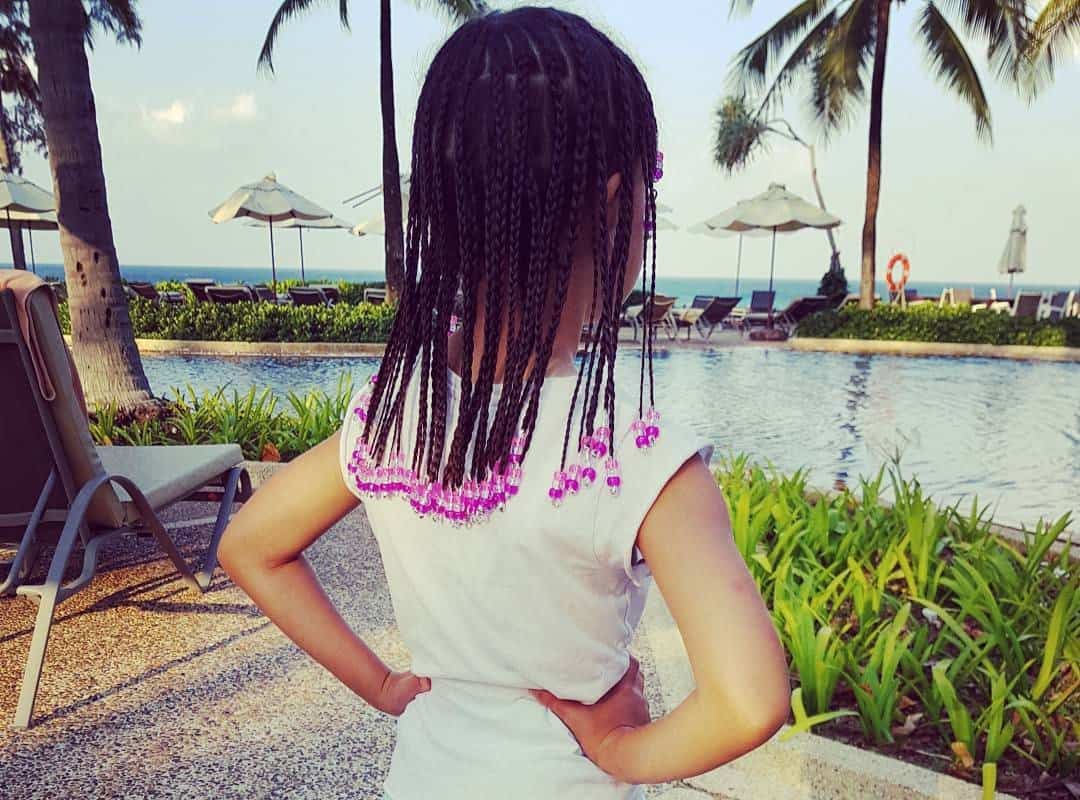 This traditional Thai braid was originally formed on young boys and men by the elders in the family. This braid has a close resemblance to box braids from the African style. The only difference in this Thai braid is that only natural hairs are used to make the hairstyle.
This braid usually begins from the middle of the hair instead of the front and remains down the neck. With time, this traditional Thai braid saw a decline in men. However, it is still witnessed in many Thai women and women from different cultures.
These Thai braids make it easier for women to handle their hair during work or from extreme heat, and they save time from regular maintenance. This traditional Thai braid is an inexpensive hairstyle, as it does not involve purchasing synthetic hair and other accessories. Apart from this, this Thai braid can be DIY at home by everyone. 
2. Muay Thai Braids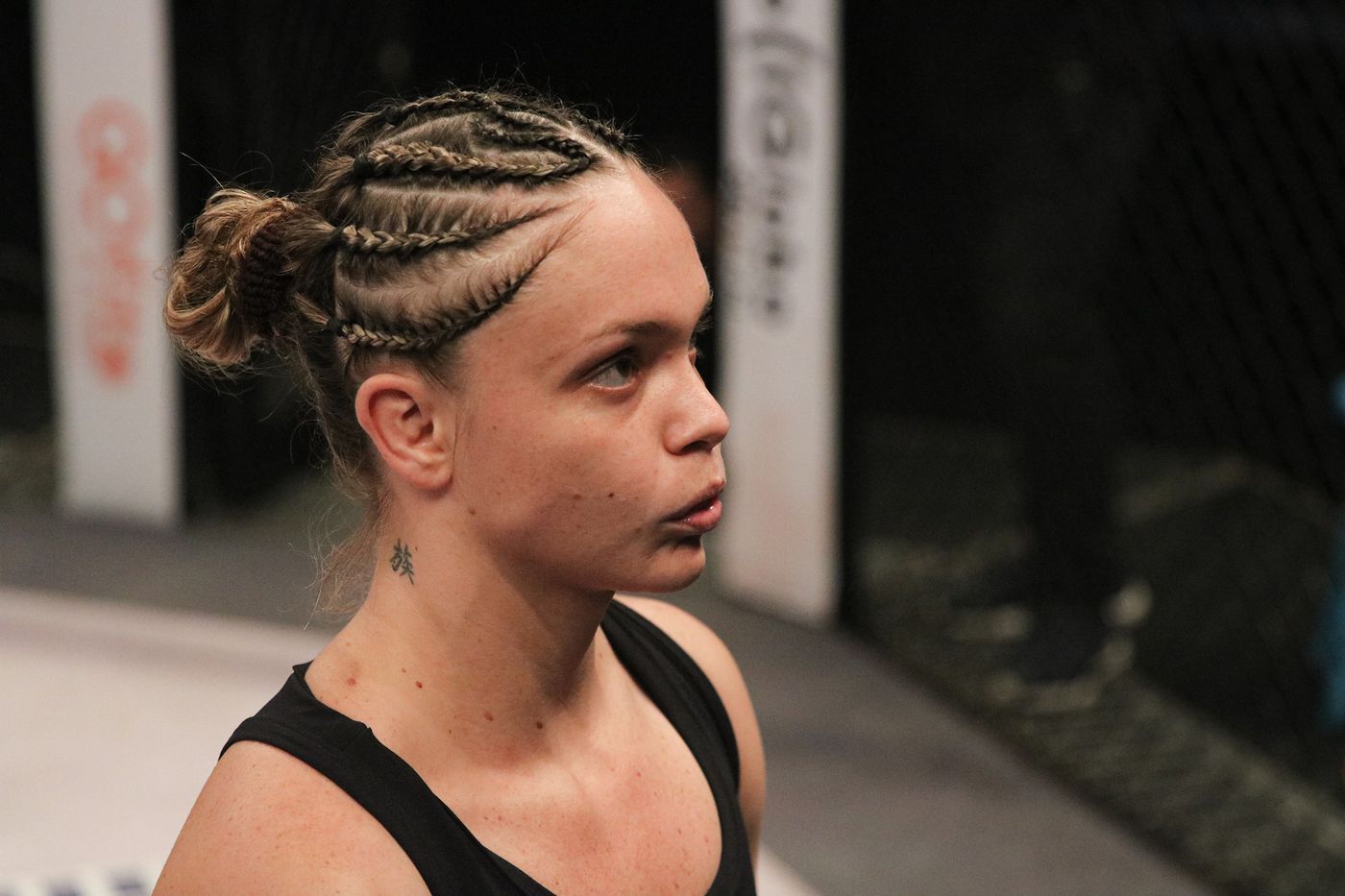 Muay Thai fighters wore these traditional Thai braids to avoid any kind of disturbances from the hair while fighting. This hairstyle is still trending among athletes as the hair is tightly secured and well-managed.
You can make this traditional Thai braid at home if you are aware of making cornrows. Start by detangling your hair, so it becomes easier to braid. Make parts or sections according to the number of cornrows you want to make.
Take three uniform strands from the beginning of the head and start braiding towards the back. As you braid, you have to have a good grip on the fingers and keep grabbing new hair from behind. You can make the cornrows loose or tight according to the purpose of the Thai braid.
It is up to you whether you want to braid the whole strand or half the strand, as in this traditional Thai braid, half the hair will be secured in a ponytail. 
3. Mud Chook Thai braid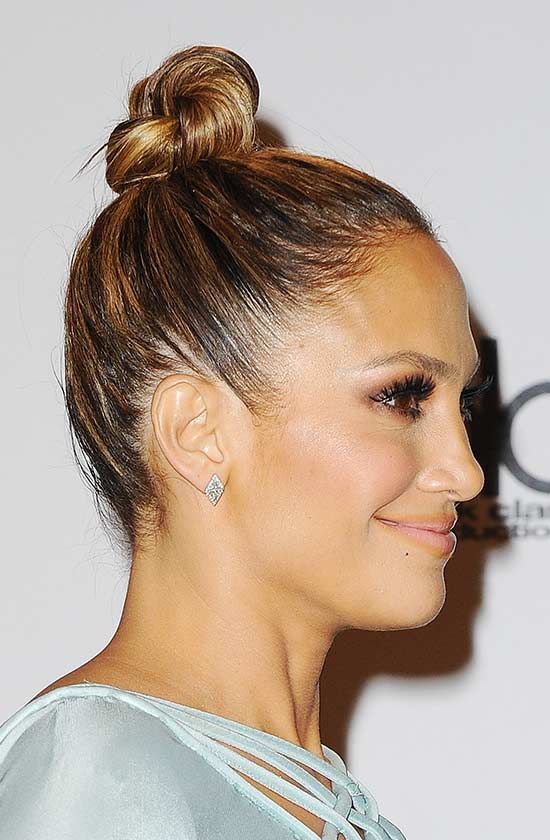 If you are looking for a nice and sleek summer look that works in the office as well as at parties, this traditional Thai braid is the perfect solution. This Thai braid is the modern-day top knot that has been trendy among every woman. You can easily create this Thai braid at home with minimum accessories.
Start by tying your hair in a high ponytail and then braiding the hair with two strands till the end. Take the two strands and twist them around the high ponytail. Secure the hairstyle with hair pins. You can also try this Thai braid differently. Keep the hair below the ponytail free, and divide them into two equal strands.
Wrap the hair around the ponytail like a bun and secure it with hairpins. To make this Thai braid look bigger, you can loosely tie the top knot. This hairstyle is easy to make and takes less time. 
What are the Trending Thai Braids?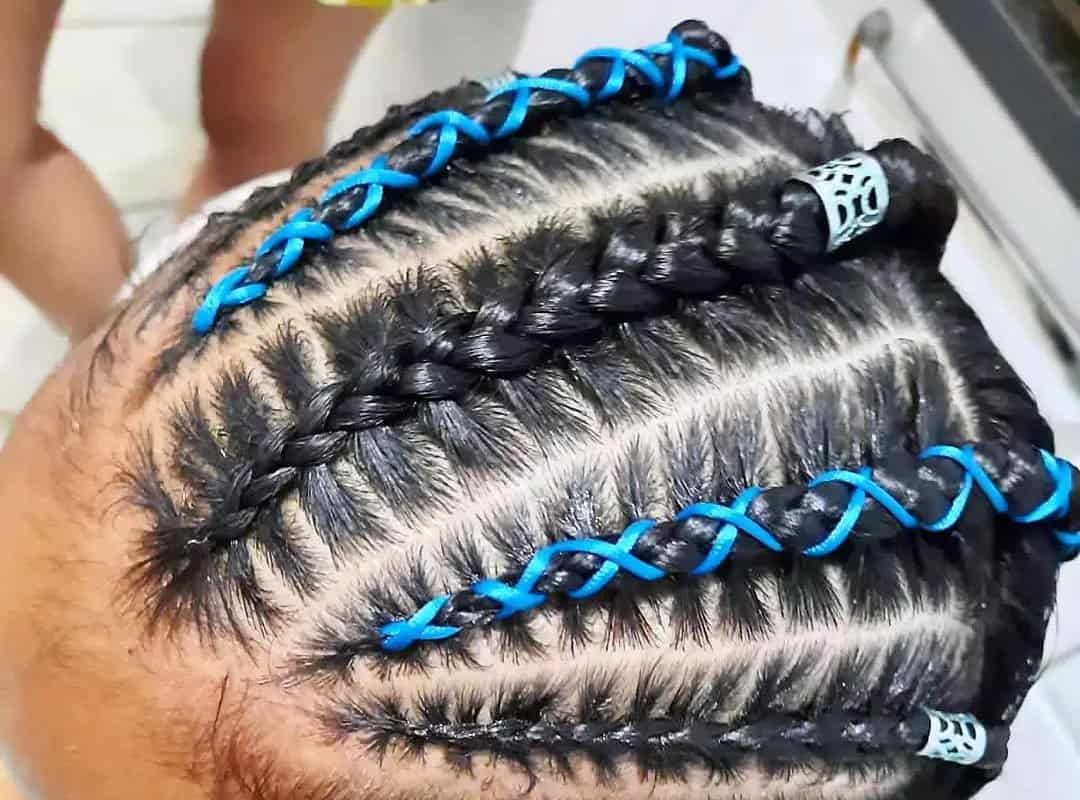 Thai braids are usually made in medium or long natural hair. Thus, there is no extra weight on the head or tension on the scalp. You can choose to add threads or strands of synthetic hair in between for an attractive look. Thai braids do not require extreme hair products as they are made on different types of hair.
Unlike box braids, the ends are not sealed with hot water, but beads or rubber bands are used. You can have Thai braids in one part of the hair and leave the remaining part open for a nice and casual look. Apart from this, these braids are easy to manage and maintain and can last up to a month. Thai braids do not have a fixed regime to follow, like parting and making knots.
Thus, you can be creative with these braids. Here is a compilation of trending Thai braids that you can try at home to get a refreshing look. 
1. Braided Thai Bob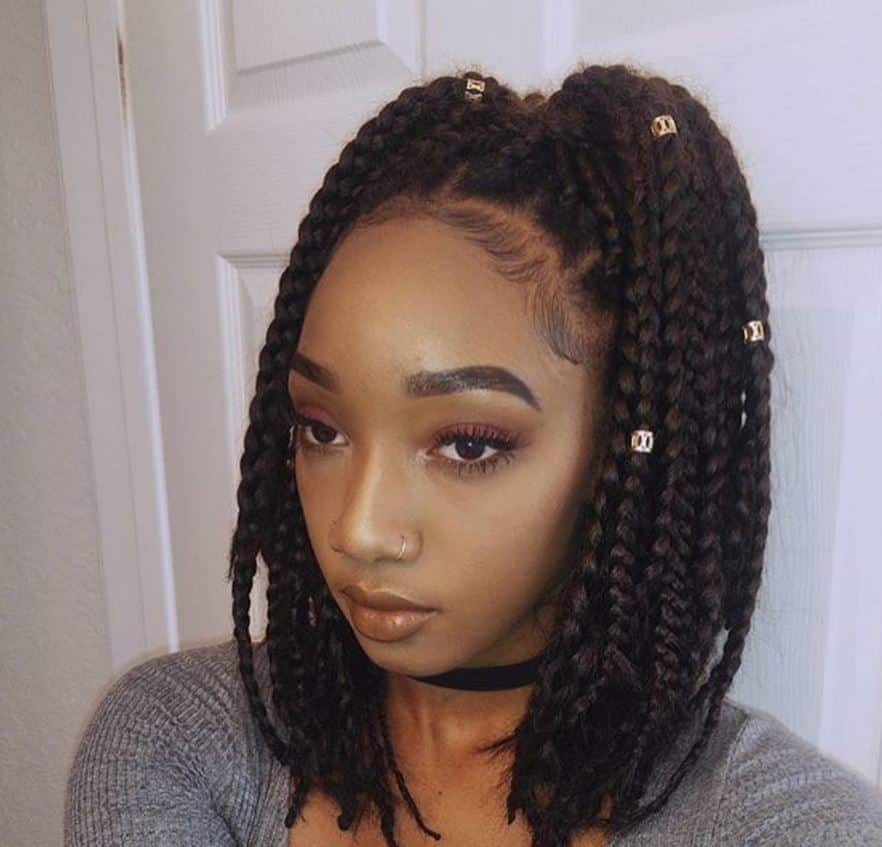 Thai braids can be done in any natural hair with different lengths, and by adding beads and threads, you can make the braids look beautiful. A braided Thai bob is a box braid that is tight at the root and sealed at the end with a rubber band or beads. Make this hairstyle in washed hair, and you can stretch the hair by blow drying for longer Thai braids.
Detangle the hair and make sections with the help of a tail comb. Apply edge control or hair jam for clean lines in the hairstyle. Tie the sectioned hair in a rubberband and start braiding.
If your hair is not long enough to braid, you can consider using Kanekolan hair. These synthetic hair come in different colors that will give you a nice and attractive look. Keep the braids thinner so you can groom them in different styles and even tie them in a ponytail or bun. 
2. Space Buns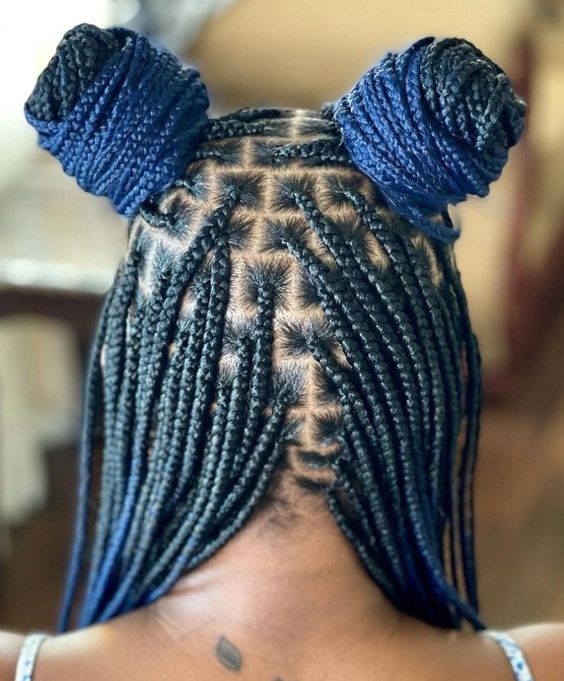 Space buns are trending these days in young girls and women. This casual Thai braid look is easy to make. Part the hairs from the center with the help of a tail comb and make the same number of sections on both sides. Tie a rubber at each root and start braiding the hair. Try to keep the braids as loose as possible so that they can be twirled around to make the buns.
This Thai braid will look more voluminous and good in long hair. It can also be tried by adding colorful synthetic hair to make it attractive. After making Thai braids, take an equal number of braids on both sides and wrap them in a bum. Secure the hairstyle with hairpins at the end. You can choose to braid all the hair and leave the hair other than the space buns open.
You also have the option to tie all the Thai braids in two huge space buns for a new look. You can create at least 4 to 5 different hairstyles with Thai braided space buns. 
3. Cornrows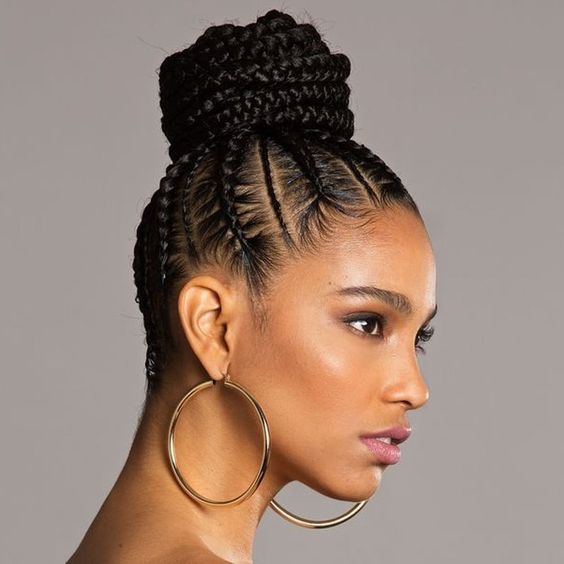 Cornrows have been popular for many years and will remain trendy because of their sleek look that can be carried to professional as well as for parties. Cornrows can be done with Thai braids and given a whole new look. Start this hairstyle with detangled and washed hair. You can choose this Thai braid hairstyle in different patterns, like a side cornrow Thai braid or Updo Cornrow Thai braid.
In any of these patterns, you need to make the parting accordingly. Make small sections of hair with equal strands, start braiding from the roots, and move backward. This Thai braid cornrow is all about having a nice grip to make a tight braid. While making side cornrows, you can choose to add colorful threads and beads at the end to make the hairstyle look nice.
For updo cornrows in Thai braids, you need to create sections in angles so it creates a nice pattern when tied in a bun. 
4. Thai Braided Mohawk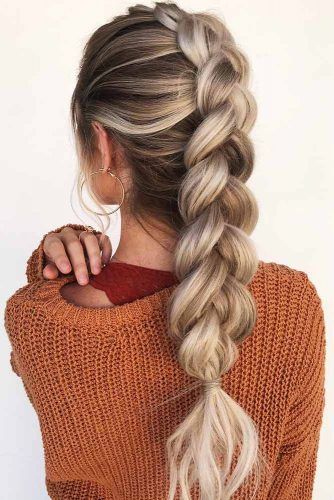 Thai braids can be given a Mohawk look that suits all kinds of occasions. In this hairstyle, you need to divide your hair into three sections. This pattern is all about keeping the sides crisp and bulging the center. Start braiding on each side with three equal strands, beginning from the roots. You have to grab new hair as you move along the pattern.
Braid both sides of the head till 3/4th of the hair has been covered, and then secure it with a rubber band. Now start braiding the center hairs; you can choose to keep it tight and crisp or loose.
As you proceed to make the Thai braids, include the side braids for a cleaner look. To add more details to the Thai braid, you can pull out the middle hair to make it look bigger and nicer.
This hairstyle can be made in different patterns. You can have a low ponytail at the end or add synthetic hair to make it look nice. This Thai braid will give you a crisp look that you enjoy. 
Conclusion
Thai braids were traditionally done to avoid disturbances during work. They are still continued in order to protect the hair from external factors like heat. As this hairstyle is done on natural hair, it becomes pocket-friendly.
Apart from this, all types of hair can be styled with Thai braids. There is no specific set of rules when it comes to Thai braids.
Unlike box braids, they need to be knotted at the roots, and equal sections should be formed. You can make Thai braids in half the hair and leave the rest of the hair in a ponytail, bun, or open.
When it comes to taking care of Thai braids, make sure the size of the braids is thin so they can easily be groomed into different hairstyles for a new look on a daily basis. Thinner the Thai braids, it will be easier for them to air-dry.
The above-mentioned Thai braids can be made interesting by adding beads and other accessories, and you'll enjoy the look without causing tension on the scalp.