Do you know what a flour face is? It is a reflection of a flaky appearance on your facial looks when you go through makeup malfunctioning. In other words, when your make-up goes out of sync and photographers take pictures of you, your face looks like a big patch of chalk powder strewn across your face.
Even celebrities and top-notch actresses sometimes fall terrible victim to flour face hitch-ups. Here is a professional and technical glitch attributed to the flour face effect, after all. In the midst of natural lighting, your mineral makeup or silica makeup can look absolutely fine. But, when you remove the lights and flash out a camera, your face is a big residue of powdered chalk. Hence, your makeup experts must work on choosing the right type of makeup product and focus on using a lighting system that reveals your face better.
Let us take you through the series of steps with respect to the same: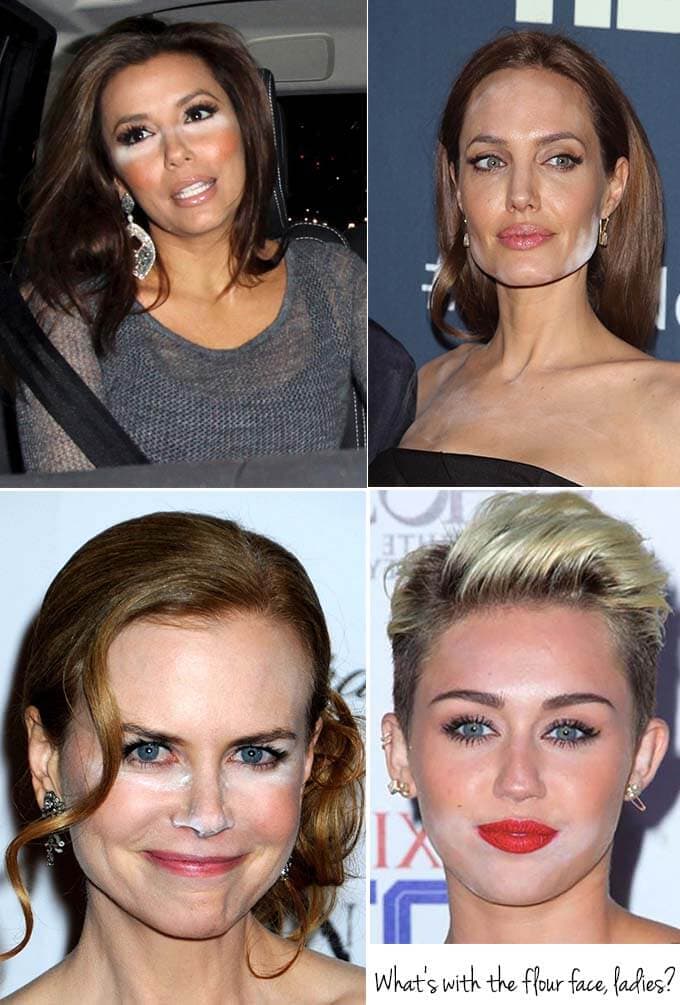 1. Check the Makeup Products Carefully
Looking into the right type of makeup products is definitely a no-brainer, after all. You must look at the labels or the kind of ingredients that go into the making so that you reveal your facial features better instead of making it a disaster. Silica or mineral makeup products can particularly be avoided when your event is going to be videographed. Using creamy layers of lipsticks or lightweight foundation can help over using translucent makeup products. Similarly, getting recommendations from makeup experts will help you analyze the type of skin tone you have. And you must choose makeup products that match your skin tone.
2. Pre-Photoshoot is Absolutely Mandatory
Your D-day, say your wedding day or reception event, might be a few days away from now. Quite a lot of video lighting goes into effect, and you want to showcase the best of your facial features. As a matter of fact, you do not want things going haywire on your big day. Therefore, going in for a pre-photoshoot is something you must necessarily go in for.
However, a pre-shoot is the need of the hour. Here, you can ask your makeup artist to take your shoots under natural lighting and ask him or her to videography you under a closed room setting. Here, you would get a closer preview into how your looks can turn out to be inside or outside a room.
3. Consult a Dermatologist or a Skin Care Specialist
To avoid a typical flour face look on your big day, this is something you necessarily need to do. You must consult a dermatologist or a skin specialist to determine the exact type of skin tone you have. Some of you may have dry skin, while a few of you may have typical oily skin. Otherwise, you may have a combination skin wherein your T-zone is oily while the rest of your face is normal skin.
Hence, taking a litmus test on how your skin tone looks is something you necessarily need to know about yourself. Apparently, book your visit to the skin care clinic; you can also discuss with your makeup artist the kind of products that will typically suit your skin type.
4. Use Skin-Friendly Makeup
Using skin-friendly makeup products is a consideration that can definitely not be underrated. You can use makeup products belonging to reputed firms or brands. Using makeup products that use plant-based botanicals or essential oils can absolutely be soothing or relaxing for your skin after all. Again, this is something you must discuss with your personal makeup artist. This is absolutely mandatory; as you know, plenty of companies use harmful chemicals while they design makeup products like lipsticks, eye-shadow palettes, or even compact powders. And you do not want to be falling victim to chemically laden products.
Girls get rashes and allergens when they are exposed to lead-based makeup powders. And the possibility of you getting skin cancer also cannot be ruled out. Henceforth, you must carefully analyze the pros and cons of every makeup product before you finalize your makeup collectibles.
5. Avoid Using Sunscreens Before the Onset of Your Makeup
To avoid the makeup flashback look or showing yourself as a flour face or a chalk-faced demon, this is something you necessarily have to work out with. If you have a look at it, your sunscreen contains minerals such as zinc oxide or titanium dioxide. These are minerals that reflect the light on your face. Mineral makeup products also contain a heavy dosage of Zinc oxide or Titanium dioxide. The resulting effect is that the minerals reflect more of the light on your face, making you look like a doodle.
Using makeup products that use natural ingredients and help you get the look of a diva, irrespective of the skin tone you have, works magic on helping you accentuate your looks. You must look good under outdoor lighting, wherein you have natural sunlight to bring out your best features. And at the same time, your looks must be flatteringly cool under video lighting inside a wedding hall or a barricade hub too.
6. Do Not Use Eye Concealers Lighter than Your Foundation
When you use eye concealers that are several shades lighter than your foundation creme, then you can expect a makeup disaster for sure. The flour faces faux pas are bound to show up on your face when the camera or video lighting falls up on your face. This is because the eye concealer has inbuilt illuminators and zinc oxides coupled with titanium dioxide. The minerals may look invisible while you take photoshoots in natural sunlight. On the contrary, when you take a photo shoot or a video session inside closed cubicles, the minerals outshine your face and look into the flash of your camera.
The resulting effect is you looking at a chalk-powdery or a ghostly-looking face. Therefore, you must necessarily avoid using eye concealers that are lighter than your foundation creams. Mild color-correcting solutions can be used so that you give a more naturally poised and contoured look before the onset of your photoshoot or video-making sessions.
7. Heavy Layers of Shadows Can Make You Look Powdery
Are you living in a tropical place like the Maldives, or would you love to throw a wedding party at the Miami beaches? The coastal weather is sultry weather, after all. Therefore, when the humidity levels are already high, you keep sweating all through the day. Again, video lighting also generates a certain amount of heat. Thus, when you apply bright-hued eye shadows, you display a flour face or a chalky appearance for your big day. Shadows must be chosen in contour to your exact skin tone and must neatly blend within your under-eye area.
Talk to your makeup artist in detail and look for a single monochromatic nude layer shadow creme to look your best for the big day. Else, you get blended layers of shadows with lesser shimmer, and you can go for them.
8. Coloring Your Hair Using Lighter Shades
Hair color is meant to accentuate your facial appearance, but when you overdo it, things can go wrong. When you color your hair two shades lighter than your original complexion during video shoots or indoor photoshoots, the lighter hues reflect a heavier amount of light that falls on your face or hair. Again to avoid faux pax, you must color your color in conjunction with the skin tone you have. In other words, the hair color must mirror the skin tone you exactly have, and this way, you do not allow the camera focus on going up or down, and the poise just about gets right, featuring your spots at the focal points.
Again, you can use plant-based hair dyes to add a better layer of color or shimmer to your hair without damaging the follicles of your hair. Burgundy color can also splendidly accentuate your features, and this is the ideal hair color women go in for. For other fancy hair colors, you can perform trial tests on your hair and take prehand photoshoots to determine exactly if this is the kind of look you are going to go in for.
9. Maintaining an Inconsistent Waistline
When you are too thin or tardy, or you are excessively cherubic, your inconsistent waistline can show up during a photoshoot or video-lighted session. Eating plenty of fruits and veggies and keeping yourself hydrated by drinking 8 glasses of water a day can help considerably regain your skin tone. You must maintain a balanced diet so that your skin gets most of the nutrients for its glow or replenishment. When you maintain soft, supple, or healthy skin, you don't even need makeup. Your natural looks will be glowy, and you can carry on your plump looks all the way to your wedding aisle.
Therefore, healthy eating is the key to beautiful living. Avoid eating junk foods, sodas, or highly calorie-laden pizzas for a healthier and more consistent waistline, and then you are way more ready than you think you are.
10. Keep Smiling All the Time
Above all, keep smiling all the time. Your smile is the best form of makeup you can wear all day and all night. So, feel happy and delighted all the time. Again, if you look at it, your thoughts become your manifestation. Therefore, avoid excessive mood swings or extremist thoughts. Doing an hour of Yoga or meditation can help the skin get its even-toned contour.
Make-up should be light and minimalist and not over-empowering. Your smiles with your teeth reveal your personality prototype way better than what the best makeup products can do to you. Therefore, maintaining a positive and optimistic attitude helps you carry the looks you are possibly aiming for.
Summing It Up
All in all, these 10 authentic steps on how you can avoid a flour face look or a faux pack before the onset of the best moment of your life have been explained. Taking care of your skin using natural ways can help maintain the health of your skin over using makeup excessively.
Again, makeup products contain harmful chemicals like silica dust, phosphorus, lead, tar, and so on. These harmful chemicals can have a detrimental effect on the overall functioning of your body. Girls who use excessive makeup can be prone to getting lung or stomach disorders as side effects of using makeup.
Hence, you can use makeup occasionally or sparingly using a degree of caution, and then you are all good to go!