Hair care is very important to maintain healthy and shiny hair. Some people think that a haircut solves the problem of damaged hair. But is it so? What do you think? If you have dry, frizzy, brittle, colored, or split ends-prone hair, then you need a protecting and hydrating Hot Oil Treatment.
Hair oil hydrates and protects the hair strands and scalp. Hot oil provides better results as heat helps to absorb the oil, enhancing its effectiveness. It eventually leads to strong and healthy hair.
Hot air treatment isn't any TikTok viral that just got trendy, and everybody is now trying it out. Hot Oil Treatment 4c hair has been around for decades and is trusted by experts as it works effectively.
Let's learn about this easy and effective hair care: Hot Oil Treatment 4c hair.
Benefits of Hot Oil Treatment 4C Hair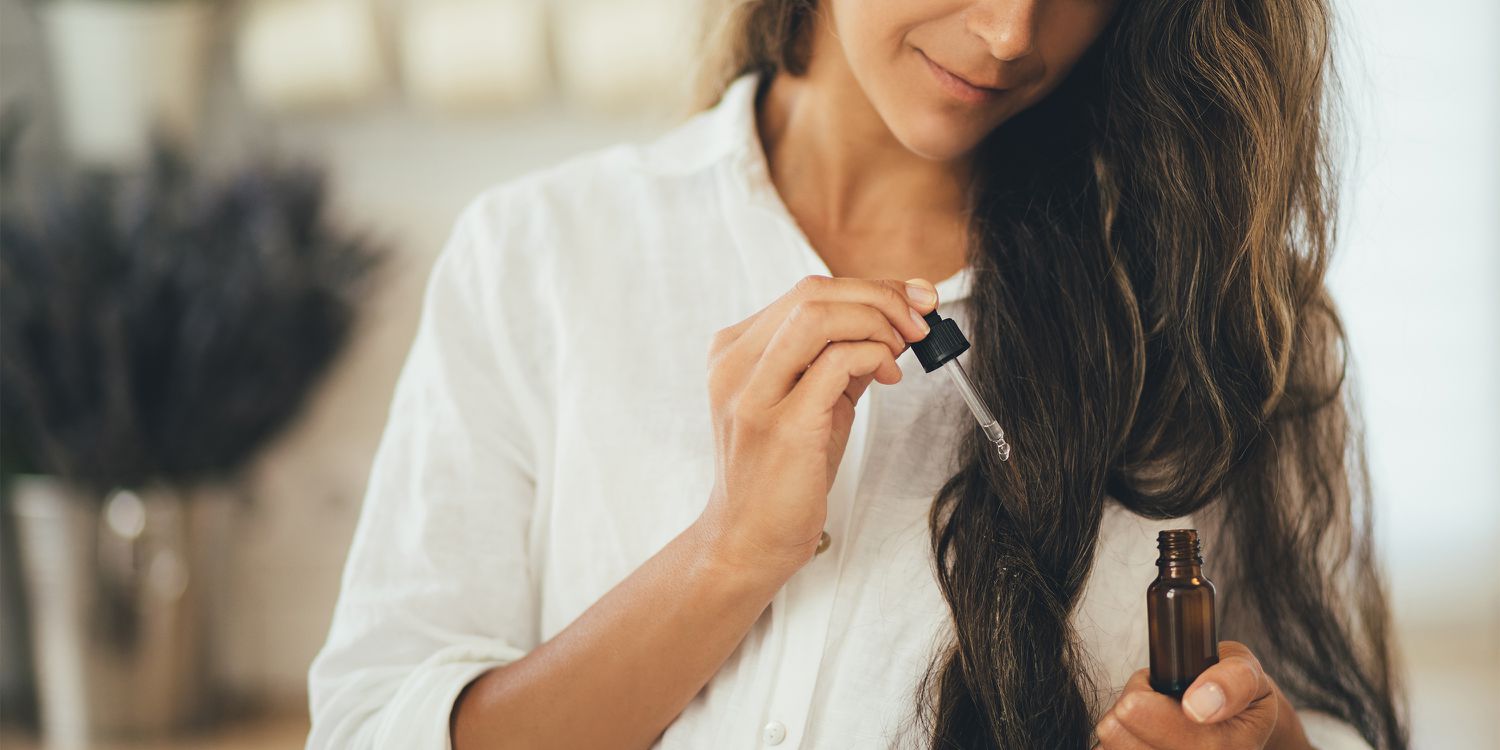 A Hot Oil Treatment uses heated oil to nourish hair strands- root to tip. The fatty acids in the oil deposit moisture to the hair follicles, helping to repair and prevent split ends and strengthening the cuticles from root by sealing the cuticles.
There are several benefits of Hot oil treatment for 4c hair. The basic goal is to work on hair cuticles.
Deep moisturization: Hot oil treatment makes the hair strands stronger. It helps to repair damage and protects against further breakage, which leads to fewer ends. It helps to moisturize dry hair and dry scalp.
Promotes hair growth: Healthy hair tends to grow fast, and hot oil treatment 4c hair does the job of promoting hair growth perfectly.
Strengthens hair: Proper nourishment from anti-oxidants. Vitamins and minerals strengthen the hair, leading to less breakage.
Reduces dandruff: Hot oil treatment aids in relieving dandruff from the hair.
Enhances shine: Hot oil treatment restores vibrancy and shine to normal and color-treated hair.
Increased blood flow: Hot oil treatment increases blood flow to the scalp, promoting healthier hair and aiding in hair growth and hair loss.
Are Hot Oil Treatments Suitable for All Hair Types?
All hair types, from fine to straight to thick and curly, can benefit from hydration from hot oil treatment 4c hair. Especially those with fizzy, curly, dry, and damaged hair or natural hair, as these hair types are naturally on the dry side. Due to the high porosity of curly, textured hair, it absorbs hot oil treatment faster as compared to straight hair.
People with frizzy, curly, and textured hair will get better results faster from a hot oil treatment 4c hair as compared to someone with straight hair.
Can I Leave the Oil in My Hair Overnight?
Many people have thought that leaving oil in their hair might damage them, but let us tell you, it is not true. You can leave the hot oil treatment for 30 minutes, or even for greater results, let it stay overnight. Keeping the oil in the hair overnight needs double shampoo application while rinsing the hair as oil settles properly in the head due to longer duration.
Once you have rinsed your hair properly, condition your hair the usual way. Studies have shown that it is healthy to use Hot Oil Treatment 4c hair once a week or twice a month continuously for better results.
What Oils to Use for Hot Oil Treatment 4c Hair?
It is very important to choose the best oil for yourself. The choice depends on your preference as well as what works best for your hair.
It is considered a top priority by many hair care lovers due to its intense moisturizing properties. Argan oil forms a non-evaporating layer around the hair to remove moisture and locks the moisture until it is washed out. This oil is packed with antioxidants and nutrients that are easily absorbed by hair.
Coconut oil has a great connection with hair proteins and penetrates fast and deeply into the scalp. It contains vitamins and essential fatty acids that nourish the scalp and hair strands. This promotes healthy, strong hair that does not break easily. It is rich in fatty acids that stimulate hormones in the body cells, contributing to hair growth.
Castor oil has intense moisturizing properties along with anti-bacterial and anti-fungal properties, protecting the hair from dandruff and scalp infections. This oil contains Ricinoleic, which helps to boost the circulation of blood to the scalp. It also helps to maintain the pH of the scalp, which works to replenish the natural oils of the scalp.
Olive oil massage onto hair increases blood circulation and relaxes the muscles, which is good for hair growth. It strengthens hair by keeping it moisturized and nourishes the hair strands with fatty acids and vitamins. The fatty acid present in olive oil is very small, making the penetration easier, which helps to restore the lost lipid layer, making hair strong.
When to Do a Hot Oil Treatment?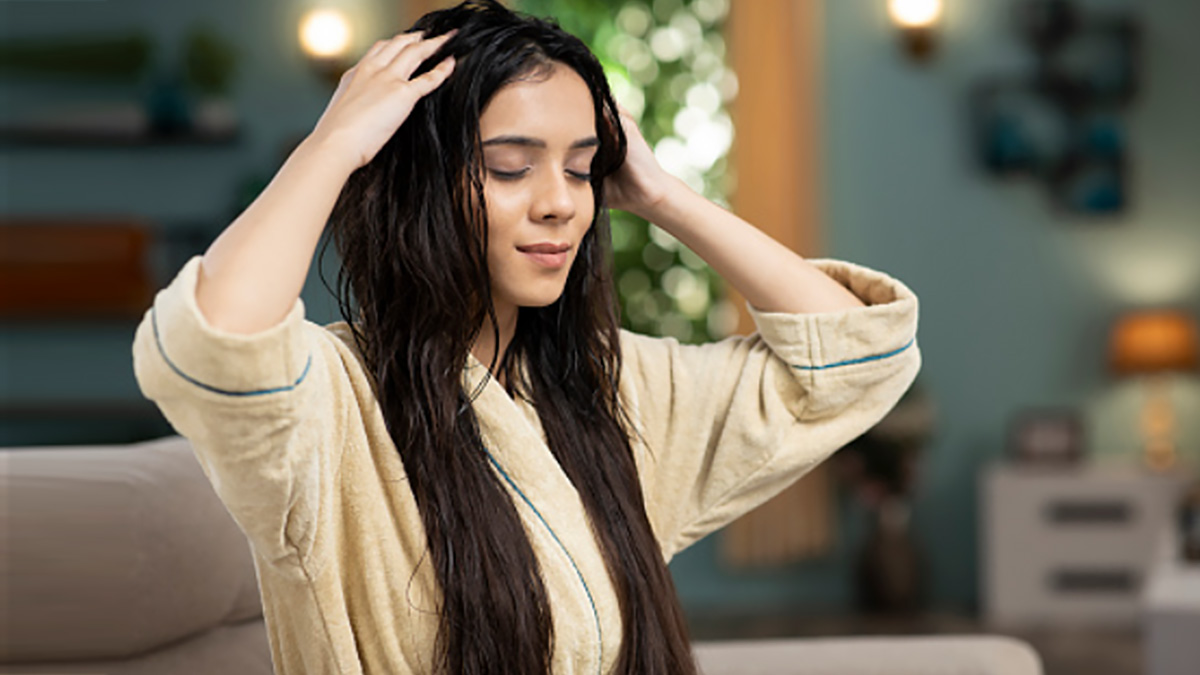 The question " When to do a hot oil treatment" might seem unfair to many, but it is very important to understand this. It is advised to have a hot oil treatment on a clean scalp so that one can experience maximum benefits. The cleansing process unclogs the pores, and cuticles are open, allowing the deep penetration of the oils. If the hair is dirty, the oils will just sit on top of your hair. But, before cleaning up, it will provide some additional moisture.
So, it is really up to you when you want to do it, and there are no set rules for it. Hair care is a routine, and you can modify it according to your needs.
DIY Hot Oil Treatment
Treating your hair with a DIY hot oil treatment adds an extra healthy glow, plus it is super easy. You need not get extra products for it. It can be made using simple products available at the ease of your home.
The easy steps for an effective DIY Hot oil treatment are as follows. 
Cleanse Your Hair: Cleansing the hair and scalp allows deep penetration of the oil. As cleaning leads to the raised and unclogged cuticles, it is advised to wash the hair with warm water before hot oil treatment.
Choose your oil: Select the oil based on what your hair needs. Coconut and sunflower oil helps to nourish the hair and promote hair growth. Olive oil helps to retain moisture and adds vitamins A and E, which is great for damaged hair. You can also use a blend of two different oils with essential oils. One such popular blend is Olive oil + Tea tree oil and Castor oil.
Heat the oil in a pot: Warm your oil or oil blend using the indirect heat method. Pour the oil into a heat-safe bowl. Pour a big bowl with water and put it onto the stove to heat. This will work as a double boiler by placing the oil bowl into the water bowl. Stir the bowl for 2 to 3 minutes until it is warm. The steam will heat the oil evenly.
Divide your hair into 2-4 sections: For proper application of oil, it is beneficial to divide the hair into sections. Brush your hair and split it vertically down, creating two halves. In case you have thick hairs, you can use these two sections to further split and divide into a total of 4 sections. Clip all the sections with a hair clip or a claw clip. You need not have clean sections; start with damp hairs.
Test the temperature of the oil by putting it on the inside of your wrist: The oil to be used should be warm, not super hot. To ensure this, dab a bit of oil on the inside of the wrist. If it is too hot on your skin, then let it cool down for the application on the hair. Doing a patch test is very important to avoid burning the scalp.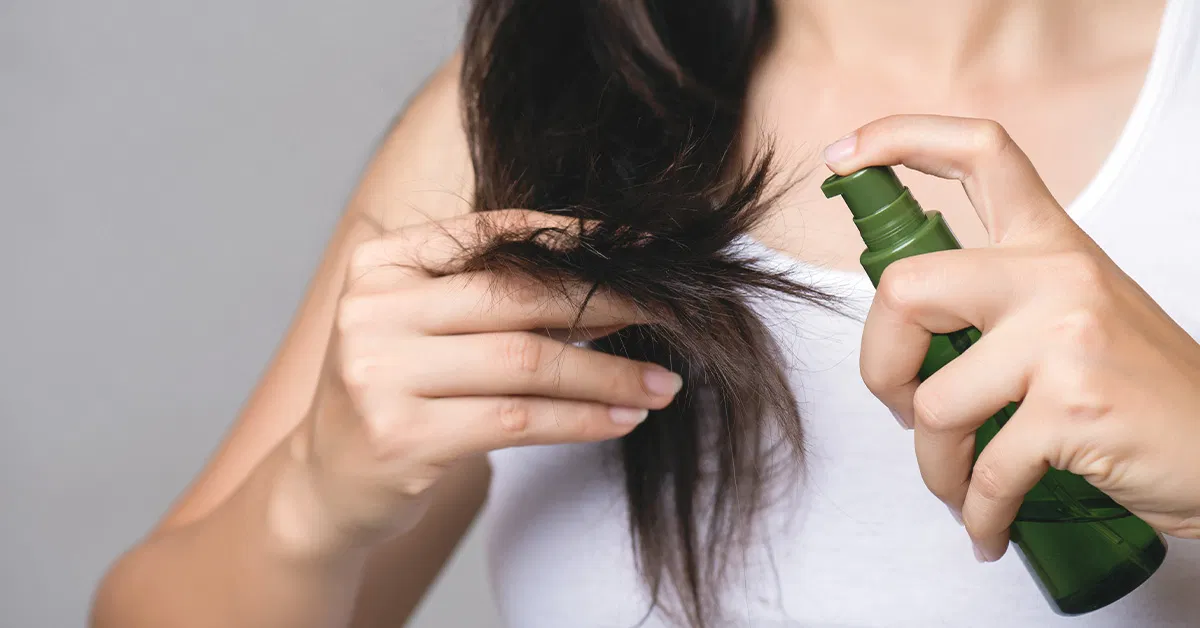 Massage the oil into the roots properly: Start massaging the oil from the top of the head and make your way down. Lift sections of your hair to get underneath and cover all the roots of the hair. If you face hair dryness problems, then massaging and leaving the oil in the roots proves to be beneficial for moisturizing hair.
Drag the oil down to the ends of the hair: Your hair ends also need moisture, so drag your fingers down to the ends. Keep doing this until you have coated the complete head in oil. Once you are done, your hair will look wet and greasy, but it is very important for healthy hair.
Cover the head with all hair tied up: With oiling, it is important to keep the moisture intact. Use a shower cap or a plastic bag to keep your hair contained while you wait. Let the oil soak for at least 30 minutes so it has time to hydrate and repair your hair. For extra moisture, wrap your hair in a hot towel for around 20 to 30 minutes while oil sits in the hair.
Shampoo and condition your hair thoroughly while taking a shower: Water is not enough to rinse the oil out of the hair; after keeping the oil in your hair for enough time, for a shower, lather up some shampoo. When all the shampoo is removed, use conditioner to leave your hair shiny, soft, and healthy. If your hair still feels greasy after one wash, go for a second shampoo wash to let it all out.
Use the hot oil treatment 1-2 times a month: Long-term application of hot oil treatment will help repair dry and damaged hair. If you have curly, damaged hair, the oil treatment will add moisture and shine every other week. If you have finer hair texture, you can do a hot hair treatment once a month to get good results.
Beneficial Herbs for Hot Oil Treatment 4c Hair
Many herbs hold various benefits for our hair in different ways and have to be used differently. Some of them are-
To moisturize hair: Aloe vera, rose petals, chamomile, calendula, lavender
To strengthen hair: Neem, moringa, arnica, stinging nettle
To clarify hair: Rosemary, parsley, sage
To stimulate hair growth: Ginger, peppermint, cinnamon, parsley, sage
The Final Takeaway
With all our focus on healthy and hydrating skin, our dry and damaged hair takes a backseat. But just like skin, our hair also needs proper nourishment and moisture.
One of the highly effective yet neglected hair care is Hot Oil Treatment. Hot oil treatment 4c hair is trusted after use for generations to bring back life to dull and dry hair.
But hot oil treatment doesn't mean that you just pour the bottle of oil on your head. It is important to understand your hair concern and choose the best suitable oil based on it.
Do you have your secret hair care tips? If you know any, do share it in the comment section for others to benefit from it.