Are you a black woman looking to experiment with your natural hair without using any heat or chemicals? Black women are known for having thick, curly hair that can be styled in different ways.
Whether you're looking for quick, easy hairstyles for work or want to do gorgeous updos for parties, there are many natural hairstyles that you can try. These hairstyles can be done on both long and short hair with the help of colored extensions or accessories.
From goddess braids to updos and short Afro hairstyles to braids, there are endless styles that you can try while embracing your natural curls.
The best thing is that you can easily do these hairstyles at home, saving money on salon appointments. When choosing black natural hairstyles, keep in mind your hair's porosity, curl type, and whether you want to keep it long or short.
Check out the article below and try out gorgeous hairstyles you would never have considered before.
Gorgeous Natural Hairstyles that Black Women Can Flaunt
We have enlisted 20 gorgeous black natural hairstyles that you can easily recreate and bring out your inner diva.
1. Braided Hairstyle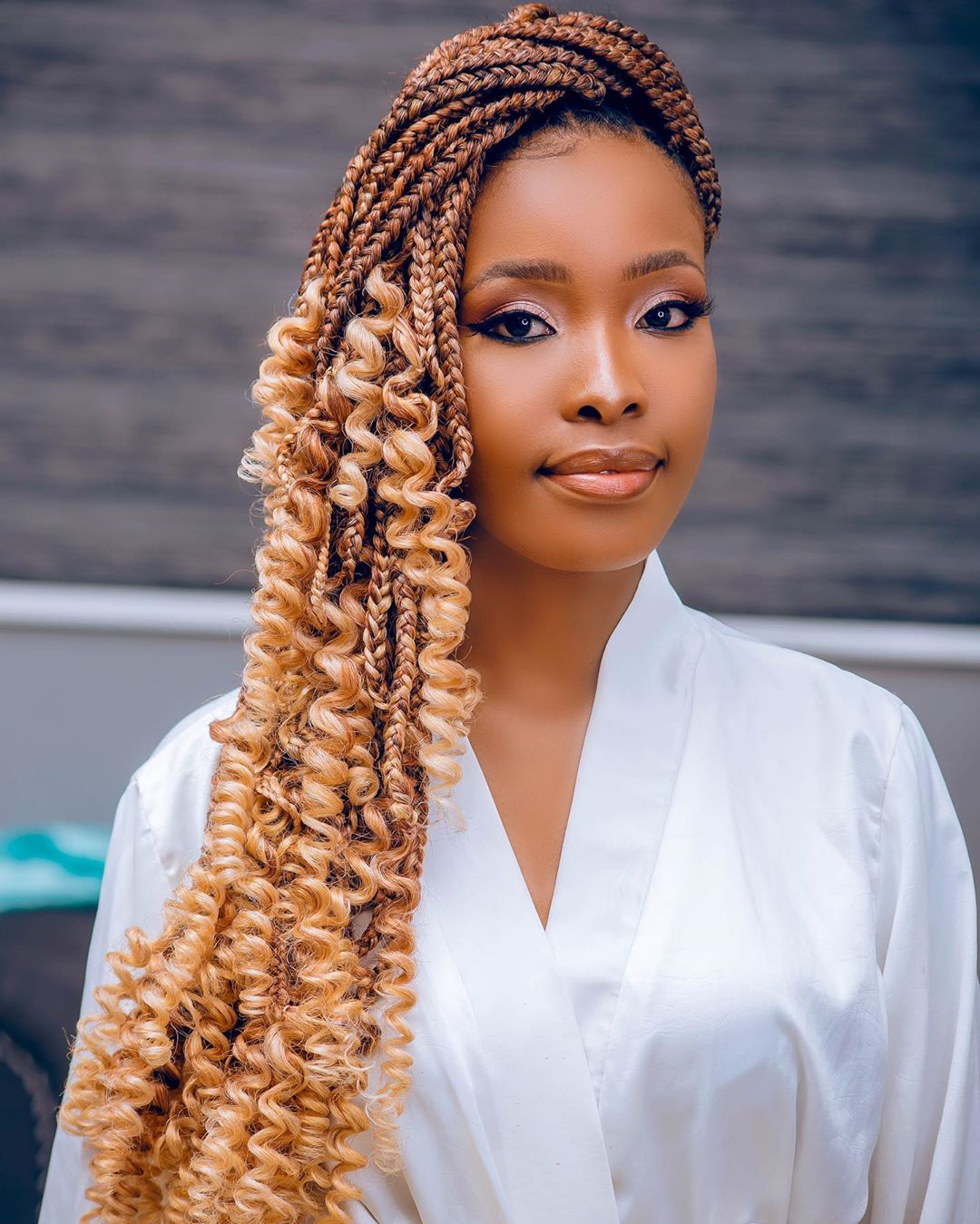 If you're looking for a black natural hairstyle that will look good on all types of hair, look no further than the braided hairstyle. You can take the classic approach and do a regular braid or show your daring side by opting for box braids.
For an eye-catching and statement-worthy look, you can even add beads and cowrie shellsto your braid. Another attractive braided hairstyle idea can be two French braids that are worn on cornrow braids or either side of the head.
You can even adjust the thickness and style of the braid as per your preference. The best part about this hairstyle is that it is low-maintenance, and you don't need chemicals or heat to embrace it.
2. Flat Twist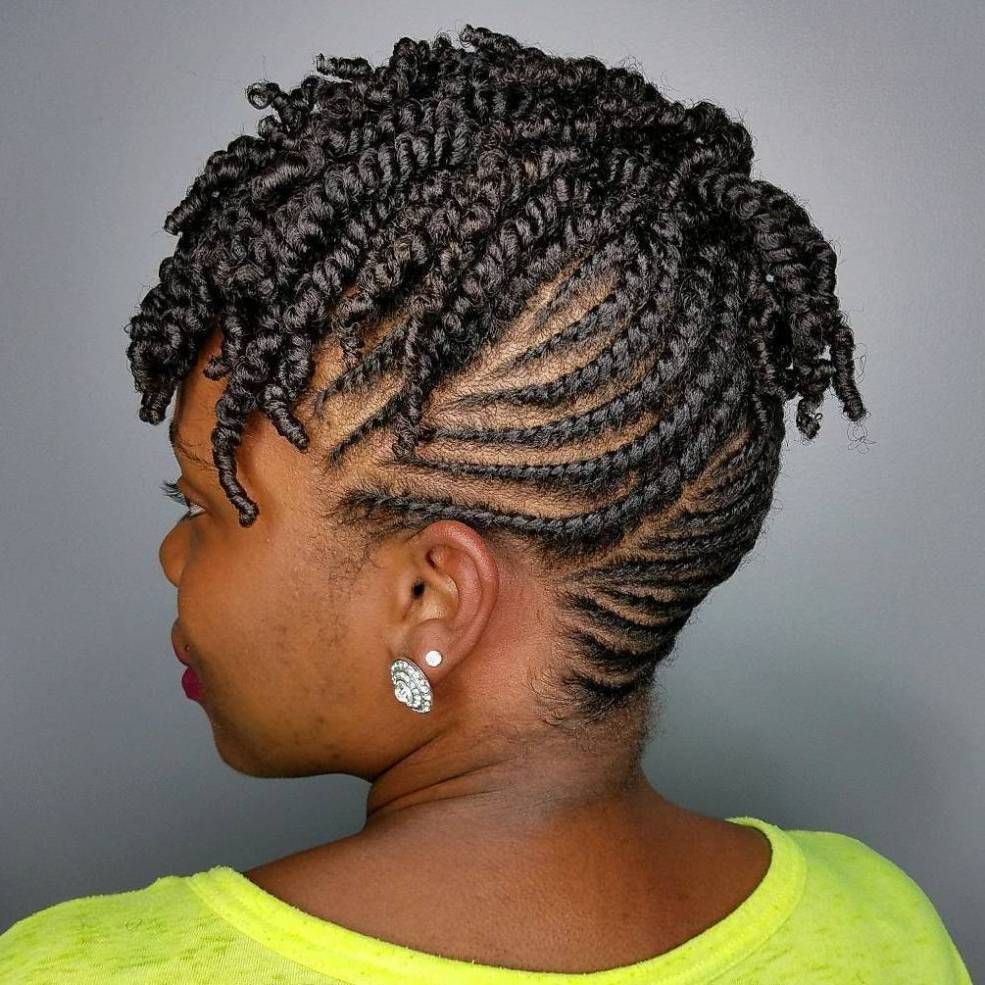 Flat-twist hair has been the absolute favorite of African-American ladies for generations. Whether you have short or long hair, there are many ways to style flat twists. When it comes to flat twisting, two-strand twists are the easiest style for black hair.You can style them into a gorgeous updo, wear them as a protective style, or unravel them for a twist out.
They usually last up to six weeks and significantly reduce daily grooming and styling time. For the best results, you should do a flat twist hairstyle on freshly washed, detangled, and conditioned hair. You can even personalize flat twists with the help of beautiful accessories like cuffs and beads.
3. Weave Hairstyle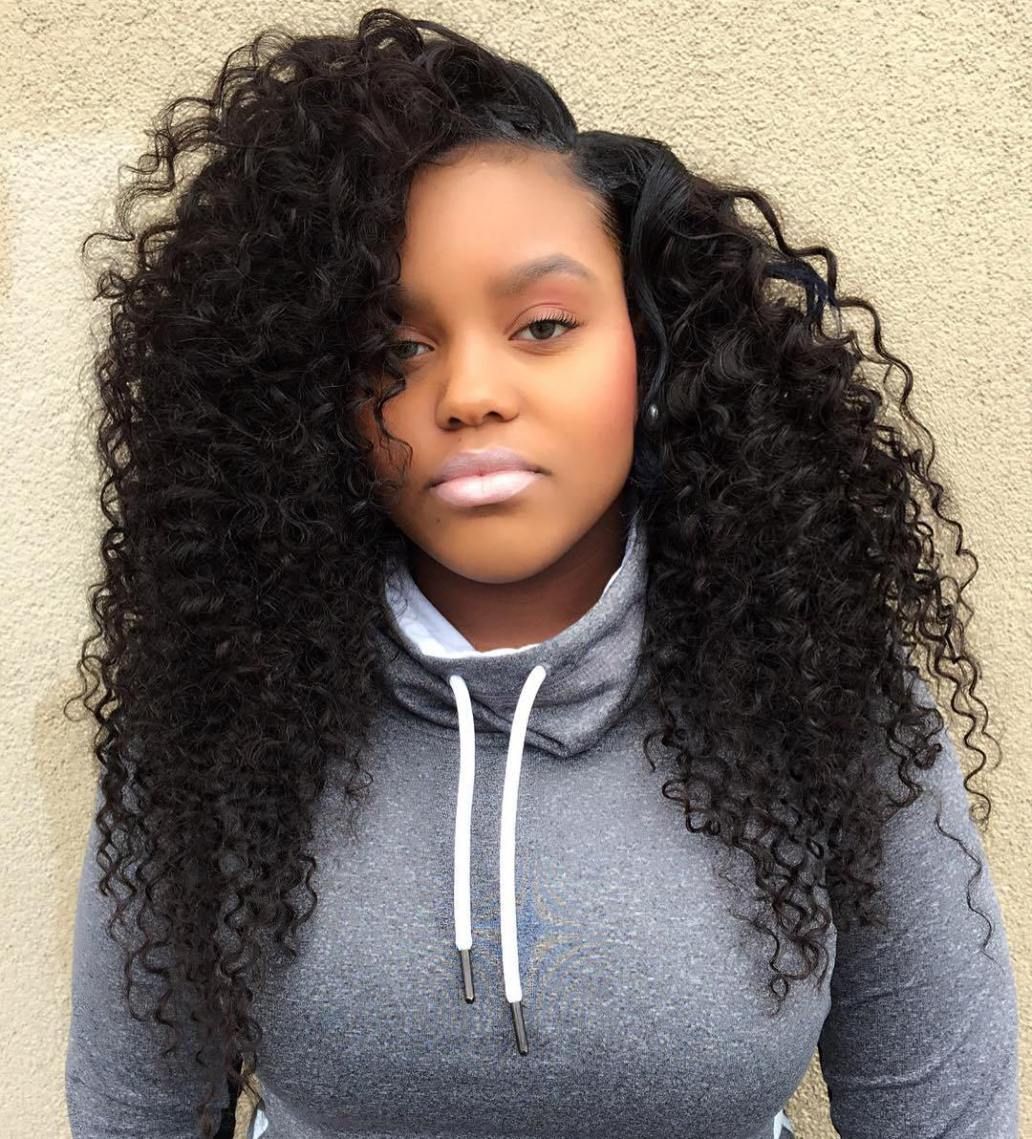 Do you want to give your hair a break from chemical styling and toxic hair styling products without compromising on your style quotient? Try out the weave hairstyle that can change your hair texture and give you a goddess kind of look. You can choose from different weave options, including human, synthetic hair, and extensions.
For a laid-back look, you can go for a low ponytail weave, and for formal occasions, you can opt for a high ponytail weave. If you want to draw attention to your facial features, you can go for soft or loose bob weaves. Depending on the length of your hair, you can also do a simple or complicated weave updo.
4. Updo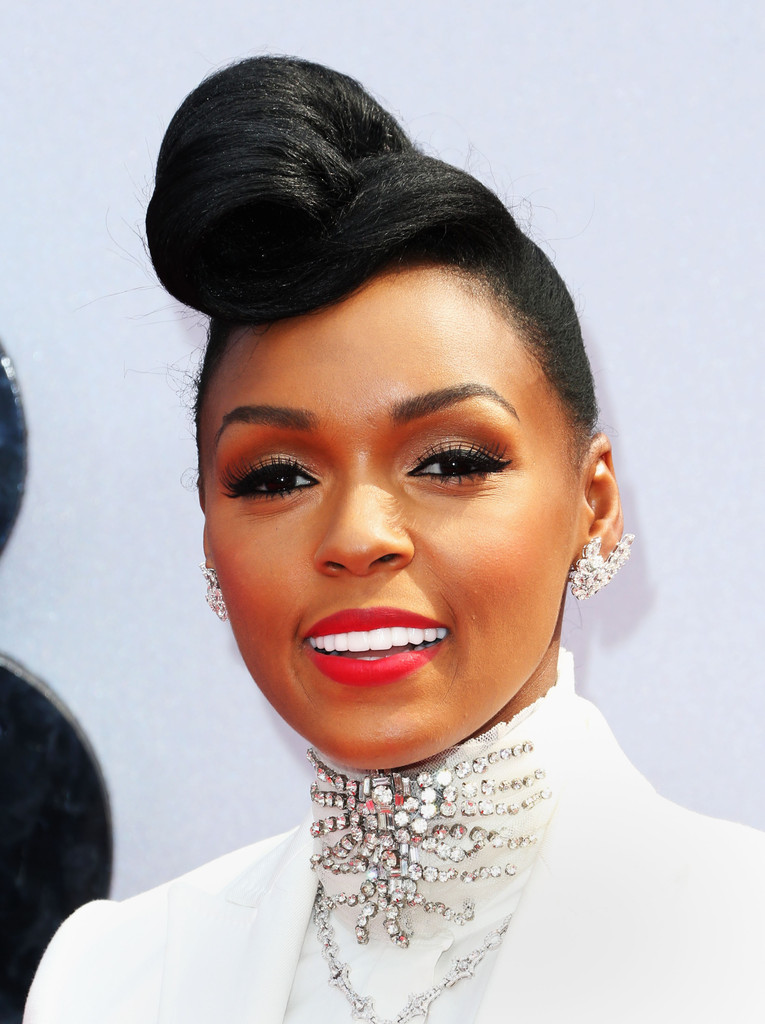 Black updo hairstyles can give you the desired queenly look that you can't get with any other hairstyle. From cute wedding upstyle to a prom-perfect hairdo and ravishing date night hairstyle, you can choose from various updos. You can even make a high bun by piling up your locs together, securing them with a hairband, and tucking the ends in to create a beautiful bun.
You can also keep a few hair strands falling against your face to add softness to your overall look. Even if your hair is curly and short, you can gather it in an updo and flaunt it at both night and day events. You can even create a braided top bun for an elegant and put-together look.
5. Long Fulani Braids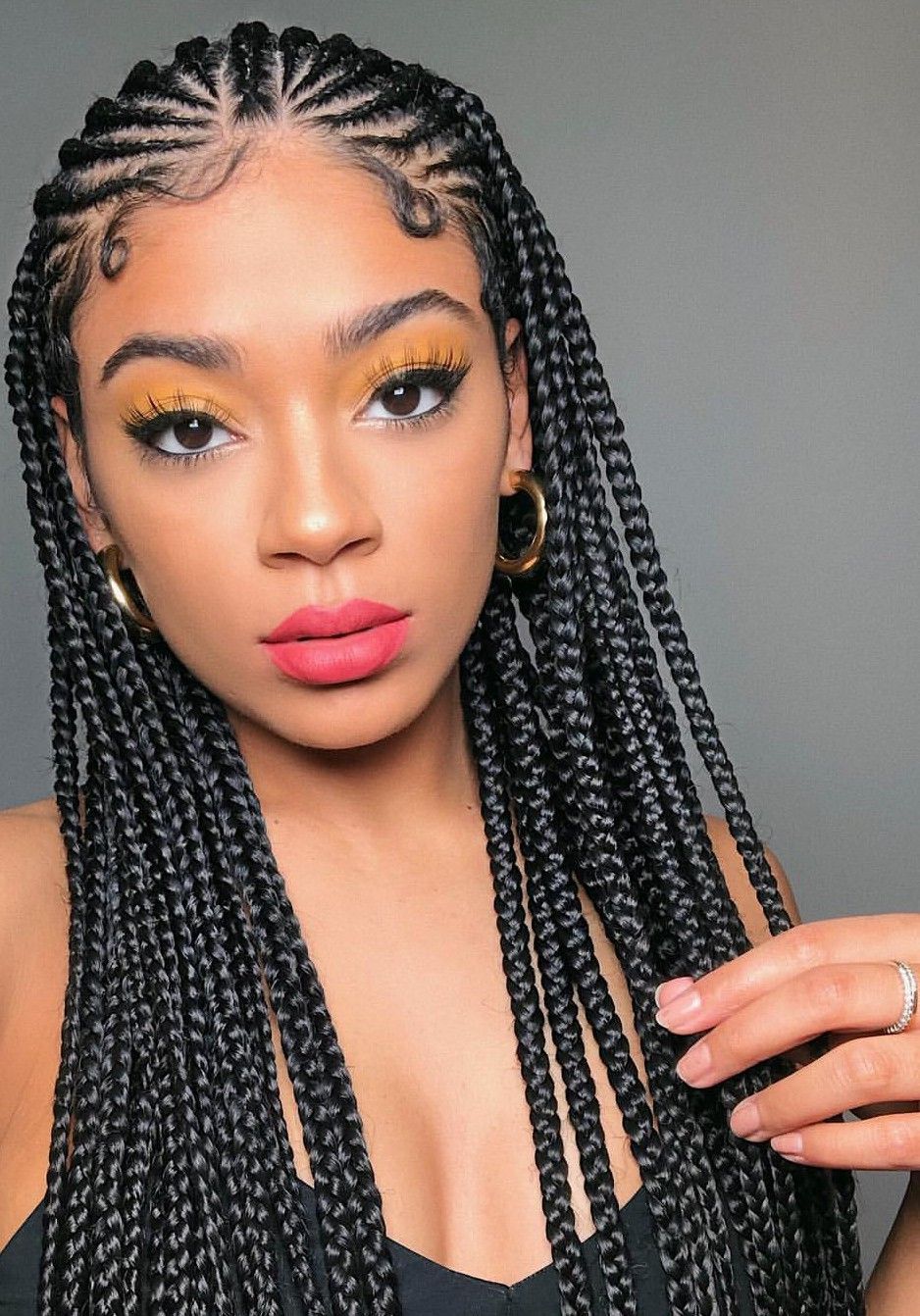 Long Fulani Braids are one of the most attractive black natural hairstyles that anyone can easily flaunt. Fulani braids are a mixture of box braids and cornrows, and you can wear them with or without beads. From platinum blonde braids to neon green beads, you can go for various Fulani braided hairstyles. You can wear Fulani braids, long or short, as you desire to recreate the look of your favorite celebrities. Depending on your hair length, you may have to add extensions to flaunt this style perfectly. Once you have finished braiding and pinning your hair up, add jewels and beads to bring this style to life.
6. Cornrows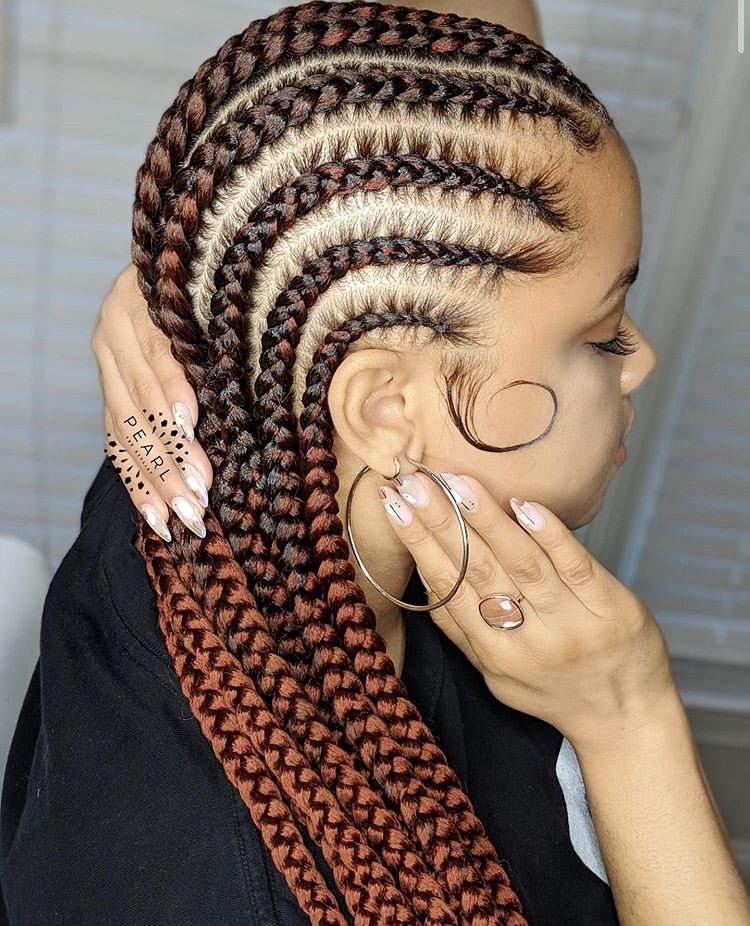 Black women keep coming up with trendy hairstyles that have become the go-to look for people all around the world. Cornrows are one such black natural hairstyles that can be worn by both women and men. You can go for a natural-looking, loose style or a more structured cornrow hairstyle, depending on the length and texture of your hair. If you're going for a vacation, you can try out the cornrows half-weave hairstyle, and if you want to highlight your face shape, you can opt for jumbo cornrows. You can also use beads to accessorize your cornrows hairstyle. With regular maintenance and care, cornrows will last for weeks, making your morning routine fuss-free.
7. Ponytail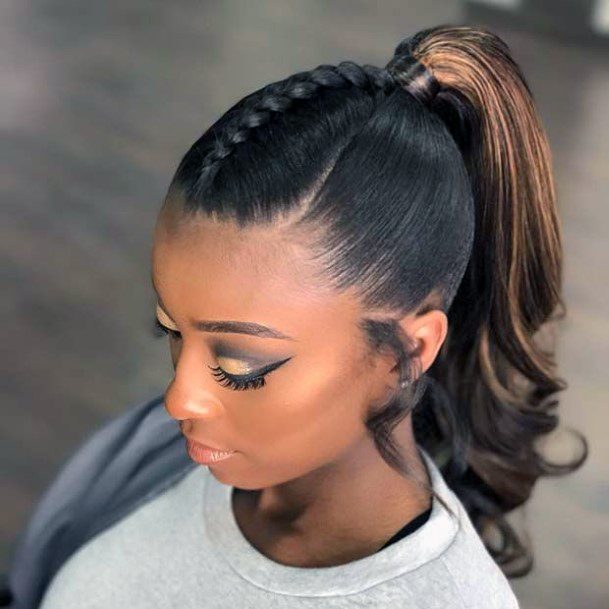 You won't find a natural black hairstyle more versatile and timeless than a ponytail. The best thing is that this sleek and elegant hairstyle can be modified to suit every mood and occasion. This hairstyle is easy to carry and will get you through weekends, workdays, and everything in between. From the low braided ponytail styles to the high ponytail and the ever-stylish sleek ponytail, you can experiment with this hairstyle in multiple ways. You can even level up your ponytail look by incorporating some braids contrasting sleek sections of your hair. The look requires no special techniques or equipment, and you can dress it down with ease.
8. Natural Bun Hairstyle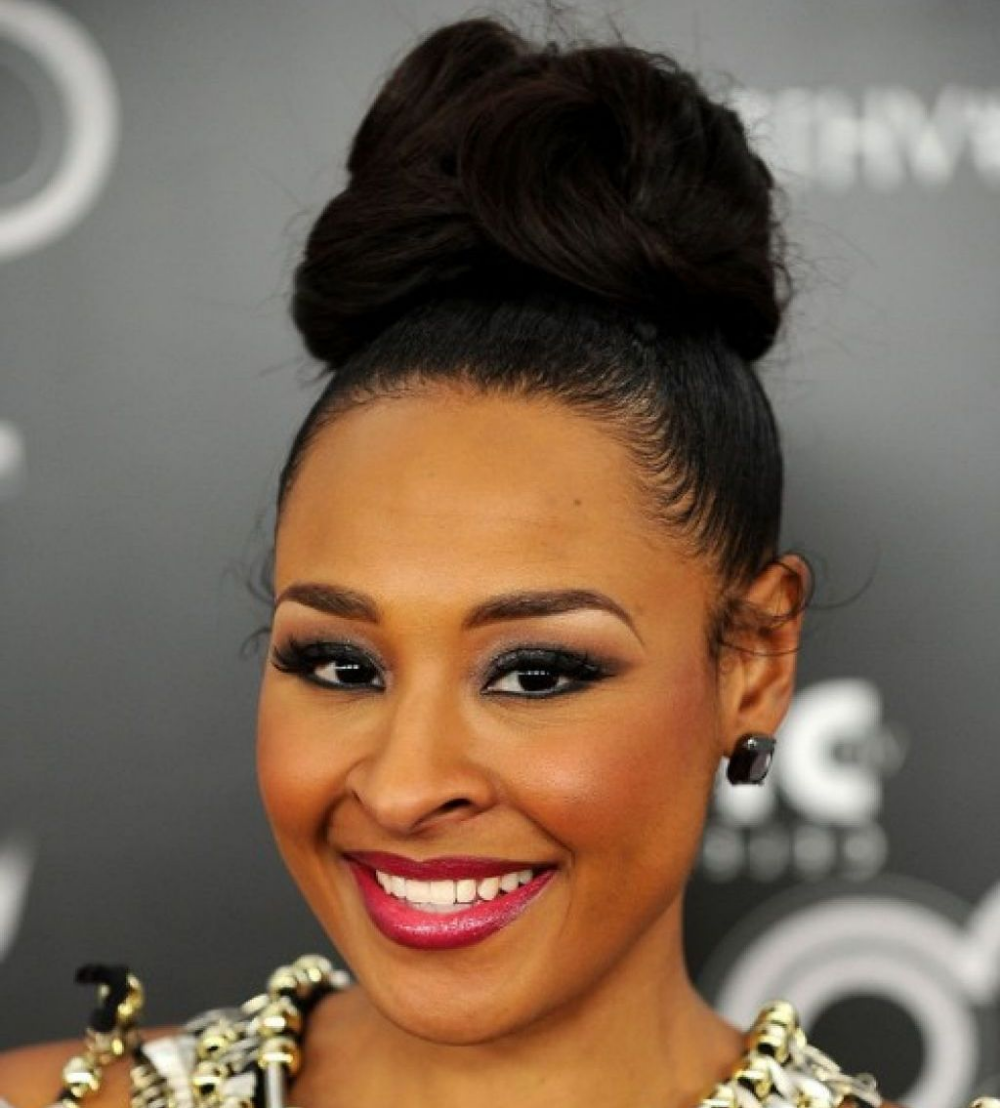 Have you run out of options to style your natural black hair? Try out the natural bun hairstyle that is perfect for parties, running errands, and hanging out with friends. This is an easy hairstyle that you can create within a few minutes and look effortlessly chic. You can customize the natural bun hairstyle from messy and loose to elegant and feminine and everything in between.
The braided bun can also be an excellent choice for women who want to prevent friction and hair breakage. You can also decorate your bun with multicolored accessories like beads to add color to your black hair and impress everyone.
9. Bob Haircut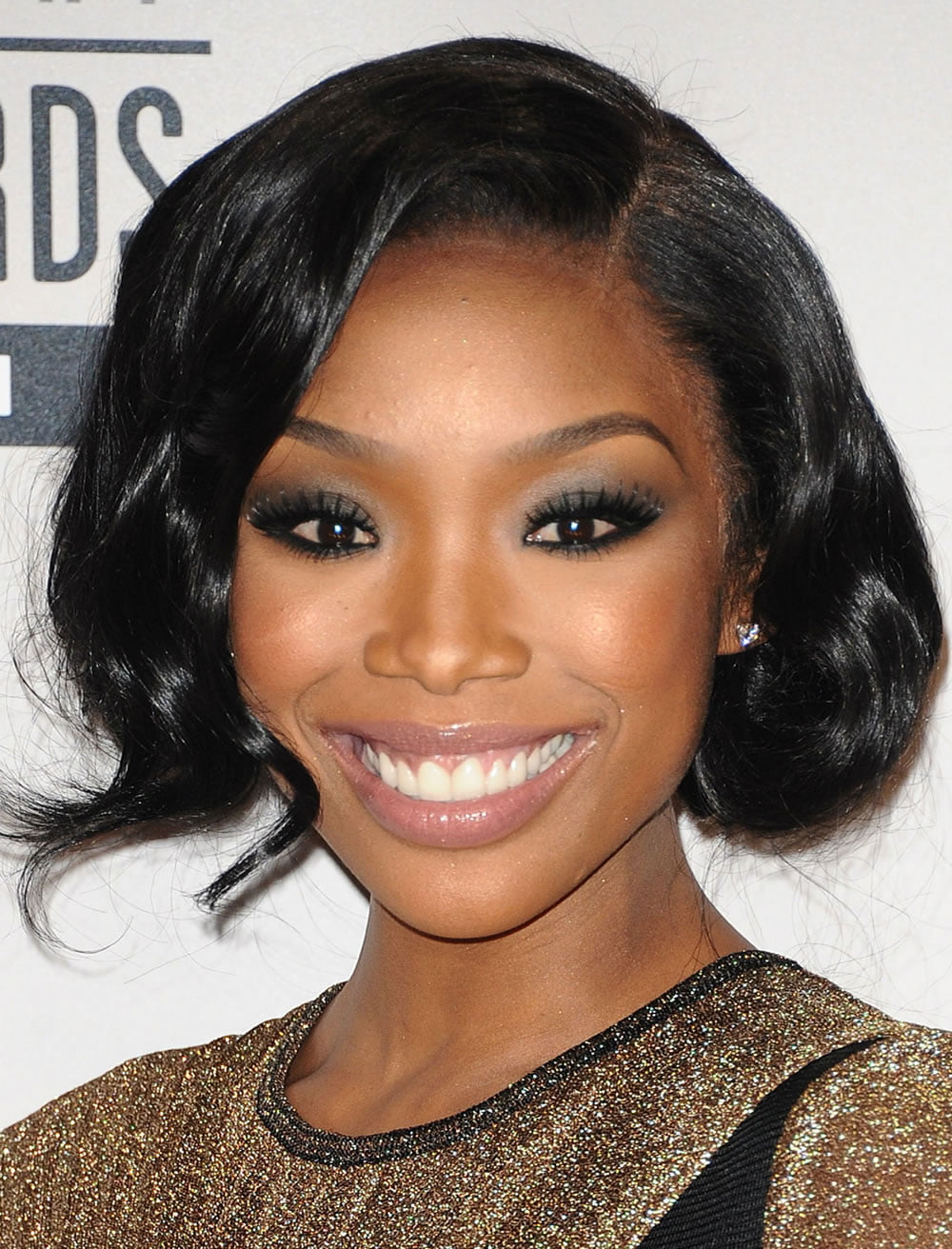 For those black women who do not fear chopping their hair off, a bob haircut can be a good choice. It looks flattering on every face shape and can completely transform your look. Bob's hairstyles include various choices such as stacked, blunt bobs, pixie bobs, and asymmetrical. They range from neck to ear length, bangs to no bangs, middle part to side part, and are guaranteed to take your tresses to divine from dull. If you wear glasses, you can go for a side-parted bob, and if you have an oval or round face, an A-line bob hairstyle will look good on you. A bob hairstyle can also be customized with different hair textures and lengths to suit your individual style.
10. Voluminous Ringlets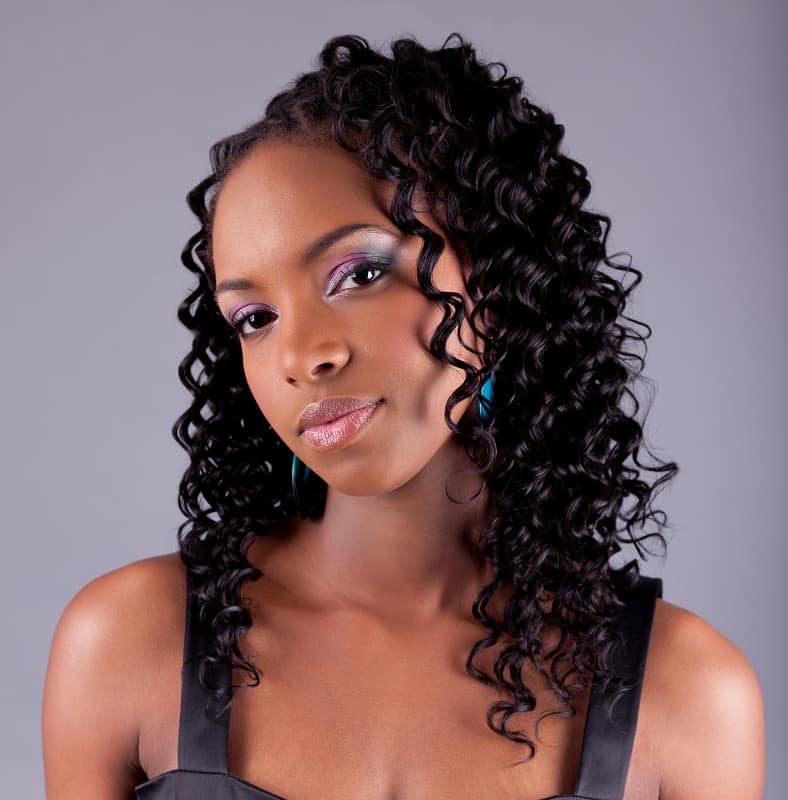 Voluminous Ringlets are one of the most preferred hairstyles by black women for photoshoots, beauty contests, and special occasions. Its corkscrew-like shape gives your hair bounce and movement and levels up your style statement. Wear your ringlets in a way that they fall around your face and draw attention to your cheekbones and eyes. On long hair, medium-sized ringlets look thick and full, and with center and side parts, they make a stunning statement. If you're going for this hairstyle, you must regularly moisturize your hair as ringlets can make your hair frizzy and dry.
11. Space Buns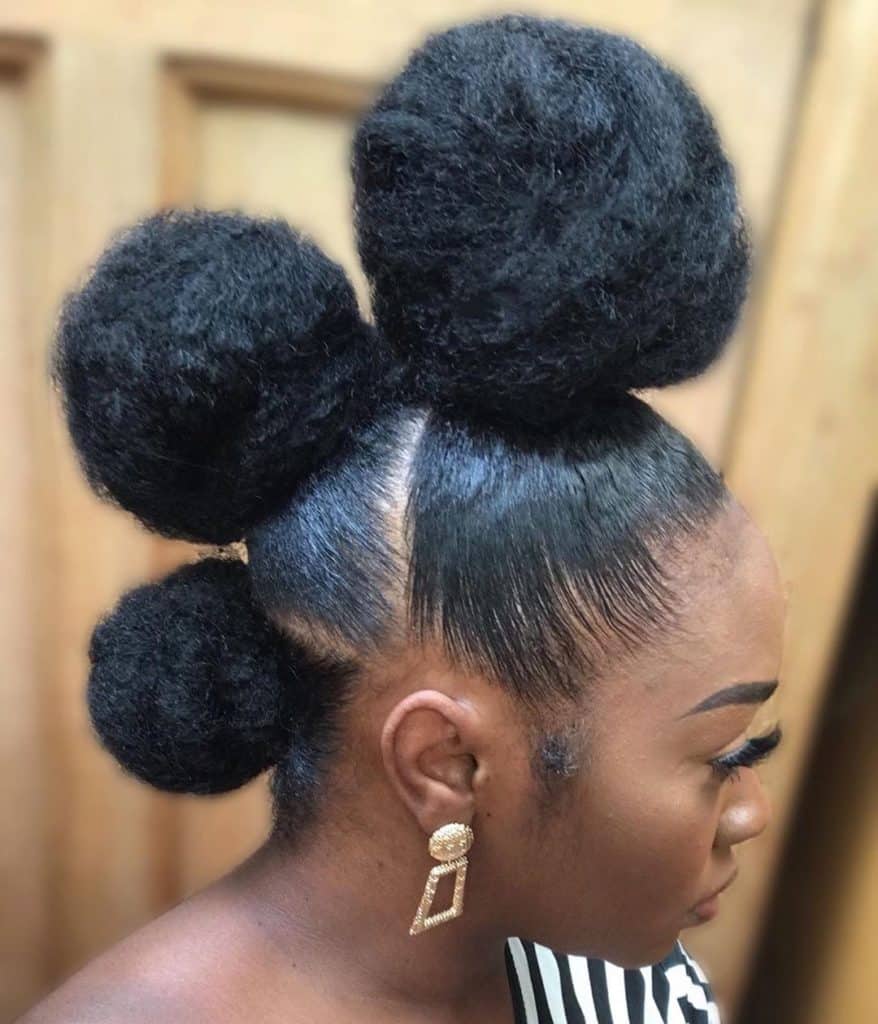 Whether a formal event or a casual day out with friends, a space bun hairstyle can suit any mood or occasion. This edgy yet cute hairstyle is no longer a go-to festival option, but you can even carry it on a day-to-day basis. For a casual look, you can try a space bun with tendrils, and if you want to exude the cool Afro-punk vibe, a space bun with a box braid can be your go-to choice. Whether you prefer sleek and edgy hairstyles or a voluminous Boho-chic vibe is more your thing, you can create the type of look you want with a space bun. Pair it with accessories like a funky topand tinted shades to enhance your overall look.
12. Bantu Knot-Out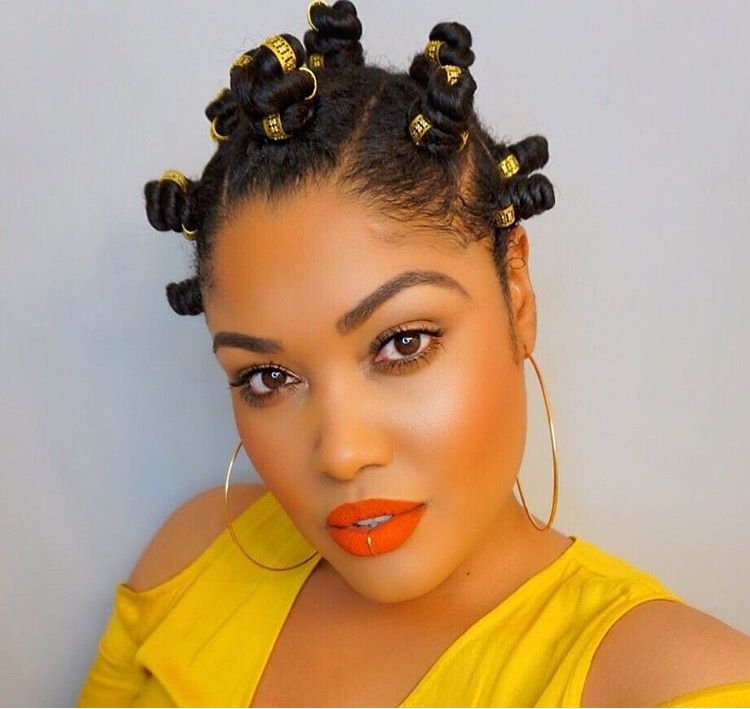 Bantu Knot-Out is a playful and fun hairstyle that works for hair of all textures and lengths. It can be the perfect choice for women who are looking for a natural hairstyle that won't break or damage their hair. They are tightly twisted hair sections that use the coarse texture and natural grip of your hair to hold the hairstyle in place. You can create as many mini buns as you want in any direction, and you can even intertwine jewels into them. They can last up to weeks with proper care and maintenance. When you remove bantu knots, you'll be able to enjoy a curled style for a few days.
13. Halo Braid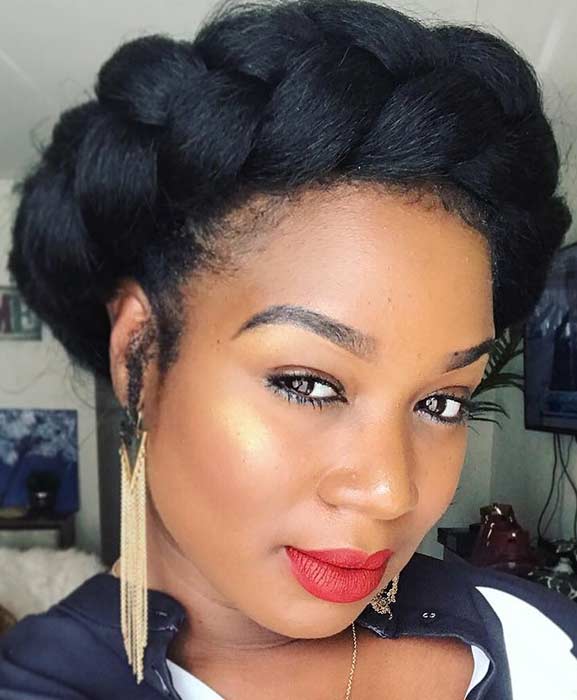 Have you got bored of ordinary braids and want to try something different that can make you look like a fairytale princess or Goddess? Halo Braid is one of the best black natural hairstyles for long to medium-haired women. It is similar to a crown braid and helps you achieve an ethereal Goddess-like look. To create this style, you have to Dutch braid your hair and bring the side strands of your braid over or under. You can even add pearls to your braided crown to enhance its look. If you have short hair, you can use braided extensions to create this beautiful hairstyle. For a different kind of halo braid look, make a middle part and wrap the braid around the hairline.
14. Pinned Back Natural Hair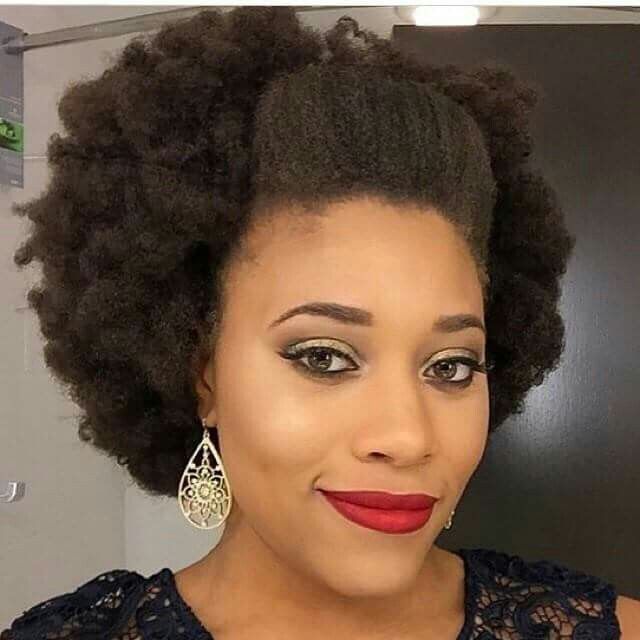 For those of you looking for one of the best black natural hairstyles that you can carry on a daily basis, pinned-back natural hair can be a good choice. For this style, you just need to pin your hair back with a bobby pin. But if you want to do something different from the conventional style, you can also pin your hair to the side. This hairstyle draws attention to your eyes and opens up your face. Accessories like pearl-detailed clips or hair barrettes can be used to make this hairstyle look more beautiful. You can create this fuss-free hairstyle within a few seconds in the morning when you have to go to the office. This hairstyle also looks good during formal events, interviews, and casual outings.
15. Curtain Bangs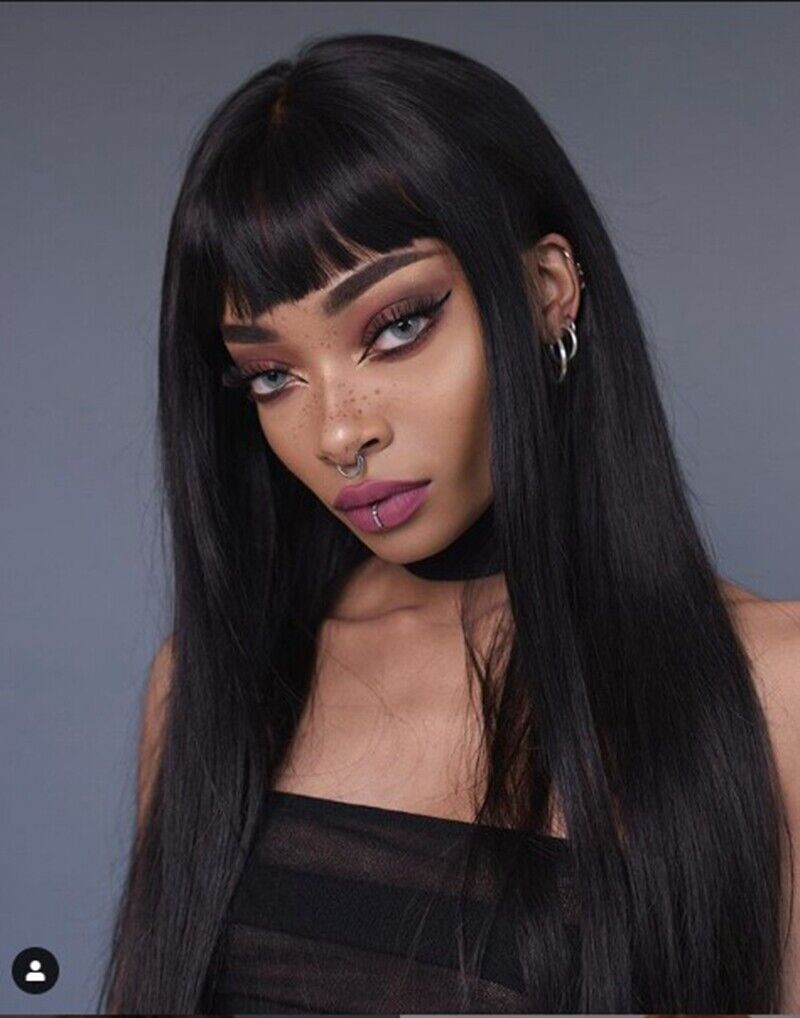 Curtain bangs are in trend these days as they enhance cheekbones and eyes and do excellent face framing. They look good on all face shapes and can be adapted to suit your face shape, texture, and hair length. If you have a round or oval face, curtain bangs can make you look slimmer. Whether you have a classic bob or long-layer hairstyle, curtain bangs can be a good choice for everyone. If you want face-framing bangs, you can try out long curtain bangs, and for a dreamy look, soft curtain bangs can be the best choice. For those of you who do not want to commit to a full fringe, wispy bangs can be your ideal choice, as they are softer and easy to style.
16. Natural Short Hairstyle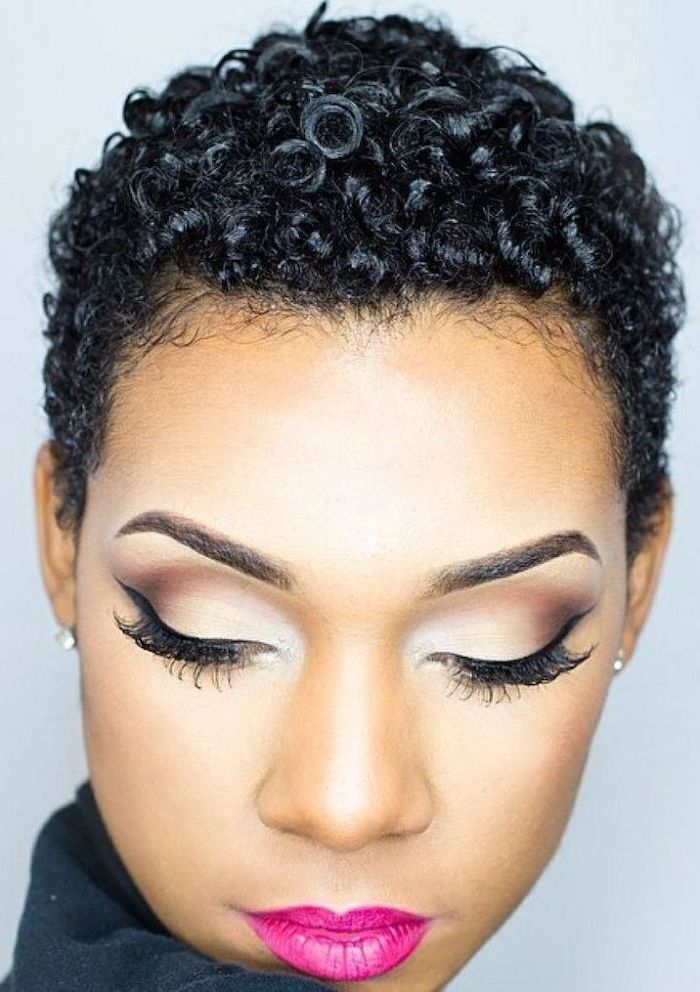 Many people do not opt for short hairstyles because they feel it will limit their styling options. But this is not true! Short hair can be fun to style in multiple ways, ranging from twist-outs to sponge curls and blowouts. If you want to flaunt your naturally textured hair, a natural short hairstyle can be the perfect choice. Keeping the hair short will complement your bone structure and open up your face. This is also a great way to let your hair regenerate and make it stronger. The biggest advantage is that you won't have to spend much time maintaining your short hair.
17. Head Wrap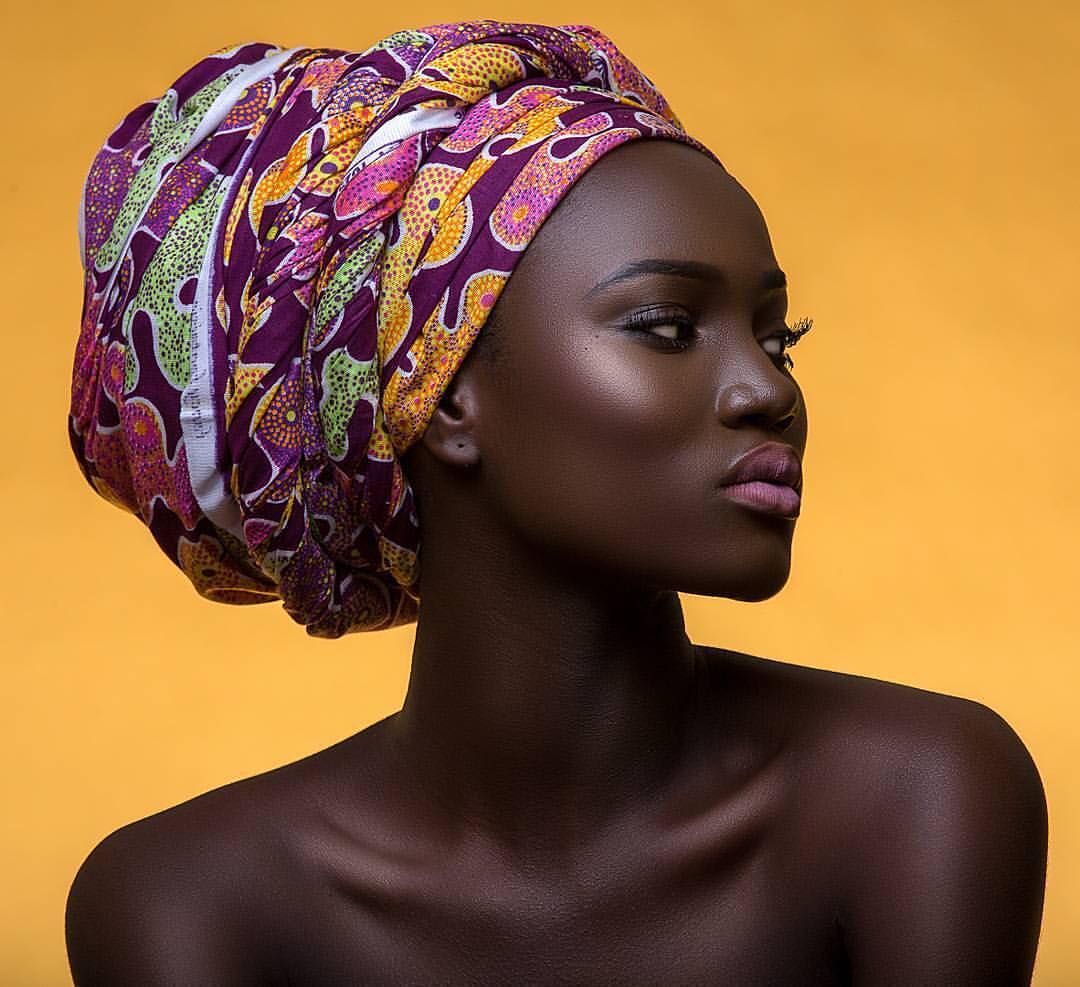 African headwrap styles have taken the world by storm. Wrap hairstyle not only looks stylish but can also be an excellent way to give your hair some time off from styling. Black women often use a head wrap to embrace their natural hair's curly texture. There are many wrap hairstyles ranging from traditionally classy, like a turban wrap, to something more unique and quirky, like a styled bow scarf or headband. If you have naturally long and curly hair, you can wear a wrap on your long braided hair. With short hair and bangs, the bow wrap hairstyle looks the best.
18. Mohawk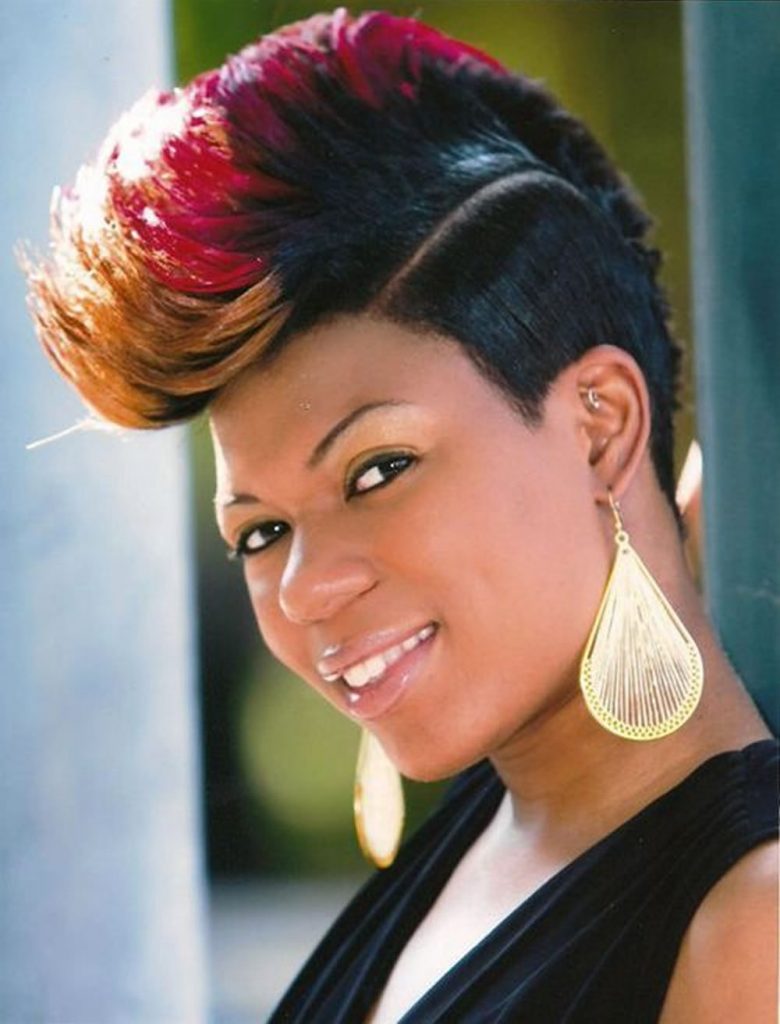 Do you want to embrace a hairstyle that can make you stand out from the crowd? Mohawk is a trendy hairstyle that black women can easily pull off and garner lots of attention. You can create this hairstyle without cutting or shaving your hair. All you need to do is make an inverted French braid and sweep your remaining hair up top to make it look like a pompadour. You can also make a mohawk without trimmers or scissors by using cornrows. Create neat cornrows on the sides and pull them to the back, leaving a few of them hanging down your neck. Go for this hairstyle only if you're brave-hearted and keen to try something different.
19. Pigtails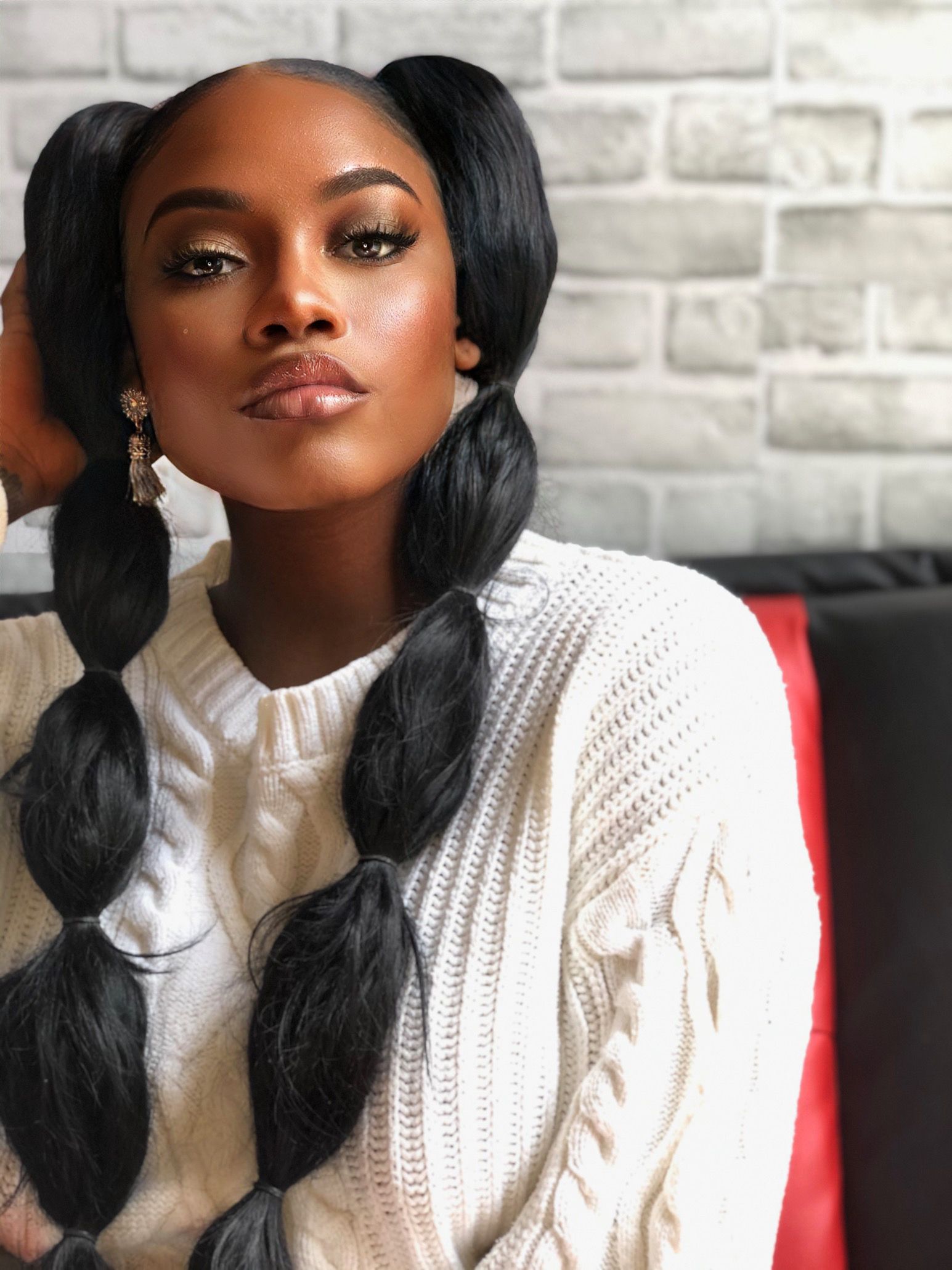 Whether you're looking for a casual or formal hairstyle, you can never go wrong with pigtails. The pigtail hairstyle consists of two sections of hair securely tied on either side of your head. This hairstyle is mostly worn by kids, but adults can also try out this hairstyle by doing some variations with the traditional pigtail hairstyle. You can make pigtails when running errands, doing workouts, or when you want to enhance your casual look. For short hair, a half-up pigtail can be a good choice, and if you are having a bad hair day, you can go for messy pigtails with bangs.
20. Middle Part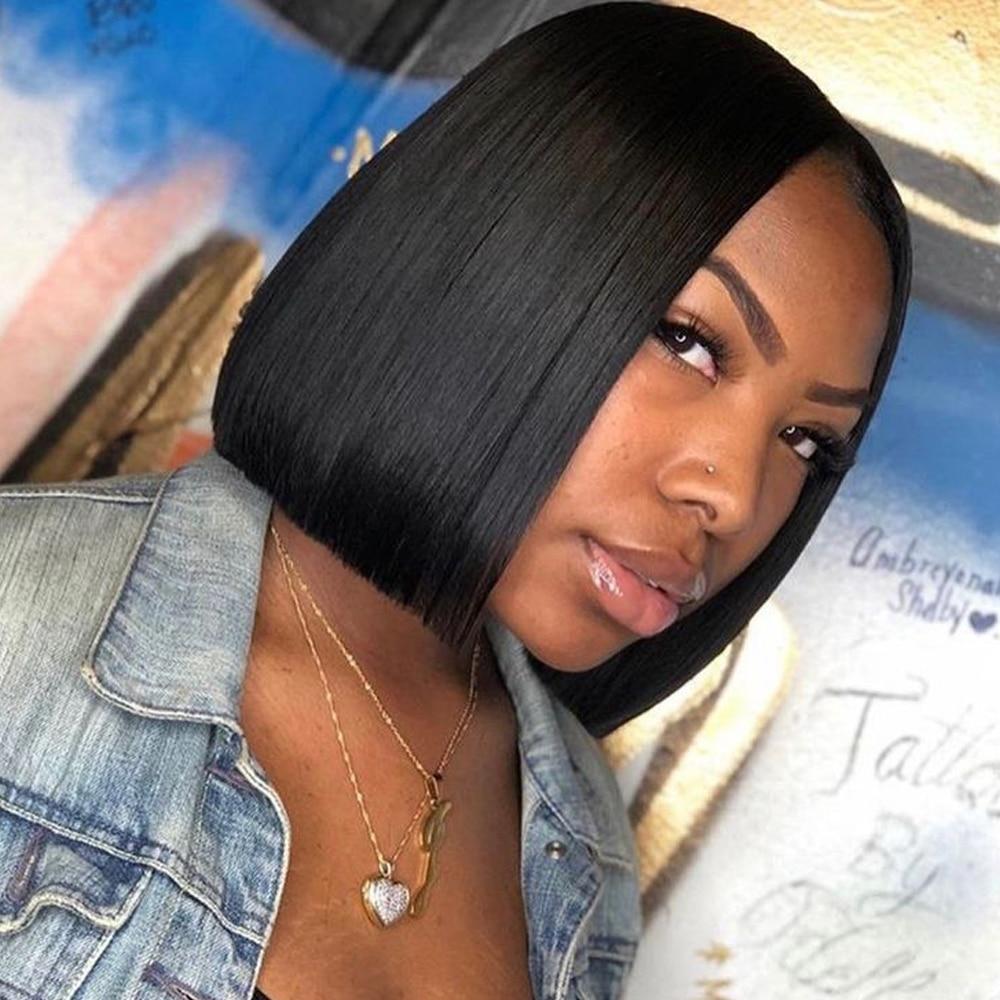 Are you a black woman looking for a hairstyle that is effortless to achieve and can complement your facial features and personality? Middle part hairstyles have been flaunted by black women for centuries. This low-maintenance hair styling option works for any hair length and type.
If you have a round or oval face, the middle part of the hairstyle will give an illusion of symmetry and length while balancing your facial features. Women with long faces can also pull off this hairstyle as it will give your face an illusion of roundness.
You can go for a middle part with bangs, a middle-parted updo, a bob with a middle part, and a low bun with a middle part.
Conclusion
Black women are blessed with thick curls, voluminous hair, and strong roots, making it easy to try a wide range of hairstyles.
From half-up top knots to braided hairstyles and box braids, there are many gorgeous natural black hairstyles that black women can embrace.
These natural hairstyles look good on both short and long hair and are easy to maintain. You can check out the hairstyles mentioned above if you need some inspiration for your next hair makeover.
All these hairstyles will suit black women with different face types and hair textures and garner lots of compliments over your new hairstyle.
Frequently Asked Questions
Which Natural Black Hairstyles Are Best for Black Women?
Black women can try out various black natural hairstyles ranging from flat twists to braids and pigtails to mohawks. All these hairstyles are easy to make, and you don't need chemicals or heat to embrace them. You can even personalize these hairstyles with the help of accessories like beads and pearls.
How Can You Style Short Natural Black Hair?
You can style short, natural black hair in many ways depending upon your personal choice and hair texture. Wear it as free curls, as a mohawk, in a mini afro, trimmed super short, or taper the sides and back, leaving extra volume and length on top.