Are you looking for a protective hairstyle for your Afro hair? Dookie Braids are in trend these days as they can be worn in different ways and fit all occasions. These braids gained immense popularity in the 90s and were primarily seen on playgrounds. But now, there are different versions of the dookie braid, and you can style them with glittering gold beads and other accessories.
It is also possible to make a ponytail, bun, or updo with the dookie braids. Whether you want to rock a side part for a classy and sleek look, add some highlights to glam up your look, or sport a bob for a modern vibe, the styling possibilities with dookie braids are endless.
The best thing about this hairstyle is that it easily transitions from cocktails to casual day outs and office, so you can carry them with pride wherever you're going.
It also lasts for a few weeks, saving you from the hassle of making a new hairstyle every morning.
How to Make Dookie Braids and Style Them
We have curated a list of the most popular dookie braid hairstyles and ways to style them for a goddess-like look.
How to Create the Perfect Dookie Braids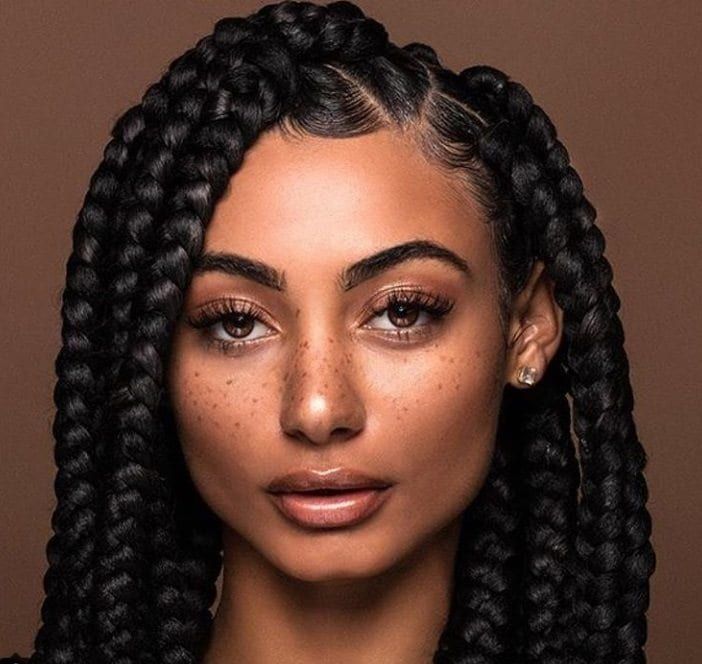 Before creating a dookie braid, check your hair condition. This hairstyle may not be suitable for women with weak hair as it adds extra weight to your hair, which can be disastrous in the long run. Before creating this hairstyle, wash your hair with a clarifying shampoo and ensure there is no oily residue or dirt on your scalp. Flat iron your hair if you feel that your strands are very frizzy. After flat ironing your hair, you'll have to part your locks into different sections and make a ponytail.
If you want your braids to be very thick, you can take a strip of extensions and wrap it into the ponytail's root. Repeat this process for all the ponytails you have made. Now, you will have to braid your ponies until you reach the end and secure them using a hair tie. To give your locks a natural look, you can get the ends of your hair trimmed so they look more natural.
You can add more density and volume to your braids with the help of extensions. You can also use accessories like pearls, cuffs, barrettes, and gold beads for the perfect Dookie braids hairdo.
Best Dookie Braid Hairstyles
Take your braid game to the next level by trying out these popular dookie braid hairstyles that will make you the showstopper of every occasion.
1. Freestyle Dookies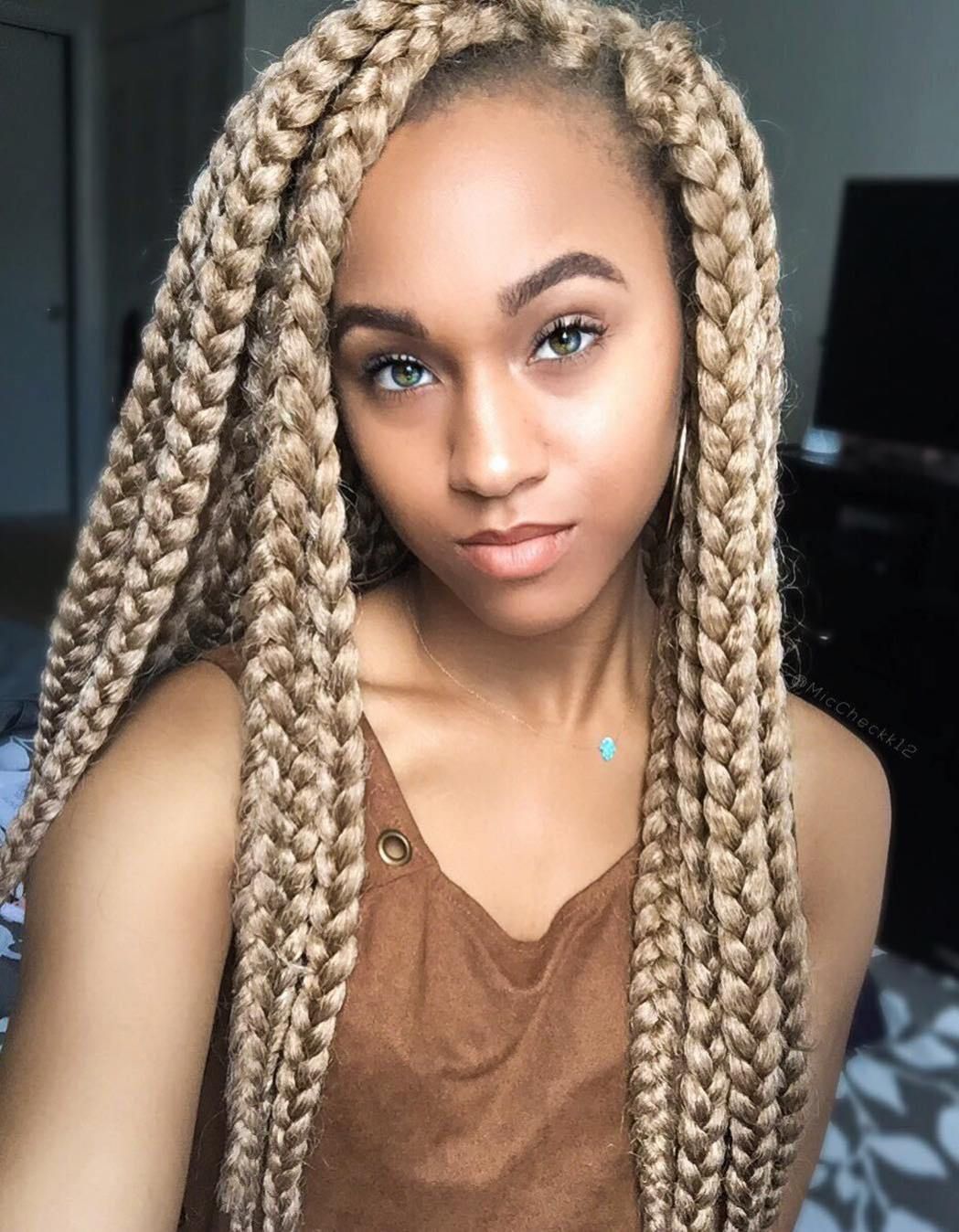 Are you bored with the traditional hairstyles and want to try something different that aligns with your personality? Try out the freestyle dookies which is a unique hairstyle that will bring out your charismatic personality. While creating this hairstyle, you don't need to cut your dookies into the usual round or box shape, but you have to freestyle them by sectioning them. The braids are very big in this hairstyle and give your hair an exquisite and modern look. You can wear this hairstyle if you're going on a night out with your friends or attending a formal event.
2. Long Knotless Dookie Braid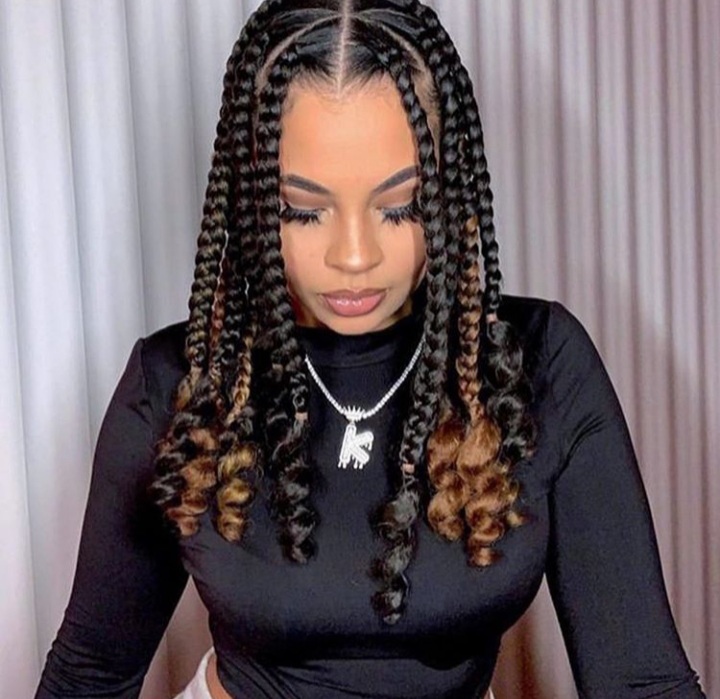 If you have long hair, you can go for this hairstyle that will give you a chance to show your beautiful hair. The best thing about this hairstyle is that you don't need rubber bands or hair ties to create it. A long knotless dookie braid looks natural and reduces tension on your scalp due to its knotless technique. It can be a bit more difficult to make this hairstyle than the standard dookie, but it looks very beautiful and stylish. To create this hairstyle, you have to weave the natural strands with your braiding hair to create a seamless finish that won't ruin your edges or cause any type of damage to your hair.
3. Half-up Top Knot Dookie Braids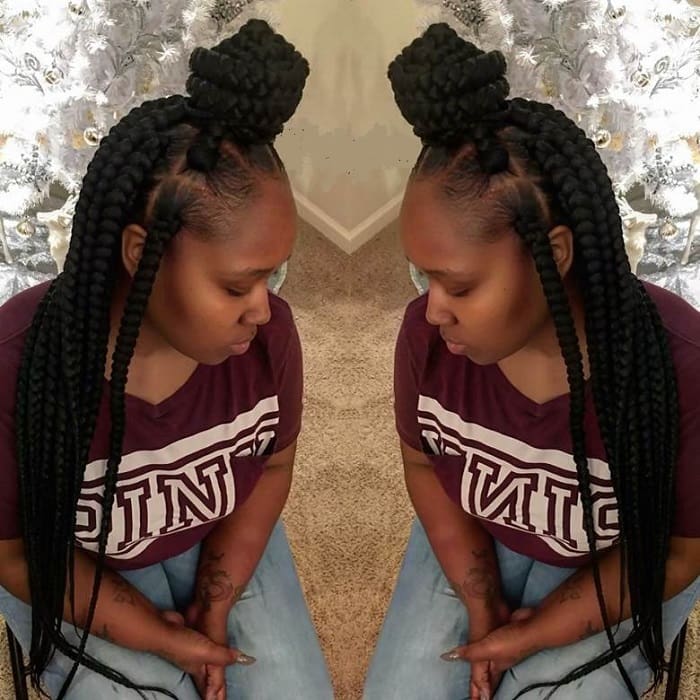 Half-up knots are in vogue these days because they look very stylish and give you a celebrity-like feel. If you also love them, then try out half-up top knot dookie braids that look effortless and chic and are easy to style. To create this hairstyle, you need to gather your dookie braids' top section and secure it into a high half ponytail with a hair tie. Now, twist the ponytail until it forms a knot, and use bobby pins to secure it. This hairstyle is perfect for a dinner date with your partner and a casual brunch. You can even accessorize your top knot dookie braids with the help of pearls to enhance their style quotient.
4. Half Up Pony Dookie Braid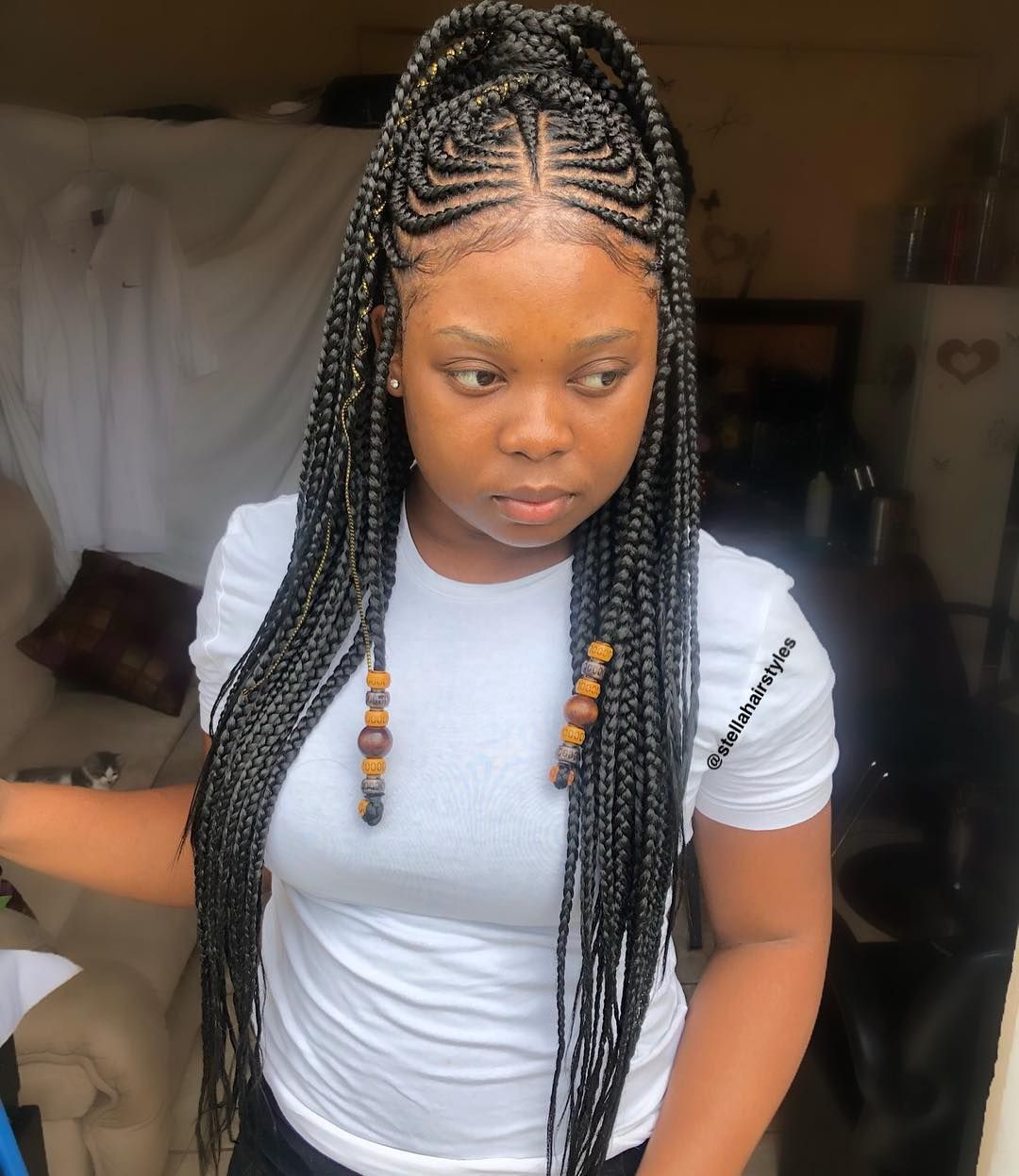 This is another popular dookie braid hairstyle that most Afro-women love to flaunt. To create this hairstyle, you'll have to make a sleek ponytail and wrap one or two braids around its base. Ensure that the braids hide the elastic you have used to secure the ponytail, or else you won't get a clean look. Leave the rest of your dookie braids loose and ensure that they flow down your back. This hairstyle is ideal for women who want to keep their hair out of their face. You can flaunt this hairstyle not only at dinner parties but also in a meeting or a formal event. If you have very short hair, you will have to use extensions to create this hairstyle.
5. Dookie Braid Pump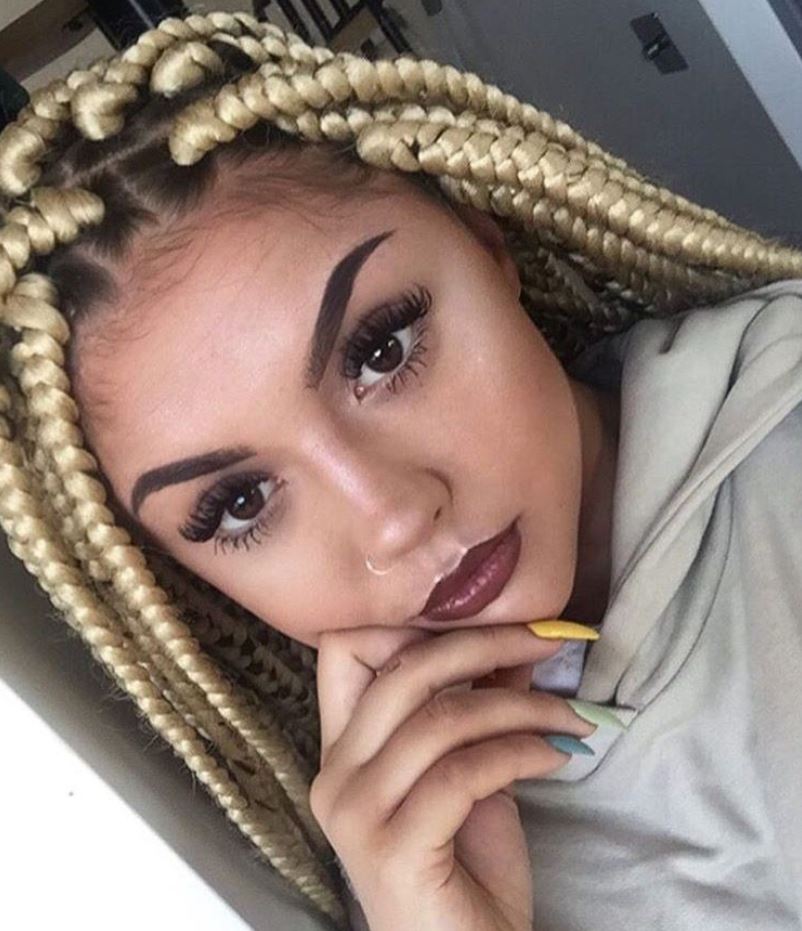 For those looking for a hairstyle that can give some volume and height to their hair, a dookie braid pump can be the ideal choice. This hairstyle looks good on all face types and is easy to make. You can create dookie braid pumps with both full and half ponytails, depending on your personal preference. The ponytail should be a bit high to create this hairstyle with precision.
Once you create this hairstyle successfully, you will feel like you have been transported to the 1960s. So whenever you're in the mood for some retro vibe, you can create this hairstyle and stun everyone.
6. Thick Hair Dookie Braids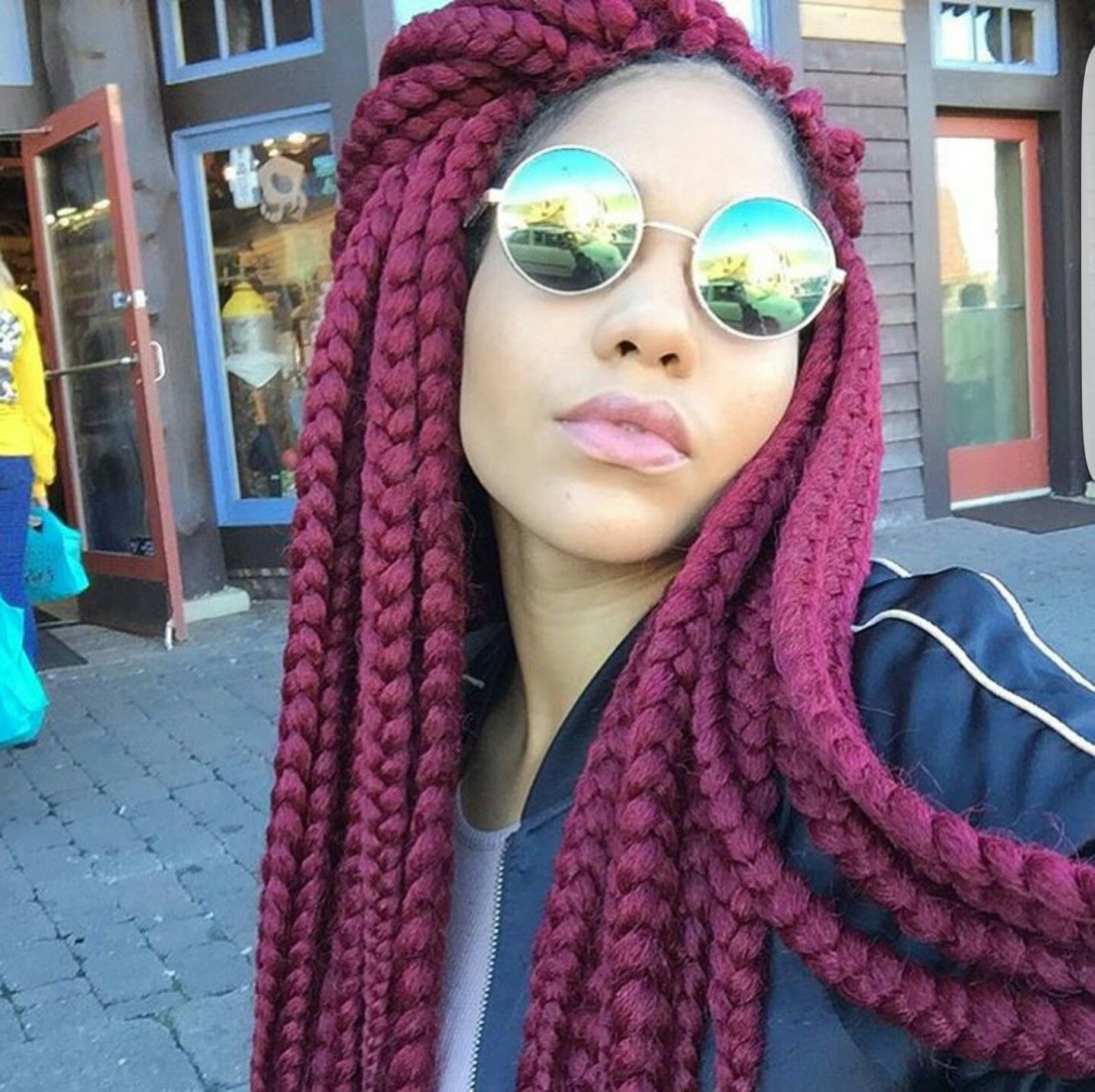 Embrace the beauty of your thick natural strands by going for thick hair dookie braids. This time-saving hairstyle looks statement-worthy, and you can create it within a few minutes without putting in any added effort. These braids are thick, lush, and long from tip to base and give a voluminous look to your hair. You can also experiment with your braids by going for a classic sleek and long braided look or adding some creative knots and twists for a more unique and eye-catching style. Since thick hair can hold the length and width of the braids, you won't feel uncomfortable or heavy while flaunting this hairstyle.
7. Jumbo Dookie Braids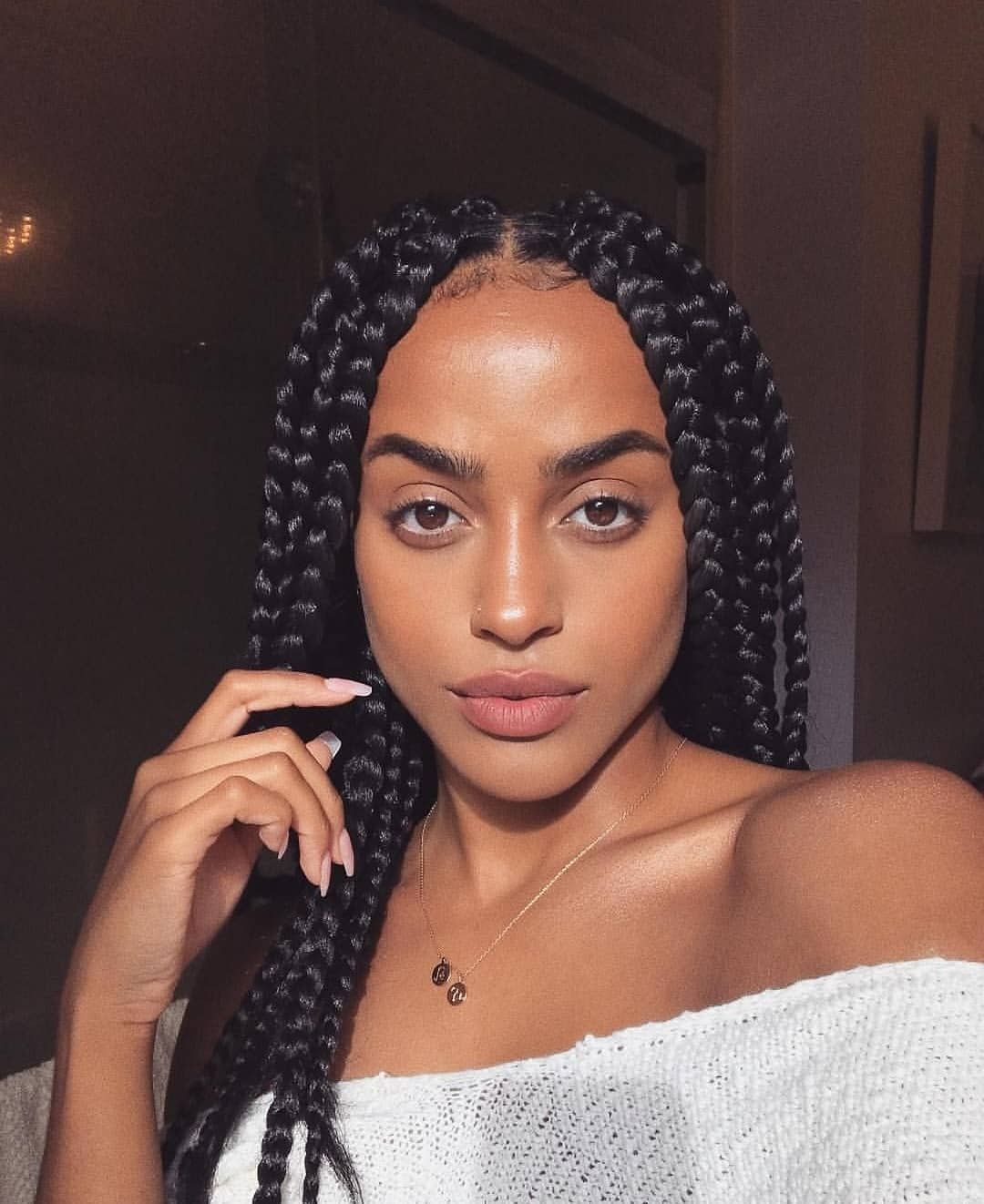 ers and beauty enthusiasts because they are low-maintenance and guaranteed to turn heads with their allure. This style will need neat parting, so section off your hair properly before you start the braiding process. Since the braids in this hairstyle are very big, it doesn't take much time to create them, unlike the other braided hairstyles. They look chunky and thick and give you an opportunity to flaunt your natural hair. You can add highlights or wear them in a single color to leave a lasting impression wherever you go. You can also pop on a few gold cuffs to add some sparkle to your jumbo dookie braids.
8. Triangle Dookie Braids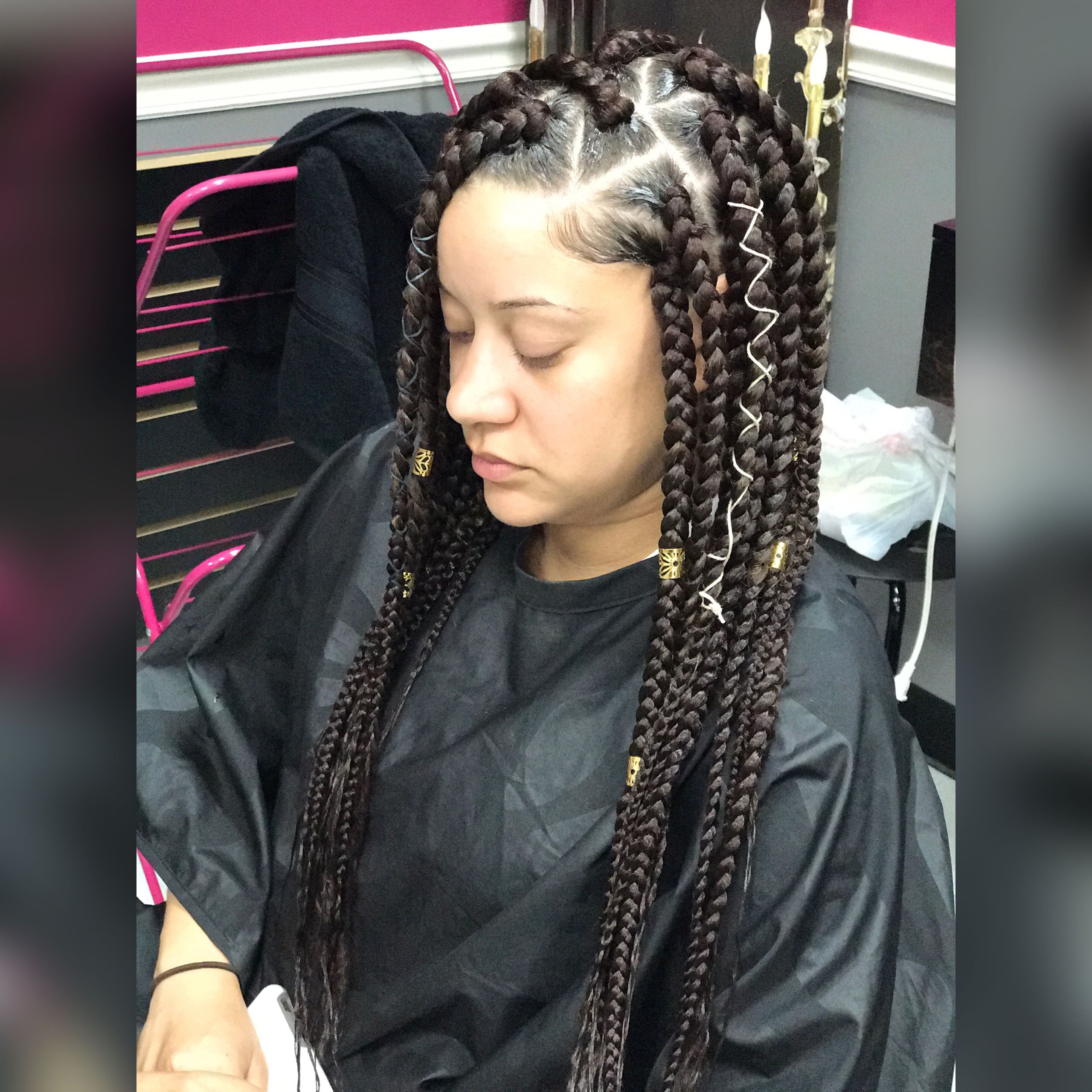 If you're looking for a different take on the classic dookie braids then you can try out the triangle dookie braids. To create this hairstyle, you'll have to section your hair into triangles rather than boxes. Depending on your personal preference and hair length, you can use extensions or braid your natural hair. When you complete this hairstyle, you'll get a geometric and sleek look that will add dimension to your appearance. It may take some time and practice to create this hairstyle, so if you're a beginner, this hairstyle may not suit you.
9. Rihanna's Dookie Braids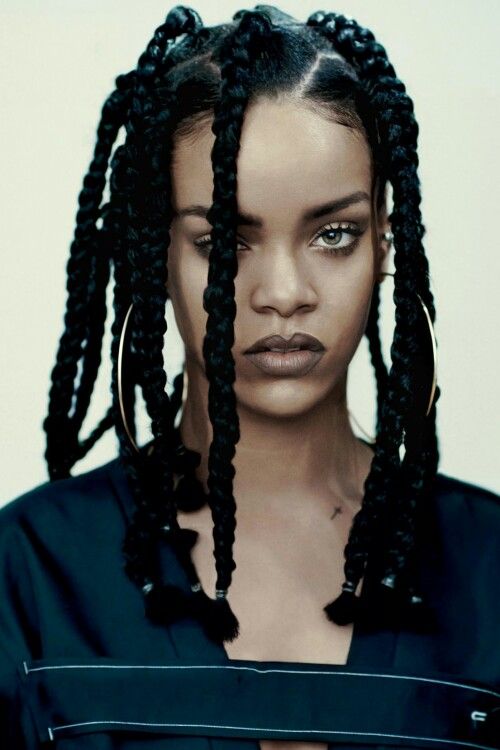 Along with Rihanna's spectacular performance on stage, one thing that catches everyone's attention is her iconic hairstyle. If you want to switch up your hairstyle and are looking for some inspiration, then you can try Rihanna's dookie braids hairstyle. Rihanna's classic black dookie braids are perfect for women with medium-length hair.
Once you're done creating the braids, secure them with the help of a rubber band. You can either recreate the same look or experiment by adding some accessories to the braids. Whether you want to try a new hairstyle or want to attend a music festival, this hairstyle will suit all occasions.
10. Zig Zag Parts Dookie Braids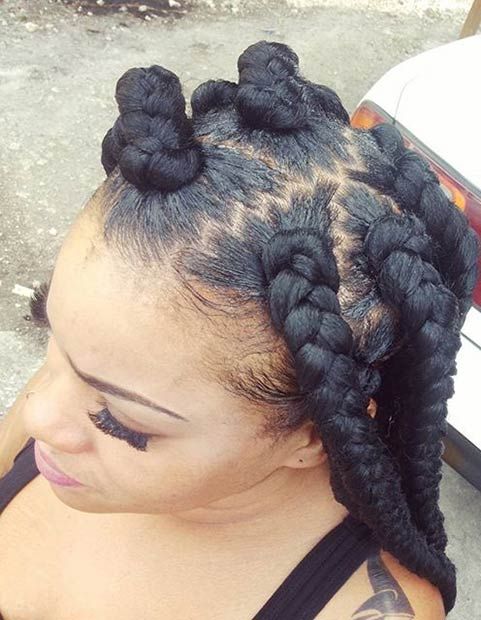 Add a new spin to the classic dookie braids by parting your hair in a zigzag pattern. The Zigzag part will enhance the overall appeal of your dookie braids and bring out your playful personality. You can use a rat tail comb to part different sections of your hair diagonally. Take your time to part your hair in a zigzag way and ensure each section is precise. If the parting is not precise you will have to keep trying until you get the perfect look. The zig-zag part will create an eye-catch pattern that will leave everyone in awe of your unique style statement.
Maintenance and Hair Care of Dookie Braids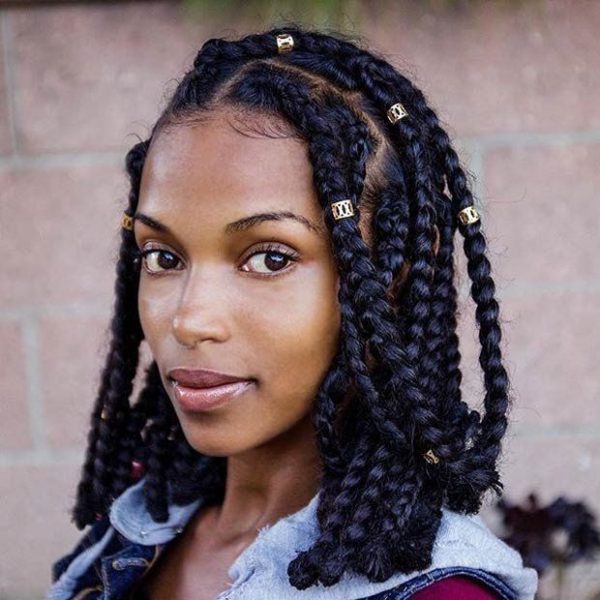 Dookie braids look very eye-catching and stunning and last for a few weeks with proper care and maintenance. There are a few maintenance tips you'll have to follow to ensure that your dookie braids look like new even after a few weeks.
Rub a leave-in conditioner onto your braids to ensure they don't look frizzy and dry. A leave-in conditioner can help your braids look shiny and luscious even after weeks. Choose a leave-in conditioner that doesn't contain any toxic ingredients or it can damage your hair.
Suppose your hair becomes very oily; use a dry shampoo to remove excess greasiness and oily residue. Spray the dry shampoo onto the roots for a clean and fuss-free look.
Don't carry this hairstyle for more than five to six weeks. Once you open your hair, avoid making any other hairstyle for a few days so that your hair can get some rest from the constant tension created by new hairstyles.
At night, cover your hair up with a satin or silk scarf to prolong the longevity of this hairstyle.
Conclusion
If you want to change up your hairstyle and achieve a celebrity-like look, you can't go wrong with the dookie braids. Whether you have long, short, or medium hair, you can easily create this hairstyle and become the center of attraction wherever you go. You can also experiment with the traditional dookie braids and recreate new styles. From triangle dookie braids to half-up knot and knotless dookie braids you can choose from various options.
This protective hairstyle will give your hair some time to grow back without compromising on the style quotient. You can check out the ideas mentioned above if you're looking for the best dookie braid hairstyle.
These hairstyles are easy to make, last for a long time, and you can wear them on all types of occasions.
Frequently Asked Questions
What is a Dookie Braid Hairstyle?
A dookie braid is a protective hairstyle that can be worn in different ways. It became popular among school girls in the 90s and has again made a comeback in recent years. Unlike other braiding styles, the braid is very thick, and the hair is parted in bigger sections. You can accessorize dookie braids with fierce metallic pieces or sophisticated hair jewelry.
What Is the Difference Between Box Braids and Dookie Braids?
One of the main differences between box braids and dookie braids is that dookie braids are bigger than regular box braids. They also give a more voluminous and fuller look to your hair than box braids. While doing dookie braids, if you part your hair into boxes, then you will get box dookie braids.